It can be daunting when you have to make a #1b black or #613 blonde wig texture choice, more precisely for a human hair wig, considering the various textures available. Therefore, it is essential to know which particular wig texture is better suited for you to avoid any disappointments.
However, having the right information will ensure that your wigs texture choice is worthwhile.
In this article, we've put together some of the factors that will most likely lead you into making the right choice, e.g., a wigs measurement in connection to determining the hairstyle texture, the various wig textures available, among other factors. Without further ado, let's dive into it and look at how to choose the most convenient black lace front wig or blonde full lace wig texture perfect for you.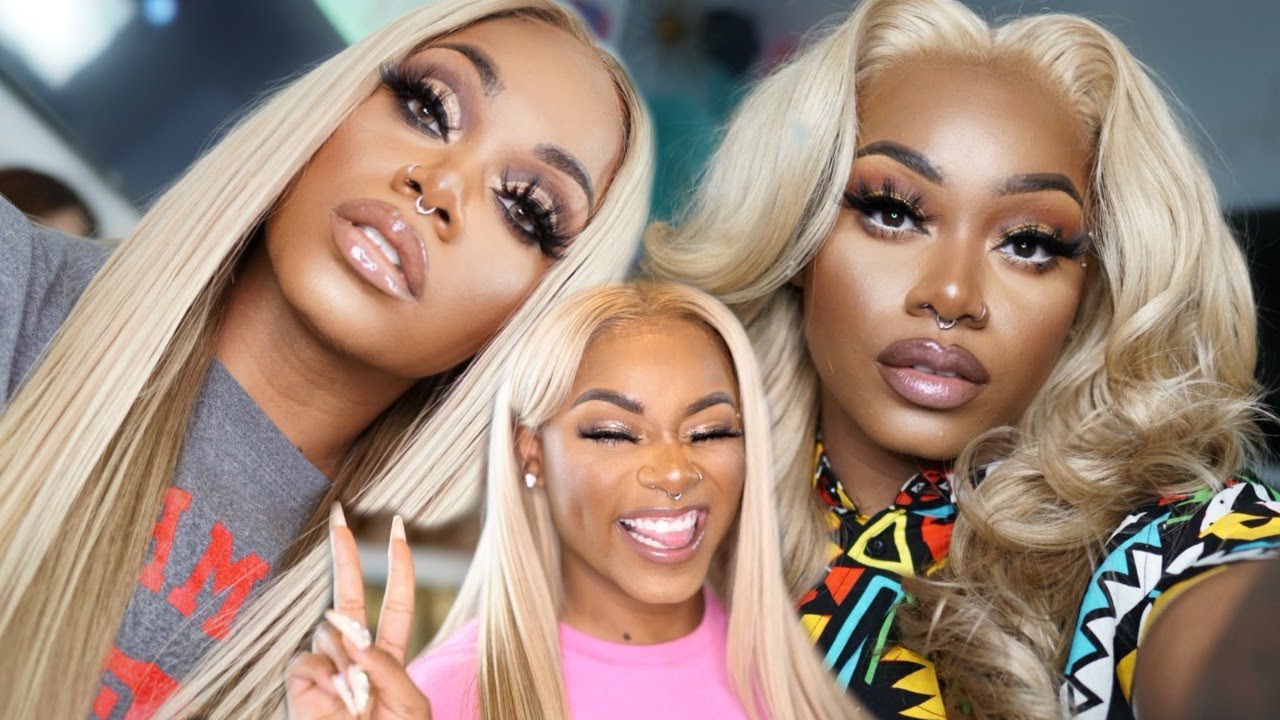 Measuring a wig to determine the texture
First and foremost, the main factor determining whether you choose the right texture is getting the exact measurements. Wigs usually cover various lengths, and the measure defines where a hair unit will fit after installation. For instance, a 10-inch hairpiece usually falls 10 inches away from the crown of your head.
For proper measurement of your wig, always begin from the root to the end of your crown. However, when we come to curly and wavy textured wigs, measurement is taken by simply pulling the hair into a straight position to get the exact figure.
Curly wigs typically fall 1or 2 inches shorter on your back when compared to straight hair. Wavy or curly hair can sometimes fall short, depending on how tight your curly design is holding.
Various factors can lead to slight measurement inconsistency, such as your overall height, the wig installation process, or your hair's texture. Below is a detailed guide on properly understanding wig measurements and how you can measure your hairpiece to determine a suitable wig.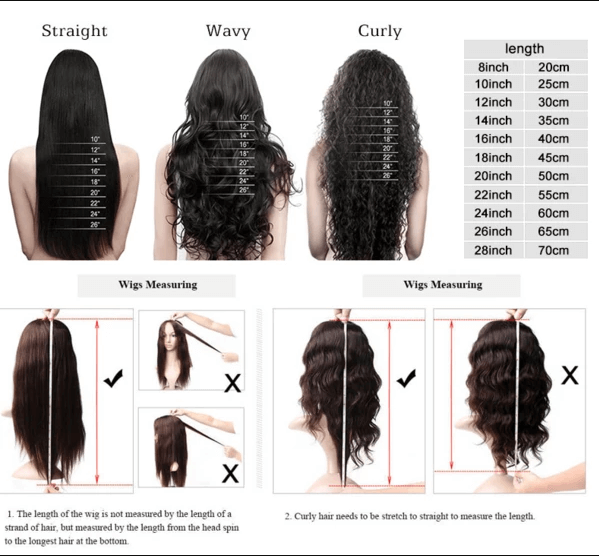 How to measure your wig: 3 step length Guide
Take your black or blonde 613 wigand lay it flat on the table or mannequin head. If you have a wavy or curly weave, carefully stretch and straighten it across as much as possible before taking the measurements.  
Use a measuring tape and place it at the crown end of your wig, then pull it across the longest opposite end. If your wig is on a flat surface, ensure that your measurement starts from the crown roots and not from your wig's front section.
The next step is to record your measurements, and if your wig is layered or has an A-line cut (is asymmetrical), it's always advisable to measure the side sections. An all section measurement will give you a clear picture of which particular spot your hair should reach when installed correctly. It's worth saying that when you go shopping for a wig, you'll find that only a single measurement is listed. The measure is usually a representation of the longest section of your wig and not the short layers.
Tips for getting an accurate measurement
The aforementioned three-length guidelines are not exact measurements but simply approximations. Besides the actual wig length, there are a few other worthy considerations if you want to choose a suitable wig texture for you.
Besides taking your wig measurements, ensure that you also take a proper measure of your head to avoid purchasing a wig that's too tight or too loose.
If you happen to choose a 1b or 613 blonde curly wig, then consider purchasing one that's slightly longer since this particular wig draws up. Lastly, selecting a long curly wig will compensate for the extra length the wig lacks compared to straight hair.
The other factor worth rate is your height. If your taller, a wig might appear shorter, and vice versa if you are short in stature. Knowing how tall or short you are will, therefore, help you make an informed decision with regards to your wig choice.
The different types of wig length sizes
Wigs come in different shapes and sizes, with some measuring 8 inches while others can go up to 30 inches. However, the average length of black or blonde bob wig is usually between 10 to 14 inches. This range is for wigs that are short and medium lengths regardless of the texture or style chosen.
Below are some of the popular wig lengths and where exactly the hair should reach when worn. 
11-inch loose bob wig usually falls around your jawline, and anything short or more of that is typically the wrong fit. 
15-inch body wave with side part falls just below your collarbone
Lastly, a 20-inch straight wig having bangs should always fall around your mid-back region.
Different types of wig textures
Straight texture
Blonde hair straight wig textures are ideal for all functions. They usually give you an elegant, neat look. The hair texture itself is good at mimicking real blow dried natural hair. This particular texture is also versatile and easily manageable. Finally, this look is for ladies who want to look simple yet classy. 613 blonde straight wig is always the best choice for girls or women in any occasion, no matter for work, for school or dating, party.  
Straight wigs are also a perfect choice, especially for ladies who have a square face. This particular human hair wig texture is ideal for concealing your face's harder edges or even diverting attention to your hair. Some of the straight wig hairstyles can include chin-length bobs and also long length fine hair.
Deep Wave or Curly texture
Blonde deep Wave wig this particular human hair wig texture is all about having a natural look. The curly texture is usually voluminous and is the type that makes you stand out. This look can improve by adding more curls to your wig. All you have to do is wet your hair, add some mousse and then let it air dry to have that flawless look. Blonde curly wig looks more like the natural curly hair of black women.
This hair bundle is a popular texture with tight curls that look like coils, which are also bouncy. This texture is usually suitable for ladies who have long faces. Some of the kinky curly wig hairstyles include: voluminous curls, medium bouncy curls, flipped out styles, etc. 
Natural Wave texture
Blonde water wave / Natural Wave wig texture is another versatile look that also easy to style. This particular texture is tighter and usually runs through the entire hair strand of your whole wig, and when washed, they typically revert to their original wavy texture.
This look is natural, having curly patterns found opposite one another. Natural wave texture is for those ladies who want a voluminous look that's tamed. When it comes to maintenance, all you need to do is wet your hair and then add some mouse, and you're good to go.
This look is better suited for gracing high table events, lounge dates, night outs thanks to its classical texture. This look is suitable for ladies who have a round face. Some of the natural waves textured hairstyles include wavy side ponytails, long layered waves, bobs having side parts to complement your look better. It is a really good choice for those women have a date or party to show your beauty.
Body Wave texture
The body wave wig is for ladies who want a manageable, soft volume look. This particular texture is also better suited for straightening and curling hairstyles. The body wave texture only has wavier hair ends. This hair is perfect for gracing all occasions thanks to its versatile nature. The body wave texture is also suited for those ladies who have round or square-shaped faces. Some of the hairstyles that blend with the body wave texture include; layered dos, wavy ponytails, long waves, side bangs, etc.
There you go, the essential things to know in order to choose the right wig and, more precisely, a texture that better suits you. However, it's worth pointing out that the good thing about wigs is that they're highly customize. Ladies who want a hair change or maybe already purchased the wrong wig type shouldn't worry as you can always style, dye, or cut your old wig as per your desire. We hope this article was insightful and will help you make an informed choice during your next wig purchase.
Black Friday Sales is coming, hurry up to shop your new wig in a best price in this year! Click to choose your wig!