Blonde bob hairstyles are one of the most stylish looks that date back to the early 1900s. This particular hairstyle is also considered timeless and a classic. Many celebrities and fashion icons are without a doubt making this look trend. More and more black ladies are wearing blonde 613 wig to show their confidence and beauty. 
Whether you prefer a choppy bob, angled bob, or inverted bob haircut, the result is always amazing hence why you shouldn't miss out on this classic look. Below are the eight hot-selling blonde bob hairstyles for different textures.
Short Neat, pure Blonde Bob
A neat haircut blonde bob wig that remains in place is the most preferred look for most ladies. Before getting your hair cut, you can smooth it out if you have short blonde hair. If you've found the right hairstyle for you, you can also keep it trimmed to get a new look.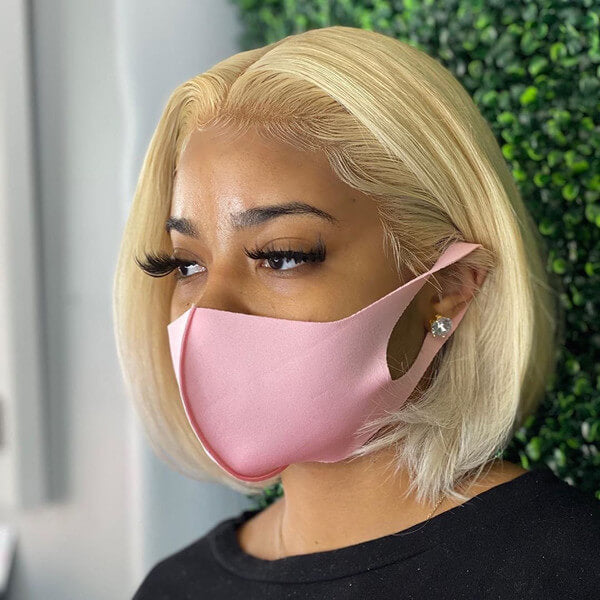 Light Black Root Voluminous Blonde Layered Bob
Most ladies usually prefer this unique voluminous, and fluffy hairstyle. However, they believe that cutting their hair into a bob decreases its thickness, making it appear thinner. However, when it comes to bob cuts, there is nothing like that. 
On the contrary, by cutting in layers, a bob cut can also make the hair look fuller, referred to as a voluminous blonde layered bob cut. The hair is styled in a bob style with various layers to show more volume and texture. Lastly, color adds a lovely dimension to the layers, thereby revitalizing your hair.
A light black root blonde bob wig makes it more natural looking when apply the wig.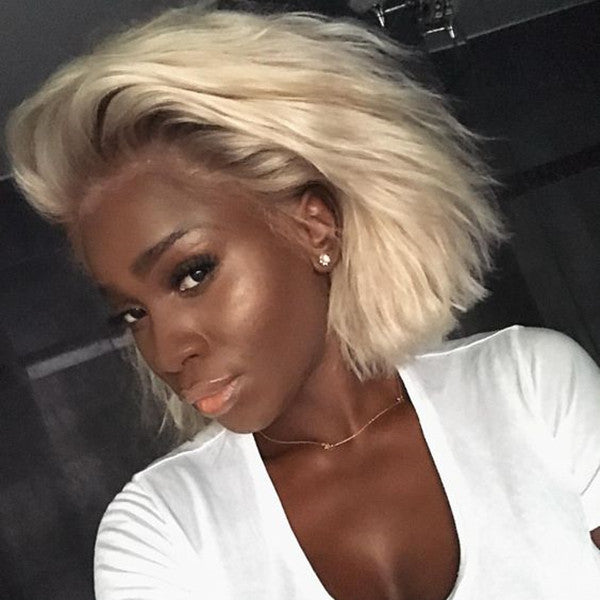 Chin Length Hair with Side Parting Fringe Style:
A chin-length side part bob wig hairstyle is simple to maintain and can be worn with a variety of accessories. A side part long fringes make one appear younger, and the eyes become the focal point of the face. Visit a good salon to get a nice professional haircut. The chin-length hair with ringe style is ideal for straight and wavy bob wig hair types and is also suitable for a small, thin face with sharp jaws and chin.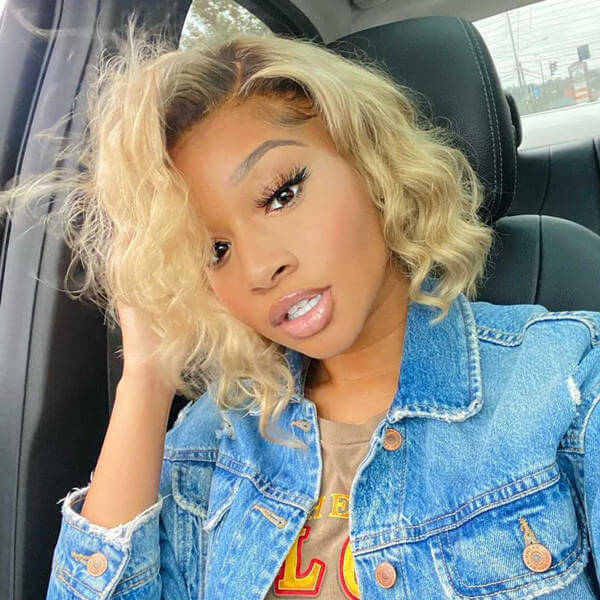 Messy Rebellious Brown Light Rooted Blonde Bob
This particular untidy brown root blonde bob look is ideal for young ladies and also those who are young at heart. The hair must be cut short so that you can easily mess it up with your fingers. The messy Rebellious Blonde bob is great for wavy and curly hair textures and is also suitable for square, heart, or rectangular-shaped faces.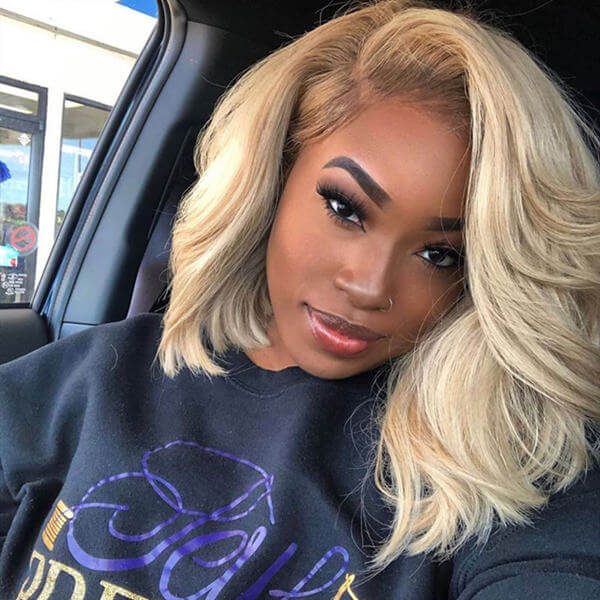 Short Vintage Blonde Bob:
You can pick the 1920s curled blonde bob hairstyle for a reception party or a hotel grand opening if you want to stand out from the crowd. This hairstyle is appropriate for any middle-aged woman interested in relaxed curls and is willing to devote some time to hair maintenance. The short vintage blonde bob is excellent for curly texture and is ideal for women with heart-shaped faces. Lastly, you can enhance this particular look by wearing an antique or retro-inspired dress.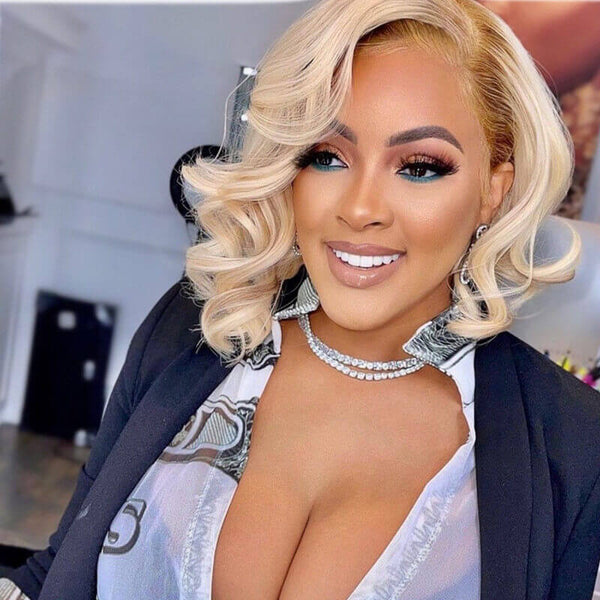 Voluminous Straight Bob:
A voluminous straight blonde bob hairstyle looks beautiful and can be worn by girls of all ages and face types. This hairstyle entails smoothing your hair before styling, and it also requires little maintenance. Trimming regularly, however, will help you maintain the look for a more extended period. This particular look is perfect for straight hair with subtle curls and looks lovely on square, round, or rectangular-shaped faces when it comes to texture.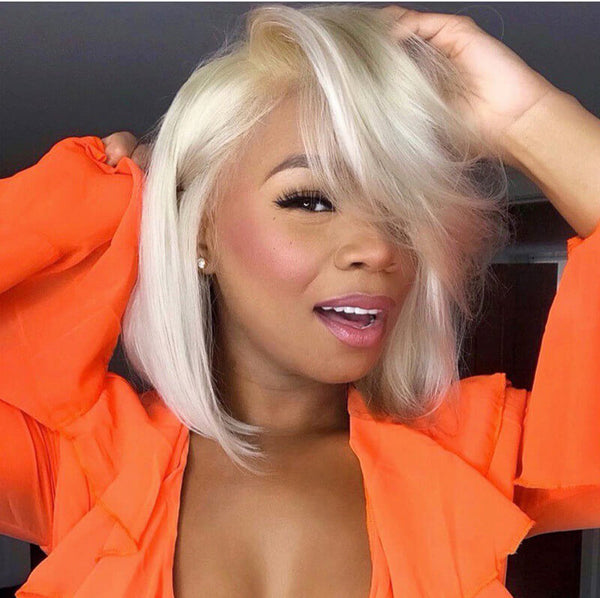 Straight Bang Bob Hairstyle:
This 613 blonde bob wig hairstyle would undoubtedly draw a lot of attention to you. With the bangs touching your brows, you'll look like an Egyptian queen. However, you should avoid dry, frizzy hair at all costs, and the tresses should be smooth.
If you have an oval-shaped face, this style is a perfect choice. The straight Bang Bob hairstyle is ideal for straight and silky hair and is better suited for heart-shaped or square-shaped faces.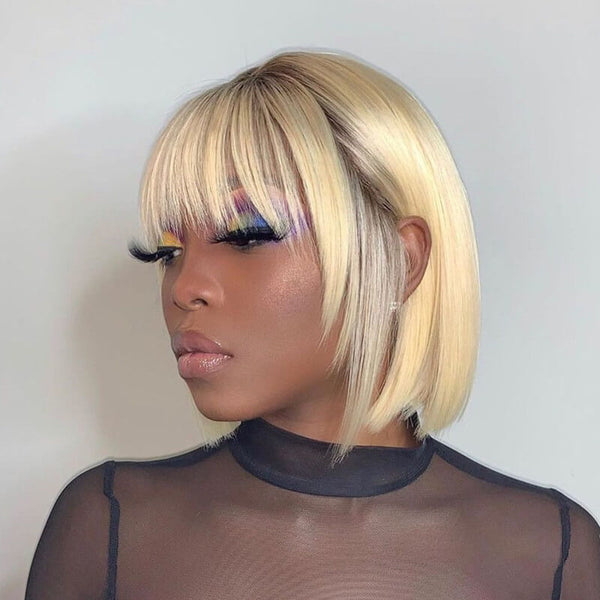 Dirty Root Wavy Honey Blonde Bob:
Try out this fantastic hairstyle that goes best with blonde hair. In the front, the hair should be flowy and gently curled. Remember to ask your stylist to leave some dimension on your hair to give it a fuller look.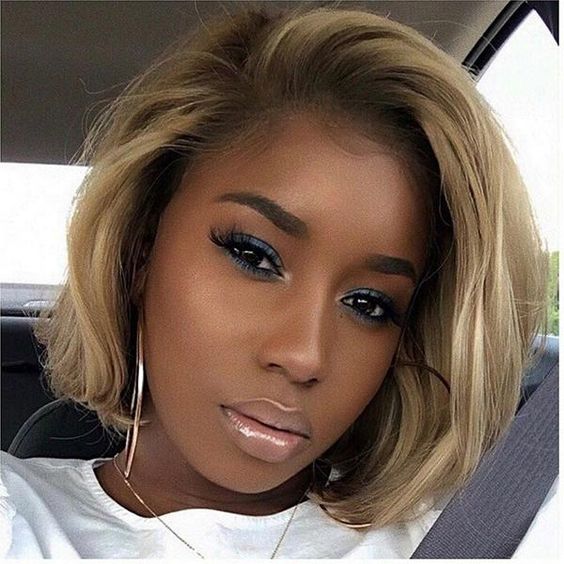 Style Tips on How to Maintain Blonde Bob Haircut:
Adding some fun colors to your blonde bob is a fast and easy way to style it. Red is one of the most common hair colors for bob-cut layers.
Give your layered bob cut a beach vibe curl for a messier style and look.
Wash your hair daily to prevent greasiness.
Side bangs or fringes add to the overall charm of the hairstyle. It also aids in the concealment of a large forehead and the shaping of the face.
For an everyday look, a pinch of styling gel and hand scrunching can be helpful.
Avoid using many heating products on your hair because they can hurt it and cause it to dry out.
Desist using hair colors that make you seem bland. Before you apply hair color, it's always a good idea to consult a stylist for better advice and results.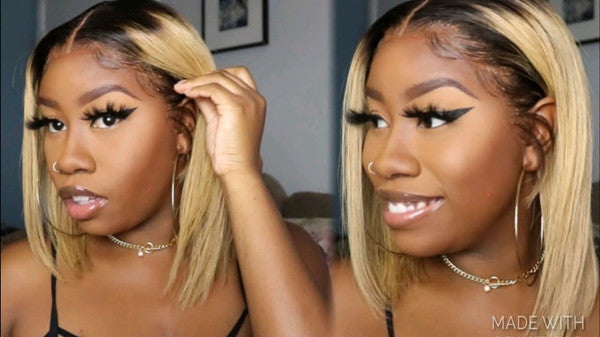 Frequently Asked Questions and Answers
Q1. What is the best way to style my hair if I have short hair?
Ans: You can style short bob hair in a variety of ways. You can either cut them in layers for a voluminous effect or add color highlights for a blonde look.
Q2. Which hairstyle is best for a heart-shaped face?
Ans: Almost all bob styles look good on people with heart-shaped faces. One of the most common bob hairstyles is the messy rebellious blond bob cut.
Q3. How do I tame my bob-cut hair to prevent it from tangling when I'm out?
Ans: Traveling damages and tangles your hair. A bob split, on the other hand, reduces the tangling chances. And if you feel like your hair needs to be protected from tangles, use a hair gel.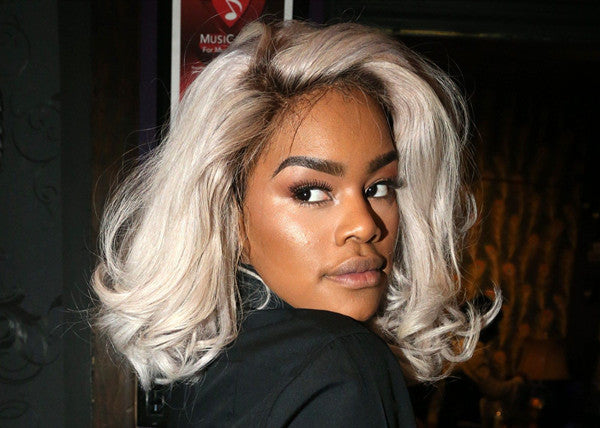 Regardless of your choice, Blonde bob hairstyles will always be fashionable, and you won't have to think about following the latest fashion trends. When color is added to a bob cut, it completes the look. People will be in awe of you with these incredible haircuts. You'll, without a doubt, be the center of attention wherever you go.