Are you looking for your first blonde lace front wig? If so, most ladies can agree that their first experience is usually a tricky one. Numerous online stores sell blonde lace, some of which are generally not high quality. It is, therefore, quite essential to know what it entails to get the best blonde lace front wig.
Blonde wigs, specifically the blonde lace front wigs , are pretty popular thanks to their uniqueness, making them quite attractive. In reality, today's top celebrities don blonde wigs not just on the red carpet and in movies but also everyday life. Even if this isn't your first wig, you could pick up some new tips to help you choose your next one.
 Factors to consider when choosing the best blonde lace front wig
Length
There are three basic lengths to choose from:
Short length
Medium length
Long length
Short blonde hair wigs are better for hotter climates or if you feel your body is constantly wet. The longer the wig (just like your hair) is, the more heat is trapped, and you may feel warmer during the day. Short wigs are often easier to maintain, dry faster and style, and be less expensive. But the option is yours; don't let a lack of funds prevent you from obtaining the look you want.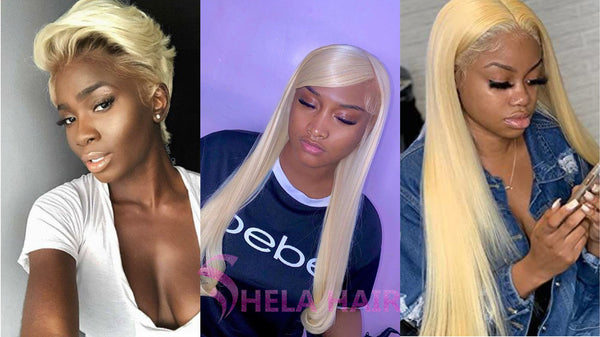 Texture
You have a few options for texture once you've determined your ideal length:
Straight: A-line that is both straight and smooth.
Wavy: Flowing, bouncy hair that has no twist texture.
Curly: It's heat-resistant and bounces back like a slinky.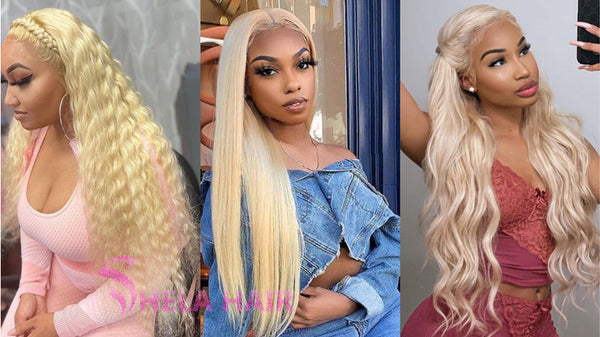 Face Shape
The main factor when choosing a wig style should not be your personal preference. Instead, think about what kind of wig style complements your face shape the most.
Even if you have a favorite wig type, an essential consideration is which wig better to complement the shape of your head and face. This will assist you in deciding on wig length, texture, and overall design.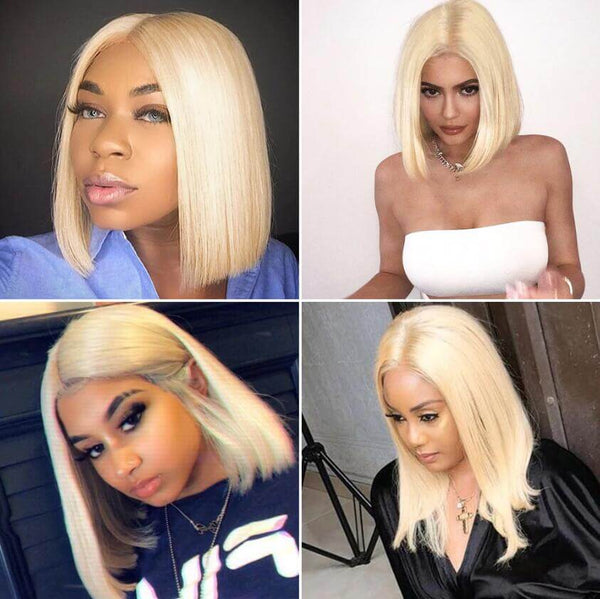 Lifestyle 
Are you usually seated at a desk for the majority of the day? Or are you a very involved person who participates in sports?
If you spend a significant amount of time in the office, Blonde synthetic wigs or heat-friendly synthetic wigs are a good option. They are less robust than human hair wigs, but you can save money because you won't be putting too much pressure on your wig.
If you're a more involved person, though, human hair and luxury human and Remy hair hybrid wigs would suit you best because they're the most robust.
Cap Size
Since Cap Size directly links to comfort, the size of the wig will make an even more significant difference.
If it's too tight, it won't fit on your head. It might be evident that you're wearing a wig if it's too big. The majority of blonde wig wearers fall into the average size category. However, you can easily find wigs in both petite and big sizes. But how do you know if you're of average height and weight?
How to Find Your Wig Cap Size
If you're not sure what size cap to get, measure the circumference of your head with a tailoring measuring tape.
Measure from your hairline front and behind your ear. Proceed by measuring your neck nape to your other ear and then back to the front of your hairline with the measuring tape.
Pro Tip: To ensure that your measurement is accurate, repeat the process at least three times to ensure that your results are consistent.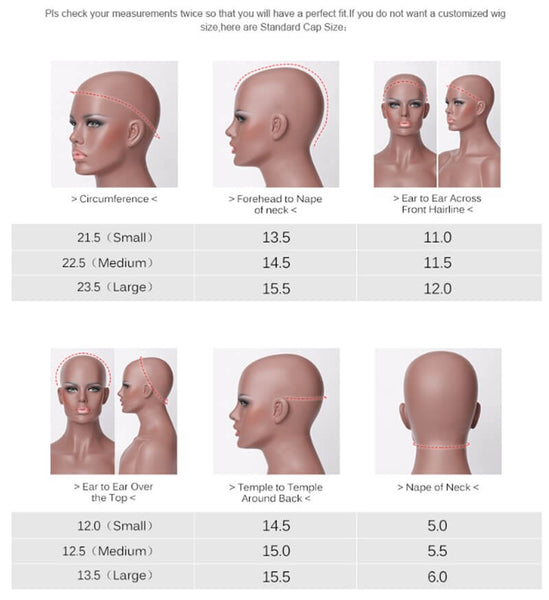 Below are the various lengths you need to have for your wigs to fit perfectly.
Standard Circumference measurements:
19 inches is for children
21.5 inches is forpetite ladies
22.5 inches is theaverage or standard size
23.5 inches is forlarge size
Wig Straps
What makes wig sizing even convenient is that most of them come with a strap, usually Velcro, that allows you to easily change the size of your wig for the best fit.
You may typically change the size by half an inch smaller or larger. If you're worried that your wig will be too small, you should still order the recommended size based on your head circumference because you can adjust the size up. It'sIt's better to be slightly snug than too loose.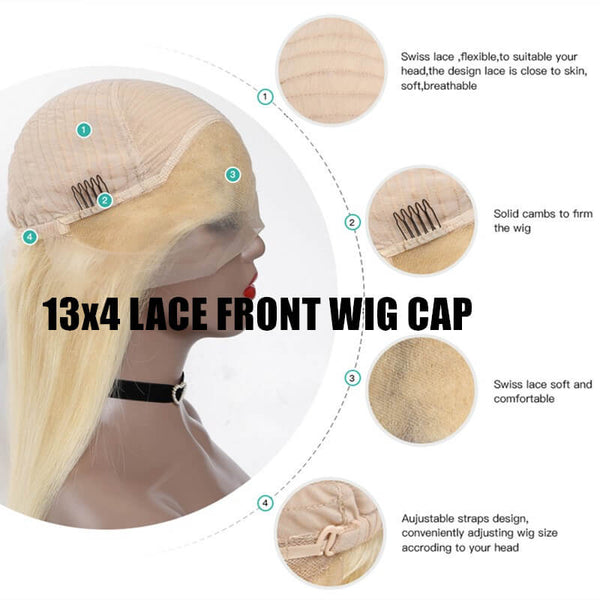 4x13 Lace frontal wig
6x13 Lace frontal wig
Full 360 lace frontal wig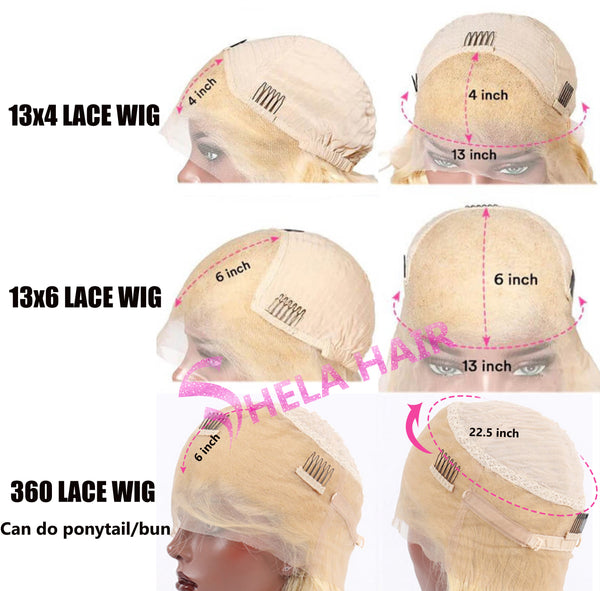 Blonde Human Hair Wigs
Real blonde hair wigs will give you the most natural appearance and feel. They offer you many styling options and are highly durable, lasting up to 1 to 2 year if you keep up with your 613 lace front wig care routine.
Blonde Human hair wigs, on the other hand, are typically more expensive and require additional styling, especially after washing, because they function similarly to your natural hair. Girls always tell us "I got at least 10 compliments these days and they thought it was my own hair!" That's the reason why girls always choose human hair 613 wig. 
This is a particular form of human hair wig that provides the highest quality of any wig. Since the hair cuticles flow in the same direction, you'll have less tangling with this wig.
Since these wigs need more meticulous collection and processing processes, they are costlier, but you can get a higher-quality wig.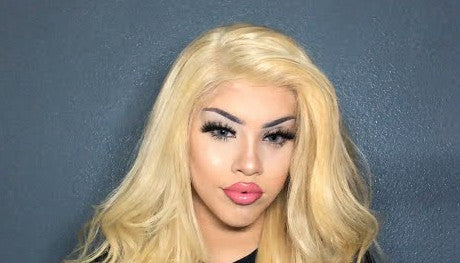 Blonde Synthetic Hair Wigs
These have a similar look and sound to human hair. However, since there can be significant variations between brands, make sure it's of high-quality materials, or it won't look natural.
When it comes to styling, you won't have as many choices. For example, you can't use heat, so hair dryers and curling irons aren't an option. You may, however, pick from a wide variety of pre-styled fiber/synthetic hair wigs to find the look you want to wear every day.
These are typically less expensive, but they are also less durable than wigs made of blonde human hair. You could not do more color on it. It looks totally fake not like human hair. That's the reason why black women don't like it. 
Why synthetic Blonde Hair is not a good choice
This is a particular form of fiber hair wig that allows for a lot of styling options. Hot hairstyling products, such as hairdryers and curling irons, may be used. However, double-check the specifications of your particular instruments to ensure that they do not exceed 350 degrees.
Tangling is a possibility, so take care to stop it. You'll have to determine how vital heat-treatment styling is to you if you want this form of wig hair. These wigs are the least durable, lasting just two to three months with proper care due to the materials used to withstand higher temperatures.
Should I get a blonde Synthetic or Human Hair Wig?
It's not a surprise that most ladies will automatically choose the latter. 100% Human hair wig is the best choice for you to get a perfect blonde 613 hair look or get color it. 
Conclusion
Consider a blonde human hair wig if you want something natural, long-lasting, and stylistically flexible. However, If you're on a budget and want something low-maintenance, shopping for a silicone blonde hair wig is a good option.