Most ladies can agree that after wearing your human hair wig for some time, you'll notice that it starts shedding off. Shedding is usually normal; however, the intensity or level is what matters.
Just like natural hair, the wig follicles usually age and tend to shed off slightly naturally. However, when your wig sheds off hair follicles in excess may imply that either you reseal your weft or try a new installation procedure. In this article, we're going to talk about what causes your human hair to shed and how to prevent shedding altogether.
Main causes of human hair shedding
Wig shedding's main cause comes from poor hair maintenance routine. When styling or unsealing your wig weft, it's always advisable to take great care to avoid damaging your wig.
The human hair wig consists of sewn-in hair wefts that are usually fragile, and improper handling will automatically make them shed off.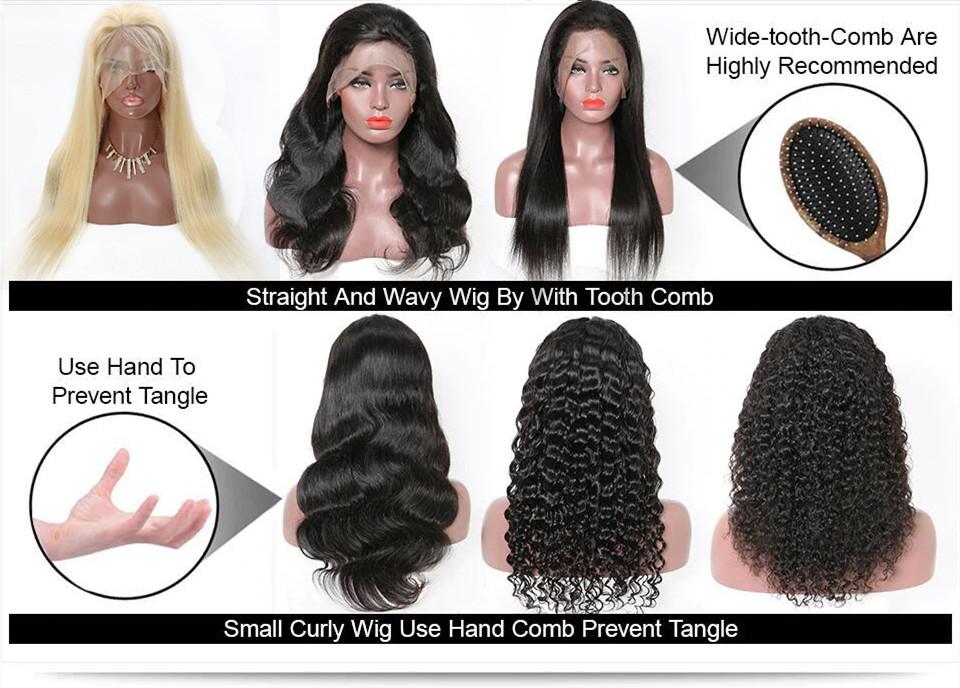 The other factor that causes a wig to shed off is its quality. Low-quality wigs tend to be less durable and are most likely to shade off faster than high-quality ones. When purchasing a human hair wig, always ensure that it has a machine-made double weft bundle.
A durable, high-quality wig is also made free of chemicals and comes from natural material with its cuticles intact and running in one direction. Therefore, high-quality wigs will shed less and become tangle-free regardless of whether the wig is wavy, straight, or curly.
Useful tips for preventing your wig from shedding
1. Avoid tugging your human hair wig.
To minimize Shedding, during wig removal, avoid pulling off your wig. Ensure that during removal, you treat your full lace wig or lace frontal wig as if it's your natural hair. Be gentle and take great care; avoid rubbing or tugging.
2. Use glue to firmly hold your wig into position
In order to reduce your wig from Shedding, it's always advisable to reinforce your weft using glue. Apply glue directly onto your wig using a nozzle along your entire weft line. For effective results, let the sealant dry, turn the filling over, and repeat the entire procedure while ensuring that you apply all the weft.
Glue reinforcement on your wig weft usually makes your wig last longer and makes your hair more manageable. Lastly, while applying, avoid applying the sealant onto your human hair bundles as this can lead to clumps of hair damage. 
3. Gently clean your human hair wigs
Human hair wig are usually fragile and are most likely to fall out if not properly handled with care. Haircare and maintenance are essential in that it helps prevent your hd lace wig from drying or getting frizz and tangles.
To reduce Shedding when cleaning your wig, always ensure that you use a sulfate-free shampoo and conditioner on your human hair. When cleaning your wig, be gentle to effectively repair damaged parts and remove any sprays or oils from your hair. Lastly, cleaning your hair effectively and with caution helps you detangle any knots that might cause it to be unmanageable.
4. Avoid cutting the weft thread during wig installation
Whether you're wearing a clip-on wig, stitched human hair, or a glue wig, always be careful when dealing with the weft thread. Avoid cutting the weft by any means necessary if you want to prevent your wig from shedding.
 Cut the weft will make the weft fall out easily, particularly during styling and also during treatment. During installation, use the flip method, which involves sewing the hair track over your head length and then turning its end upside down and proceeding to the next track. 
5. Choosing a double weft human hair wig
Human hair wigs usually come with either a single or double weft. However, a double weft is more appropriate as it is two single weft tracks sewn together. To prevent your wig from Shedding, always go for a double weft, as they are usually thicker and are also intricately sewn to reduce hair loss.
6. Do not over bleaching knot or preplucking
Remember, do not do over bleaching knot and plucking on the lace part of your wig. It not only will leading a hair loss, also will ruin the whole wig. The hair on lace part is whole handmade sewin hair, there is a knot which is fragile and easy to get lose if plucking hard or bleached for a long time.
Following the tips mentioned above will help reduce your wig from shedding. Also, your hair will be more manageable and will also leave you looking more stunning than ever.