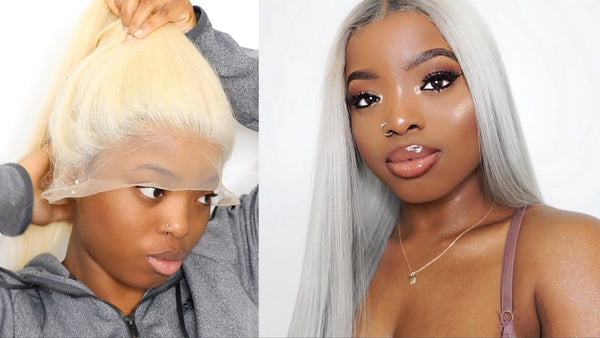 When it comes to changing your hair or wig color for the first time, whether it's your natural hair, black color transparent lace wig or a blonde wig, it's always essential to have authentic hair products from some reliable hair color companies. This is usually because the vendors have top notch hair color dyes and products.
It's worth mentioning that it is relatively easy to switch your wig or hair color at home by simply following the procedure on the dye package bought. Whether you intend to change your hair color to blonde hair or brunette, the result will be flawless with following the hair color guidelines. 
It's worth pointing out that the final results of the dyed hair color will always end up looking lighter than of the model in the packaging. For permanent dyes, always choose a darker shade than that of your intended result. However, when it comes to semi-permanent dyes application, you usually don't use a developer. Hence the Lack of hair developer for the semi-permanent hair dye makes the hair color get darker and darker the longer it stays on your hair.
Below is a list for some of the best hair color brands that are affordable and easy to use. These hair color products are reliable as they have gone vigorous testing like sun exposure, frequent shampooing, and heat, yet they remain shiny while maintaining the dye color. 
L'Oréal Paris brand is renowned for selling some of the highest quality dyes that are suitable for all hair types and super easy to get color on blonde full lace wig. It comes in an array of color variations to choose from. For semi-permanent shades, use a kit that covers grays. Always try to keep color that is within one or two shades of your original color to avoid turning your hair color orange.
When you have darker hair and your thinking of going lighter, always seek professional assistance. Lastly, the L'Oreal dye can last for many weeks without actually fading, and its dye kit also has a multi-user conditioner that makes the strands look glossy and sleek.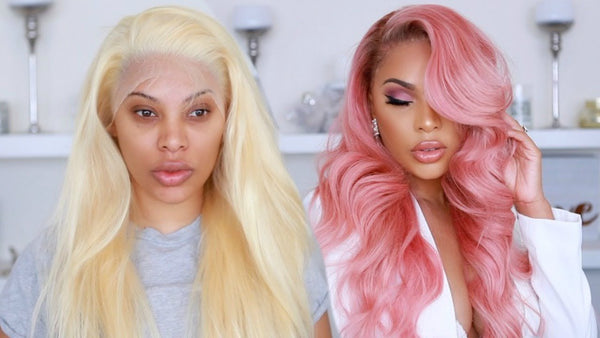 The adore hair color is another prime contender when it comes to hair dyeing. Most of fashion human hair wigs hairstylists loves to use Adore when they do rainbow color on 613 wig. It offers permanent and semi-permanent dyes that have no ammonia, peroxide or alcohol. Their hair color has natural ingredients that provide a vibrant color that makes the hair soft silky and shiny. It usually has 56 shades of semi-permanent color and six shades of permanent shades both of high quality.
Revlon's Hair Color formula comprises of a mix of camellia oils and hemp, that's gentler to the hair and scalp compared to some of the available products in the market. It offers a permanent, long-lasting dye color that's fade resistant. Lastly, its latest vegan formula doesn't contain sulfates, silicones, ammonia, or phthalates.
This hair color brand has both permanent and non-permanent dye colors. For permanent hair color, we have the Clairol root touch up permanent cream that covers your greys or completely dyes your hair roots. The dye comes with a kit that has a fail-proof applicator brush that allows the application of dye color using a couple of smooth strokes.
 The Clairol root touch up permanent cream can transform your hair in 10 minutes and usually lasts up to three weeks. Lastly, we have another Clairol product that is called the instincts ammonia-free hair color. The hair dye is ammonia-free and lasts a maximum of 28 washes typically.
Garnier hair color products are of high quality, and also offer a permanent hair color. The Nutrisse Ultra Coverage Nourishing Color Crème after 25 minutes of application leads to a desired permanent color that's full of depth. The dye usually comes with a small fruit oil that helps protect your hair while processing it.
 The company's other hair product is the Garnier Olia Oil Powered Permanent Color. It's useful for permanent dyeing and helps in depositing color onto the hair strands. The hair color can dye any blonde bob wig or long hair to become cherry red color, one of the most robust colors to maintain and have it last for four weeks.
The Arctic Fox's Bleach, please comes with a complete hair lightening kit that lightens hair while waiting for pastel colors that include platinum, cotton candy pink, or lilac. The hair color kit contains a cocoa seed and mango butter infused developer, a bleach that's vegetable-based made excluding beeswax, and a pair of latex gloves. Finally, the hair bleach has a violet base that helps cooling down the yellow tones just like a purple shampoo or toner would.
The manic panic hair color is another reliable dye. The Semi-Permanent Hair Color Cream can dye your entire head purple, pink, or even blue. This hair color cream dye is a classic having some of the boldest shades in the market, such as green envy, electric banana, and even purple haze. The hair color is most effective when brushed on the lightest section, usually to avoid ruddiness. The color usually has a lifespan of four to six weeks before fading off. It is definitely a good choice for blonde hair wigs lovers.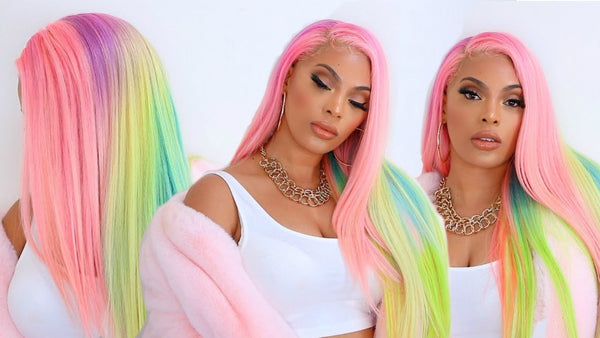 Are you ready? Then let's dye the wig at home this time and make your hair a new color at home!