Schools are about to open, and black girls are in for a treat. This season is all about colorful hair, precisely the blonde wig. Although there are numerous blonde wigs in the market, we have narrowed them down to 5 of the top trending back-to-school ones that are fashionable and easy to maintain.
Blonde Deep Wave Hair Weave is a blend of two features, as the name suggests. For starters, the wig is a lovely blonde. Second, it has a lot of deep waves. Full-length deep waves and curls give you a stunning appearance. The blonde tone is perfectly mixed. These healthy hair bundles and closure frontal are received from single donors young beautiful ladies. Some of the various types of blonde hair include Brazilian and Peruvian hair. 
Deep Wave is always the best choice for black gilrs but most of them only know black deep wave wig well and are so afraid of other colorful hair. Blonde deep wave wig is def. a trendy fashion in 2021. Many black girls begin to try blonde hair and they totally rock them. It proves that dark skins girls can rock any color hair well even blonde. Why not?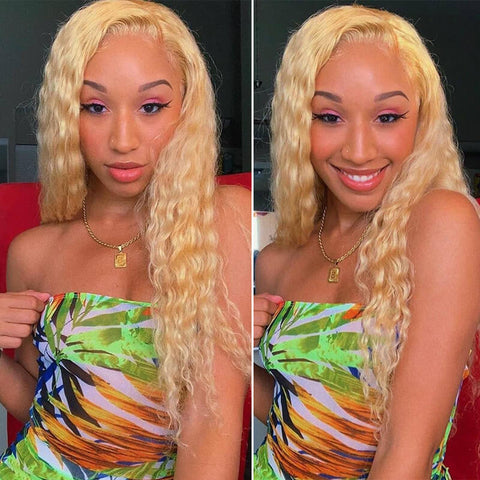 Blonde Straight long wigs
Is it true that blondes have more fun? We can't be sure, but we know that this particular wig type always has an elegant refreshing look. It's usual for girls to assume that blonde straight hair texture isn't as fun as curly hair since waves add more bounce and liveliness.
However, that isn't entirely accurate. When you know how to style your wig, straight blonde hair can be just as much fun as curly hair. So let's take a look at the best style you can pull off.
For a bouncy and beautiful look, keep your long straight blonde hair symmetrical and silky. This style is simple to do, and you can always put your hair up in a bun or ponytail for a quick change of look. Long straight hair is a perfect look in any ocassion no matter back-to-school party or go-to-school daily.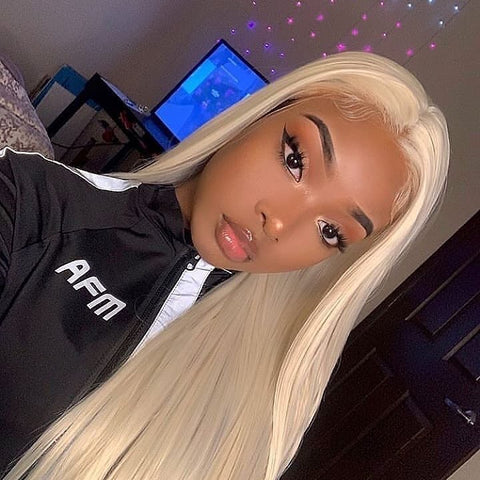 Allowing your bob to grow out or cutting your long hair to shoulder length is the best approach to wear your straight blonde balayage hair in medium size like 10inch or 12inch. There are no booms or anything like that. This simple design is excellent for girls and ladies who prefer elegant looks and minimalistic trends.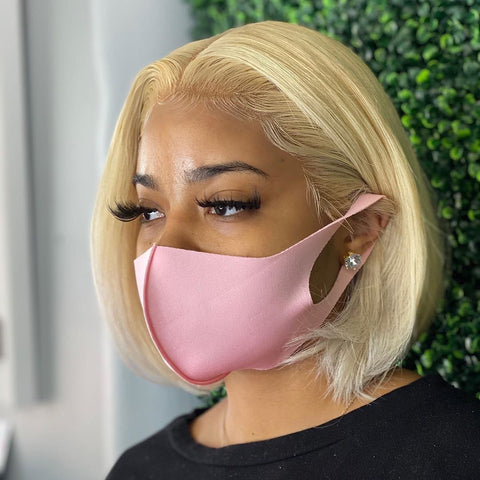 Short length bob with choppy bang
The blonde straight wig ideas for your back to school include:
The blonde Lob Balayage.
Medium-length bob.
The sandy blonde.
The sleek straight blonde.
Short length blonde with see-through bangs is a lovely style that will make you feel cute and girly. You may style your hair in a variety of ways, such as sweeping them to the side, parting them in the center, or rocking blunt or blonde bob with choppy bangs; the possibilities are truly unlimited. Blonde bob wigs are trending all the time.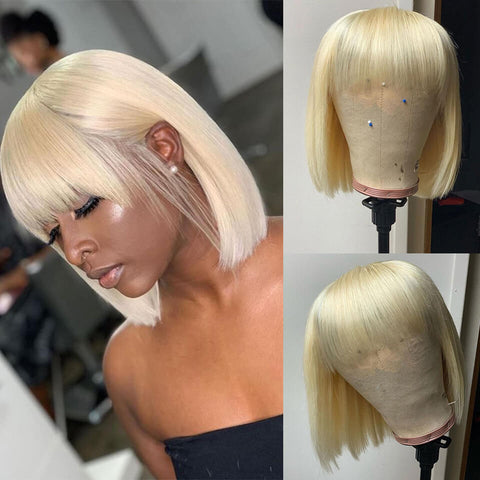 Half Black Half Blonde Long Straight
For a lovely look, girls with straight long blonde hair can just let their smooth hair fall down their shoulders and back. A hlaf-half color wig def. is a fashion bomb look to rock back to school season. 
Btw because blonde shades frequently necessitate bleaching, which can harm your hair, apply a high-quality conditioner to nurture it.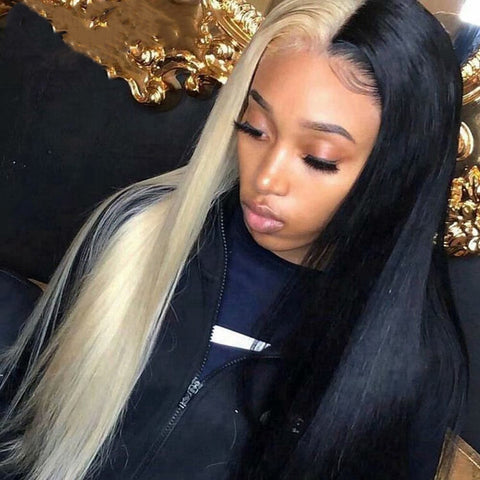 Blonde Loose Wave 360 Lace Wig
Have you ever tried a blonde 360 wig before? For a full 360 lace frontal wig, you can do many updo hairstyles like updo bun or high ponytails. It is really a good choice in summer hot season. 
Loose waves are a type of hairdo that is loose and contains a lot of curls. Most girls are usually perplexed because the hairstyle is similar to that of body wave hairs. However, you should know that loose wave hair has a slightly tighter curl than body wave hair. The fundamental distinction between loose wave and body wave hair is this, hair with a blonde lace front wig loose wave is neither too straight nor too tight—a majority of girls like loose hair since it is typically fluffier and more natural.
The hair is formed neatly and tightly to prevent shedding. The loose wave is bouncy and thick, and it's made entirely of human hair. Therefore, you will have complete, healthy-looking ends without any split end.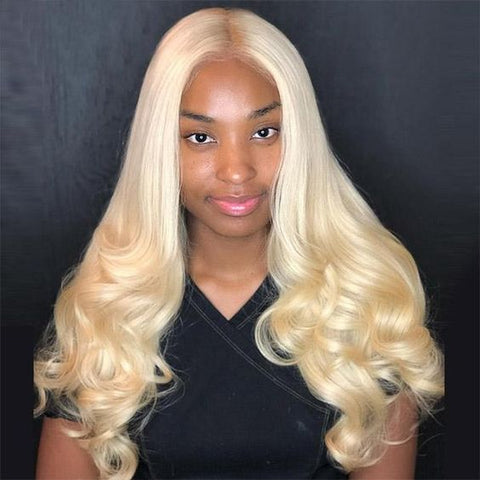 So, except for the fact that black girls of all shades can rock blonde hair, what have we learned here? First, the blonde hair trend is contagious and is here to stay. Many gorgeous pictures are going to appear when you Google "blonde human hair wig."
As a black woman, experimenting with your hair is a fun method of showcasing your personality and making a fashion statement. The black root blonde wavy bob is all about standing out and making a fashion statement.
From the platinum blonde to golden blonde, pink blonde with dark roots to fading lavender blonde hair with no roots, there's always something for everyone. But, of course, it's entirely up to you to make a choice. The best part about it all is that each hue is only transitory, and we may change them as much or as little as we like, just like our minds.
So, to any black school girl who thinks she can't rock blonde hair, I challenge you to reconsider and try one of the black root blonde bob wig suggested above because you might be impressed.
Dirty root blonde bob wig straight
When it boils down to choosing a new wig color, there are usually a variety of options. Among the various alternatives, blonde is nearly always the hue that we all desire at least once since it allows us to show off our playful side and the undertones that everyone talks about.
However, black women are occasionally criticized for wearing the blonde shade over their natural hair color. However, the dirty root blonde bob with a straight texture defies the odds as it's currently among the top-selling black school girls. This particular human hair is made from soft, high-quality material, looks natural, and is easy to maintain.
Recently there are some new arrival dirty root blonde bob hairstyles to choose on our website, you can click here to choose the one you are big fan to.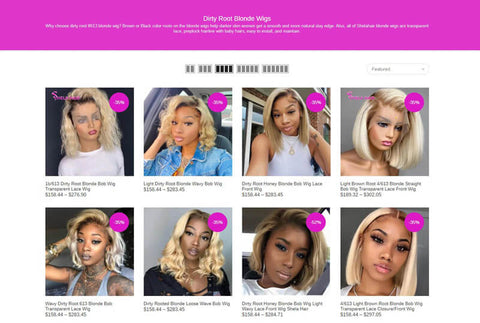 The General procedure for cleaning your blonde wig
Wash the wig using lukewarm water at least twice per week.
Use human hair shampoos and conditioners.
When rinsing, be thorough and gentle.
Avoid using hairdryers and instead dry your hair naturally.
Gently brush out knots and tangles before brushing.
Use a wide-tooth comb to brush your blond wig at least twice a day.
Avoid brushing wet hair or sleeping with damp hair.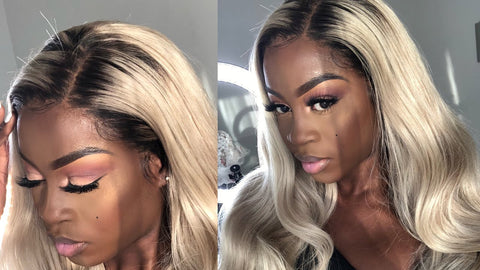 Final Remarks
The lighter your hair is, the longer it will take to rinse off, and the darker your hair is, the faster and easier it is to rinse off. Regardless of your wig choice, keep in mind that your hair's health is essential, as over-processing causes damage and breakage. Ladies, you must treat your hair as though it were your natural hair if you want to increase its lifespan. We hope our article was informative enough.