If you're looking for a blonde lace front wig, you've come to the right place. This particular hair type is all about making a fashion statement and standing out from a crowd. It's not an issue of whether or not you can pull off a blonde look, but the confidence you have when wearing it.
Which blonde shade is ideal for you? Keep reading our article if you want to know more about blonde human hair wigs.
 Advantages of Human Hair Wigs
For those with thinning hair or baldness, wearing a wig may be helpful. Even celebrities wear wigs to change their hairstyles as often as they change their clothes without causing harm to their natural hair. Wigs are available in various styles and shades, ranging from short blond to long brunette hair and everything in between.
Wigs can now be made from different materials. Some wigs are made of synthetic materials like nylon, while others are made of natural human hair. There is no denying the advantages of wearing a wig made entirely of human hair. However, why do so many people assume that a 100% human hair wig is preferable to a synthetic hair wig? Please continue reading.
The Difference between Human Hair and Synthetic Hair Wigs
Natural Human Hair Wigs
The use of actual human hair fibers lends a natural look.
Natural hairstyles are possible.
Heat-resistant
Possessing the ability to dye and perm
It moves in the same way as natural hair does.
Synthetic Hair Wigs
It can't be colored or permed like human hair. 
It's more prone to heat damage.
Many people have a more unnatural look, movement, and feel 
You should replace wigs made of synthetic hair more often than wigs made of human hair.
Finally, fiber is the first distinction between synthetic and human hair wigs. A synthetic wig can keep its style better even after washing. Human hair wigs are made from real donor hair and therefore mimic natural hair. In turn, they must be restyled after washing, much like natural hair.
The second distinction is durability. Human hair has a longer lifespan and will last up to 3 years with proper care. Synthetic hair wigs, on the other hand, will last up to six months.
The Advantages of Blonde Human Hair Wigs
Human hair wigs are costlier than synthetic wigs. Women, on the other hand, will save money by purchasing better wigs from virgin hair vendors. The advantages of a human hair wig typically outweigh the disadvantages. In terms of material, hair appearance, color, and flexibility, human hair wigs are superior to synthetic hair wigs.
Human hair wigs are undeniably simple to maintain, are breathable, and long-lasting. You will feel amazing when wearing this particular human hair, and g to top it off, the wig will be challenging to differentiate it from natural hair. 
After washing, synthetic wigs can become frizzy. When appropriately used, human hair wigs retain their original, lustrous feel. Human hair wigs are sensitive to excessive heat. Moisture is needed for human hair wigs. Choosing high-quality human wigs is a good start, and you can continue to look after it in the days ahead, but not as much.
When gathering and crafting the wig or hairpiece, hair follicles are held, flowing in the same direction. Tangling is significantly reduced, and hair appears and looks silkier, with all cuticles flowing in the same direction.
Human hair wigs are usually expensive than synthetic wigs, but they last two to three times longer.
If you purchase #613 blonde hair bundles, can be curled, straightened, and dyed as desired. This is a must-see for anyone who loves making wigs or styling their hair. The hair bundles will blend in seamlessly with your hair; change your look in a matter of seconds, and no one will be able to figure out your secret. For 16"-20", 100g/bundle, three bundles are generally sufficient for a full head; however, if you have very long hair or prefer thicker hair, one more bundle is recommended.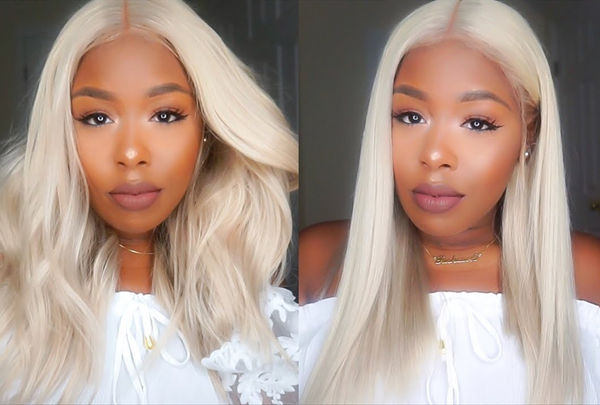 14 Tips for wearing Blonde Hair Wig
Any hairstyle and color wig you give a dark skin woman will look great on her. Why not? We have a plethora of hashtags and discussion boards devoted to black women. The popularity of luscious, natural blonde hair is on the rise. More and more dark skin girl prefer some colorful wig especially blonde wigs.
We no longer agree with the naysayers after seeing several stigmas surrounding how ill-fitting blonde hair might appear on women of color. Many of us feel inspired to go a few shades lighter after seeing most celebrities wear this iconic golden look.
 So, now that you've been persuaded to go blonde, what's next? Ok, just like every other wig, you want to make sure it looks natural and perfect in every way. When it comes to blonde wigs, a few pointers will make wearing this color a breeze. So take a look at these wig-wearing tips for black women with blonde hair.
Wear A Wig Cap
Wearing a wig cap is the most effective way to keep your natural hair safe and flat under your wig. "You need your blonde wig to look natural," we will repeat as much as possible. Sweat and oil will build up under the wigs as you go about your day, as I'm sure you all know. These oils can seep into your wig if you put the blonde hair on top of your head without a shield, causing it to fall and look unnatural.
These caps act as a base coat, providing a smooth and even surface. They also accommodate whatever is placed on top of them and hold your wig in place. If you don't want your unit to look lumpy and unattractive, start by investing in a high-quality wig cap.
Prepluck Your Blonde Wig With a natural hairline and Lay Down the Blonde Baby Hair
We'll tell you time and time again how important it is to add baby hair to every wig device you buy. If the hair on your device doesn't have edges, you can make them by trimming a few inches in the wig's front to produce a more natural hairline.
Ensure all of the baby hair parts are cut to the same length; otherwise, the look would be uneven, unkempt, and unnatural. Wet the strands first, as this will make styling them more straightforward. Then, using a transparent gel and a toothbrush, swoop the wig's edges. If your natural baby hair doesn't fit the blonde wig machine, don't use it.
When it comes to blonde hair, the most common fear among black women is that it may not look natural. It's therein your best interest to pluck the hairline and do a pretty baby hair to prevent a wiggy look.
The hairline are plucked to give the hairstyle a cleaner, more natural look, much like your own scalp. When you put the blonde hair wig on top of your head, it will blend in effortlessly, giving the impression that it is rising out of your scalp. When you purchase our blonde lace wig, you will receive a natural light preplucked hairline and some baby hair. You can do more plucking work if needed. For baby hair, it just depends on your need.
Find Your Perfect Shade of Blonde
First and foremost, you must determine the shade of blonde that would look best on you. If you look around, you'll note how many different shades of blonde there are. Strawberry blonde, platinum blonde, dirty blonde, honey blonde, ash blonde, or even highlighted blonde are only a few examples.
The point is that if you're thinking of changing your hairstyle dramatically, you need to make sure it'll fit you perfectly. African American women prefer a wide variety of colors, making it easy to decide which type of blonde would better suit our features.
Human hair wigs are usually available in the shade 613 blondes. Now, if you want to change the hue, you'll need to go to a beauty supply store and buy the appropriate bleach or dye to achieve the perfect color. If you find it hard dyeing your wig, always take it to a hairstylist who can do it for you.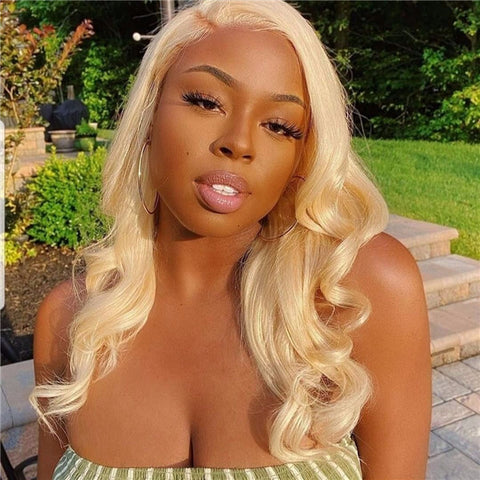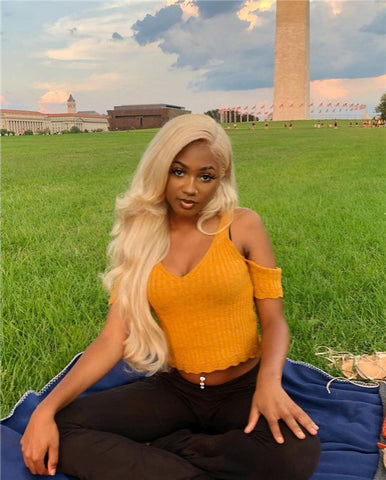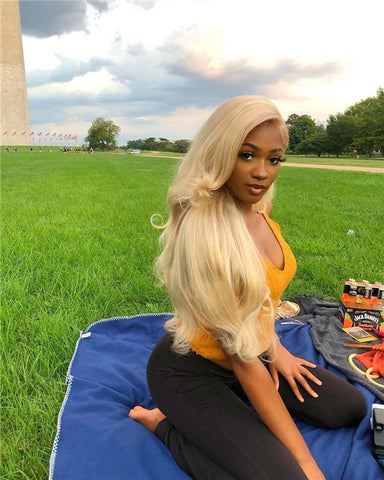 Cut or Layer Your Blonde Wig
When it comes to styling a blonde wig, you have several choices. You can find blonde color #613 wig and white blonde #60 wigs or honey blonde wigs here. You can add textures, cut it shorter, and even create a bang to give your face more dimension. By customizing the blond wig, you can make it look more realistic and natural on you. As compared to a voluminous short wig unit, a bone straight long blonde weave may appear unnatural. It all comes down to determining what works best for you and your face form.
Make Sure The Wig Has Parting
It's vital to get the parting game right. You'll be surprised by how enhanced your wig looks once you learn how to tame the part.
Since wigs come from a factory with a particular hair part and component, this is incredibly important to do. Instead of battling against the part's course, try pushing it to the side or straight down the center. You can choose a blonde full 360 wig or a blonde lace front wig instead of a blonde lace closure wig. 
Customizing the role to your liking brings it closer to being normal and fitting your personality. You can also play with different hairstyles by adjusting the component. If you a blonde wig with no parting, it will appear fake and evident that you are wearing a hair bundle.
Beware of Blonde Synthetic Wigs
Synthetic blonde hair Wigs are notorious for shedding excessively and for appearing artificial and shiny. Since synthetic wigs are made up of fibers rather than human hair, they seem to tangle and knot.
We're not saying stay away from them entirely, but be aware that their lifespan is minimal, mainly when they come in blonde shades. We don't want your first encounter with a blonde wig to be a bad one.
On the other hand, synthetic blonde wigs are ideal for those who cannot commit to a long-term hairstyle. You can pursue a quick look for a low cost and get the best of both worlds with these choices. If your preference is the blonde hue, you can invest in a higher-quality wig that will last for a more extended period.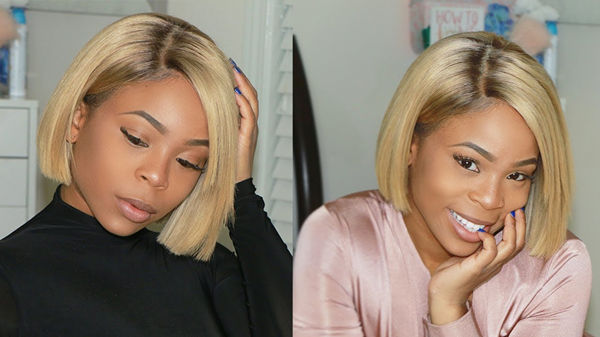 Try dirty root blonde wig
Blonde wigs aim to appear as natural as possible, and unless you were born with this color, different color roots are normal. Almost everyone's hair has some gradients flowing through it. Nowadays dirty root blonde wigs become a trend among black girls. You can find #1b natural black root, #2 dark brown root or #4 light brown root these dirty root blonde wig here to match your skin perfectly. 
If a blonde wig is the same color all the way through, it tends to be artificial. Investing in a unit with honey blonde or brown roots can enhance the overall appearance and make it seem more normal. Wigs with rooted colors even look like our hair, making them the perfect choice.
If you dislke a wig with color at the roots, look for one with a combination of two colors or have it dyed by a stylist. You may also apply highlights and low lights that are two shades darker than the base color of the wig.
Avoid sun exposure
I'm sure we all enjoy the heat. Overexposure to the light, unfortunately, is not only harmful to your skin but also your blonde wig. UV rays will dry out your strands and make your blond hair a brassy orange color. If you're going to the beach or some other outdoor function, we recommend wearing a lovely hat to cover your hair.
Investing in a UV/heat protectant serum is another alternative. Before leaving home, rub the serum in the wig unit to ensure that your blonde hair does not change color right before your eyes.
Use Light Hair Products On Blonde Wigs
Using heavy grooming items on your blonde wig is something you can stop. Since we use harsh chemicals to remove black hair and achieve a lighter hue, it is more delicate than other wigs.
When you use a lot of materials, the device can become matte and sticky. The oilier the hair strands, the stringier and unappealing they will all seem. Hairsprays, serums, and mousse are also good options for lightweight styling. Avoid using heavy gels, hair cream, or thick hair lotion.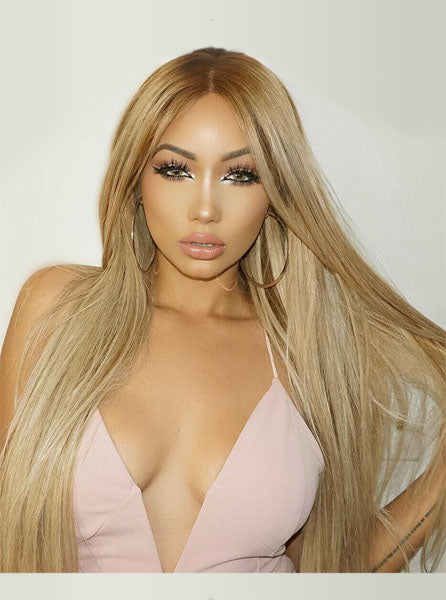 Stay Away from Over-Heating Blonde Wigs
The number one enemy of blonde wigs is heating. Blonde wigs can be damaged if it is overly styled with flat irons or curling wands. Your best choice is to use the lowest setting on your heating tools. Another alternative is to hold your wig straight by covering it with bobby pins.
If you want to attain a curly look, use rollers and Flexi rods. You can hold a stylish and healthy-looking blonde wig using one of these two methods. Too much heat causes the blonde wig to become dry and brittle while also dulling the shine. Giving your wig a break from over-styling and throwing it up into a fast and easy bun is always a good idea.
Beware of Shampoos with Sulfates
Sulfates are responsible for the shampoo's lather and bubbles. Unfortunately, these chemicals can deplete natural oils and proteins in the hair. Regular Shampoos will do more harm than good because your blonde hair is already black hair stripped off its colors. If you want to have your hair in fine shape, you'll need to invest in a shampoo that doesn't contain sulfates.
Also, at least once a week, wash your blonde hair with purple shampoo to make it shiny and look lovely. Purple shampoo aids in the maintenance and balance of blonde shades. But bear in mind that purple shampoo isn't meant for washing; hence you'll need to buy a sulfate-free cleansing shampoo to keep your wig fresh and clean.
Consider Lightening Your Brows
I found that some women seem to like the contrast between their dark brows and light hair. If you lighten up your brows, the blonde wig will look more natural and flattering on your face. That doesn't mean you have to go platinum blonde with your brows, but a lighter, less dark hue can be very helpful. If you're afraid of bleaching your brows, use a softer eyebrow pencil to achieve the same result.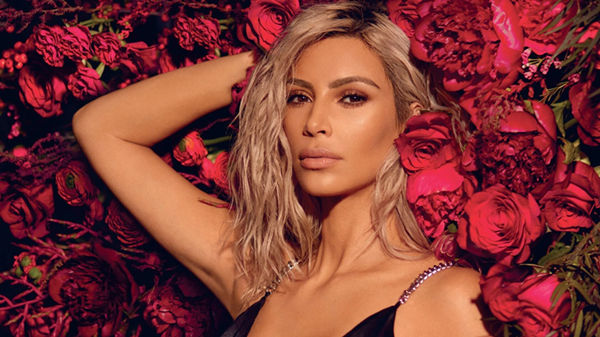 You May Have to change Your Makeup.
Kim Kardashian defnitely know it well! Most people overlook that changing your hair color could necessitate a change in your wardrobe and makeup. Colored hair will look amazing when combined with a dramatic makeup look. If you go for a natural look, your blonde wig will stick out more than it needs to and look artificial.
Some women find that their previous makeup application looks drastically different when they move from a cold to a warm shade or vice versa. This is a brilliant opportunity to try something new while still buying some fantastic new items.
Be Confident girls! 
Finally, our most critical piece of advice is to maintain confidence when wearing your blonde hair. Wear your blonde wig confidence and embracing this fun, vibrant hairstyle!