Blonde 613 wig is usually among the most popular, elegant, and colorful human hair available. However, blonde hair is usually the most fragile and delicate shade to handle. Poor maintenance of this special wig can make it appear dull, dry, brittle, or brassy.
In this article, we're going to talk about the various methods and precautions you need to take to minimize damage while effectively take care of your blonde human hair wig.
Avoid Excessive heat
 Always ensure that your hair is dry and tangle-free before applying your flat iron. Let your blonde wig air dry, then detangle it before you proceed to apply a heat protectant. While using the flat iron, make sure that it's below 350 degrees and avoid pressing it tightly or closely against your hair.
Conditioning
Another effective method for maintaining your blonde human hair wig is through conditioning it. The conditioner plays a very pivotal role in the sense that it infuses your hair with moisture while also closing the cuticle to help maintain the blonde color on your hair.
Hair Lightening Sprays
A hair lightening spray comes in handy as it perfect for lightening bleached, highlighted, or color-treated blonde or light brown human hair wigs. The Hair spray consists of some formula rich in chamomile, citrus, and honey that usually work in tandem to lighten your wig. Hair lightening spray usually becomes effective after a few applications. Some of the formulae have natural plant based ingredients, while others have bleaching agents.
Deep Conditioning
This method is also another great way of maintaining your blonde wig. 613 wig type typically requires plenty of moisture and protection; hence deep conditioning will sort you out. Your hair will repair, your scalp fully moisturized and fully protected from breakage. Lastly, using deep conditioning generally leaves your hair stunningly fresh.
Leave-in Conditioners for Blondes
This particular conditioner is fully equipped to help reverse some of the damages associated with hair bleaching, increase your hairs shine while canceling out brassy tones. Place the leave-in conditioner on a clean, dry towel, then apply it to your hair while letting it sit in. After some time, you find that combing through your hair becomes easier while leaving your moist, bouncy, and more manageable.
Shampoo Your Wig Less Often
It's usually advisable to avoid washing your wig at least two days before bleaching to avoid burning your scalp. After coloring your wig, wait at least two days before you proceed with shampooing to enable the color to set in properly.
Make sure that when taking a shower, you always have your shower cap on, which usually helps keep your blonde hair dry. Also, avoid excessive shampooing as this tends to remove the wigs color pigments and its natural oil protective coating.
It's always advisable to use sulfate-free shampoos by gently massaging your scalp using your fingertips. Finally, rinse off your hair using running water to enable your cuticle closure and reduce the fading process.
Blonde Wig Purple Shampoos 
With time your blonde human hair wig can turn its shade from bright blonde color to dull orange or unattractive yellow. When this happens, the blonde wig purple shampoo comes into effect. This particular shampoo will brighten your wig while revitalizing it with a brassier color.
The shampoo works effectively through depositing purple pigments that typically help neutralize those dull yellow shades. It's usually advisable to go for a dark purple color that is of a plant-based blonde shampoo for maximum results.
Apply the blonde wig purple shampoo at least once per week while ensuring that it sits on your head during the entire time.
It's also worth mentioning that excessive use of the shampoo or letting it stay longer on your hair than the stipulated time will most likely leave purple hues patches on your head.
When it comes to choosing a shampoo, use a sulfate-free one, and if it leaves your hair dry, then you can always choose an alternative one that's convenient for your wig.
Leave in blonde drops is also another ideal option. The shampoo application is usually easy; all you have to do is add a few drops of the purple shade to your conditioner or shampoo of your choice to help with a cooler and brassier tone.
Go to a certified hair colorist. 
It's always recommendable to seek services from a well-trained colorist if you want to perfect your look by attaining and maintaining that gorgeous blonde look while minimizing hair damage. A hair color expert is usually helpful, especially when reapplying your blonde shade on bleached hair. Lightening your roots without overlapping your previously done shade is fundamental and typically requires great expertise to perfect.
Using Dry Shampoo for Blonde hair
When your blonde wig starts looking lifeless and greasy, then using dry shampoo is the perfect solution. This particular shampoo usually has lightening tones enriched with a rice starch solution that lights up your hair when washing while also effectively neutralizing any form of brassiness. Lastly, the dry shampoo is also ideal as it helps maintain your curls while also improving your hair volume.
Hair Glaze Treatments
This particular treatment is ideal, especially after getting your hair colored two weeks prior. The hair glaze treatment is perfect for increasing your shine, fixing brassiness, and reviving your color. This treatment is easy to do, and you can typically DIY while at home. The application can be made after every two to four weeks to maximize the wigs' color and shine.
Bond Reinforcing Products
These products are usually helpful when it comes to minimizing damages caused by lightening your wig. Visit a hairstylist who is conversant with using Olaplex that will enable you to have a more lighten attractive shade with minimum hair damage.
The bond reinforcing products are essential in that they help reduce breakages and repair the previously damaged hair roots section after bleaching. The other alternative is the bond multiplier treatment kit for coloring and bleaching and the bond angel Plex effect.
It's always advisable to consult your hairstylist when choosing a color addictive that's convenient for you. On the other hand, the bond maintenance system includes the Olapex Hair Perfector. This treatment is a DIY home maintenance product that will help revitalize your hair before your next salon treatment.
When it comes to managing your wig and taming your frizz, using the bond maintenance conditioner and shampoo is the solution.
Next is to apply the neutral protein filler to enhance your wig color, normalize hair porosity, and protect your hair against any future chemical damage. Lastly, always include keratin-rich hair products in your day to day hair care routine. Conditioners, shampoos, and leave-in conditioners contain a hydrolyzed silk, wheat protein, and keratin usually replenishes your wig, making it shinier, stronger, and less porous.
Hair Lightening Shampoos
The hair lightening shampoo is for those ladies who want a lighter shade without bleaching their hair. This particular shampoo reduces your hair color pigments, thereby lightening your wig. Its ingredients contain natural ingredients that are free from ammonia and peroxide.
 The citrus, chamomile, and honey ingredients usually make your locks lighter, and to maximize your effects requires an additional conditioner that blends correctly. Lastly, hair lightening shampoo usually helps in cooling down the yellow tones and brass on your wig.
Avoid Excess Sun Exposure
A Blonde colored wig is more sensitive to sunlight than dark hair simply because blonde hair lacks protective pigments. Also, the coloring procedure's chemicals make your wig susceptible to color fading and UV damage.
Always wear a hat or headscarf when exposed to direct sunlight over long periods. Covering your head will protect your hair against ultraviolet rays that might be harmful to your blonde hair. Alternatively, you can always use a UV protectant spray that you'll have to apply constantly.
Regular Trims
Another effective method for maintaining your wig is through regular trims. To remove split ends, you must regularly trim your hair after every four to six weeks. Traditional trimmings also leave your hair looking healthy and even easier to maintain.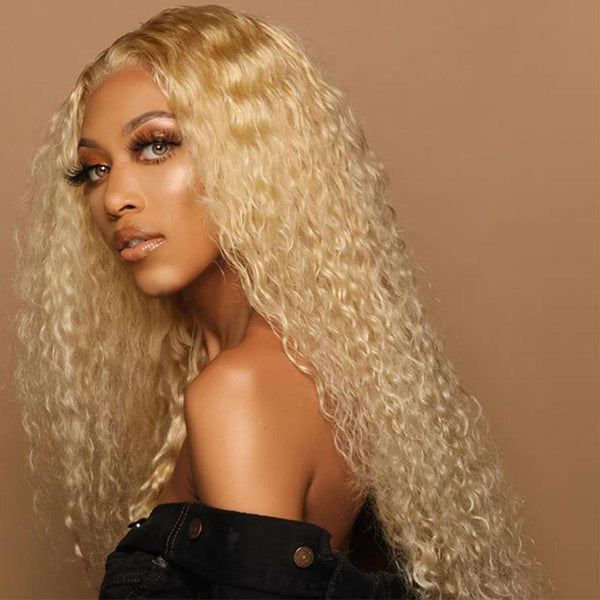 Hair Oil for Blondes
If your hair has lost its moisture and shine or is damaged, then using hair oils is the perfect solution. Applying hair oil helps end dryness while easing the styling procedure. 
Lighter versions of hair oil, such as Moroccanoil, help prevent discoloration, especially on lighter blonde shades. Lastly, applying the oil away from your scalp will help reduce washing frequency.
Root Touch- Ups
The root touch up involves a DIY procedure that consists in touching up your hair roots while at home. This touch up normally helps get rid of dark roots, and it also comes in a permanent shade that perfectly blends with different color shades. The root touch-ups process is effective and also takes a shorter time. For those ladies who want a temporary alternative, then using temporary root concealers is also a great choice, as it typically hides your roots until the next shampoo session. 
Chelating Shampoos 
This particular shampoo is specifically for those ladies who want to go swimming while wearing their blonde wigs. The chelating shampoo is a leave-in conditioner that you apply before going for a swim. This hair product is helpful in that it prevents any chemical build-up or discoloration that is caused by the chlorine in the pool water.
Chelating shampoos are also essential when you happen to live in an area where the only accessible water is hard. Constant use of the shampoo will help remove any minerals deposits that may be harmful to your hair, causing it to be brittle, dry, and dull in color. Lastly, besides applying the chelating shampoo, you should also consider purchasing a shower filter to avoid exposing your hair to harmful water chemicals.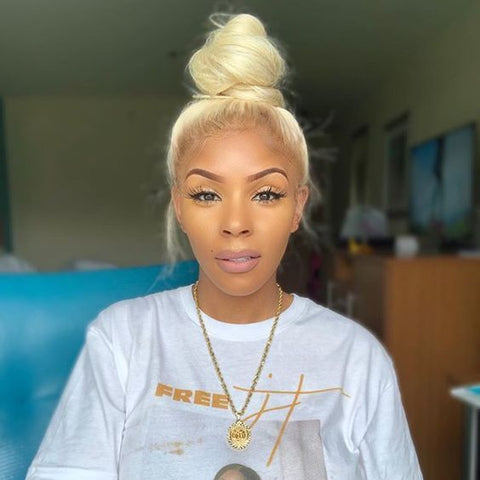 Hair Toners 
Another effective method to maintain your blonde wig is using hair toners. This hair product only needs to be mixed with a 5,10 or 20 volume developer and, in turn, helps manage your blonde tone. For a gentler hair tonner, always use the tonner mixed using a 5 volume developer. Lastly, it's advisable to avoid using a stronger developer as it usually contains hydrogen peroxide, which can cause more harm than good on your wig.