When talking about winter bob hairstyle ideas, then black women come to mind. Black ladies have perfected their winter hairstyle game, thereby setting the bar high and hence leading as an example, worth emulating. When wearing a pretty color wigs, it is a new born for a woman who suffer from alopecia.
2020 Fall is almost here with us, and there is an array of breathtaking bob colors to choose from this autumn and winter. 2021's hairstyle ideas are versatile, natural and also easy to style and also maintain. Below are the five trendy bob autumn color ideas that are sure to make you feel comfortable while looking drop-dead gorgeous.
Burgundy Asymmetric Bob
When it comes to enhancing your autumn look, wearing a warm asymmetric bob is a perfect choice. This look is versatile and attractive and can also be dyed using small quantities of lightener. The asymmetric burgundy bob is protective of your natural hair, but it's the perfect option if you've permanently straightened your hair.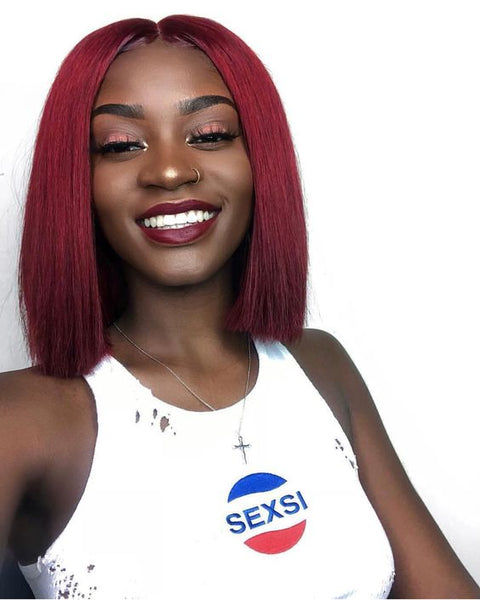 Blonde Bob
The other ideal autumn hairstyle choice is going blonde or honey blonde bob. Wearing or going blonde bob wig color is for those ladies who want to look gorgeous and stand out. If you intend to go blonde, then I suggest finding a good hair colorist. The advantages of having a blonde bob are that it's usually easy to maintain and also style. Having a blonde bob ensures regular styling and trimming to remove damaged ends while leaving your hair looking stunning.
If you're considering dying your hair into blonde, then it's recommendable to take considerable precaution. Bleaching usually opens the hair shafts, which in turn allows the peroxide to oxidize the melanin to attain that blonde color; nonetheless, this can lead to hair breakage and damage if not done correctly. Also, always ensure that you also have nourishing and also toning products to boost the results.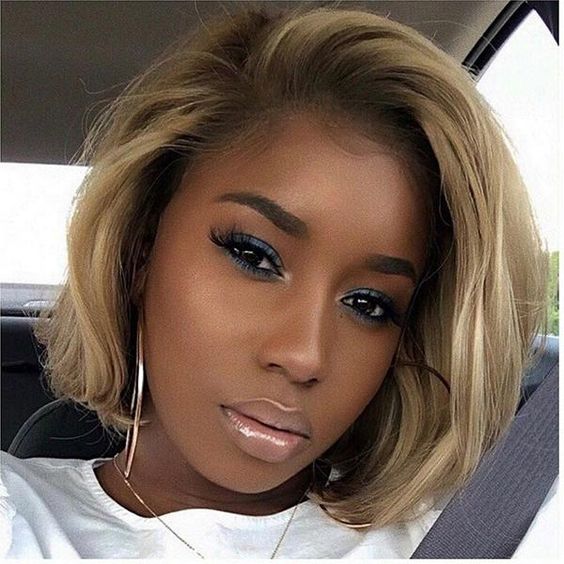 Pastel Blue Bob
For black ladies who want to have to look both stunning and youthful this autumn or winter, then the pastel blue bob is the ideal hairstyle choice. The color combination consists of soft blue having darker roots hence making it have that natural look.
The best alternative is to wear a wig with this color as opposed to bleaching your hair. If not done by professionals, bleaching usually can cause hair breakage or damage and, to some extent, even hair loss. The best wig choice for this particular hairstyle is a full lace wig. This wig choice not only displays your entire hairline but is light and also breathable coming in handy during autumn time.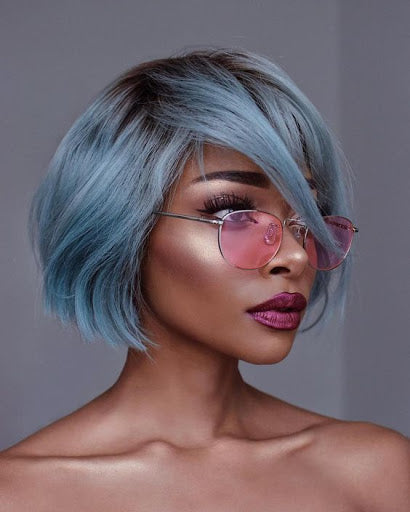 Straight Pink Bob
Another top favorite Autumn look that's amazing and is going to make you look like a princess is the straight pink bob. This ideal hairstyle has warm colors that look bright and also makes you stand out. Choosing a wig for this hairstyle is usually the best option, as it exempts you from resources you would have used while trying to bleach your hair.
It's also worth pointing out that dying your hair pink is usually a recipe for quick fading of hair. Therefore, purchasing an already dyed pink bob exempts you from worrying about your hair fading quickly. Lastly, this straight pink hair is usually easier to style and also maintain thanks to its simplicity.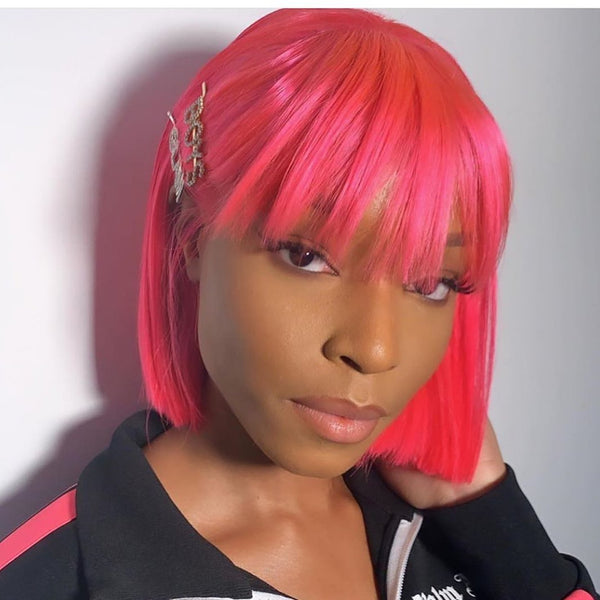 Dark Green Asymmetric Bob
Another ideal autumn hairstyle that's sure to leave you looking spectacular while standing out is the dark green bob. This hair color has a combination of dark green with some jewel tones. Attaining this look is easily achievable, as you usually don't have to bleach your hair.
In case your intention is to achieve straight locks, then using a relaxer or even flat irons is an excellent option. Alternatively, purchasing a weave or wig is another excellent choice, as I will be ideal for those ladies who want their natural hair untouched.