If you want a hairstyle that's easy to style, versatile, and protective, then a quick ponytail weave is a perfect choice. This particular hairstyle is popular among celebrities and fashion icons, thanks to its simplicity and elegance intertwined.
Weave ponytail usually come in an array of patterns and even textures such as straight natural, loose waves, and also jerry curly, all having different colors to blend with both your natural hair and skin tone. In this article, we're going to define the ponytail weave and why it's an ideal hairstyle choice.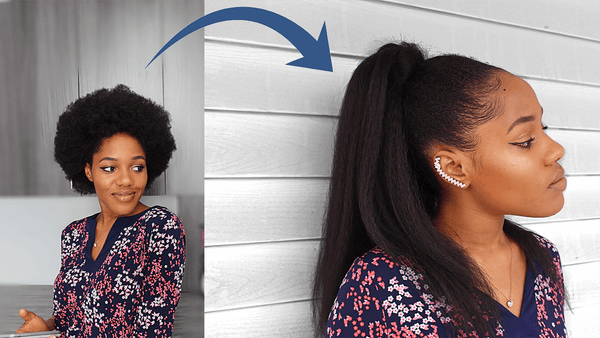 Weave Ponytail Defined
This particular hair extension is the type that comes with an already made ponytail. Attaching the ponytail weave on your hair is effortless as it only requires you to use hairpins or clips that the extension comes with.
The quick weave ponytail extension is usually made up of high-quality natural hair that looks realistic. It comes in a wide variety of textures that include the curly weave ponytail, the low wavy weave ponytail, and also the straight weave ponytail.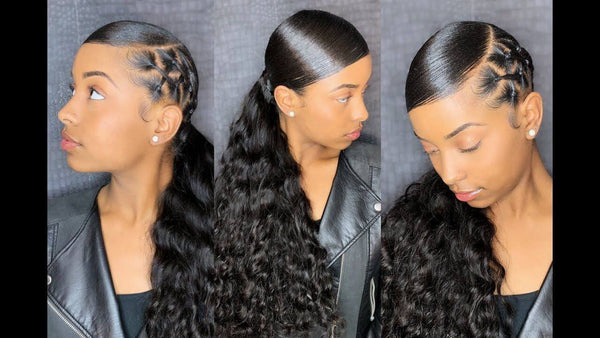 Why you should choose a quick weave as your Ponytail
When it comes to selecting a protective style that's elegant and never goes out of fashion, the weave ponytail is normally ideal thanks to its elegance.
The weave ponytail is a versatile hairstyle that can be worn on any occasion, regardless of your hair length, color, or type. 
When it comes to hair comfort, then the quick weave ponytail is the right choice. It's light on your head and also keeps your hair away from your face; hence making wearing it feel great.
The weave ponytail is easy to wear, style and also gives you that effortless look that makes you stand out.
 How to Install a ponytail extension
Using an elastic band, secure all your hair around and gently pull it back to create a neat ponytail. Ensure that your ponytail is firmly in a position to make it hold up.
Tie your ponytail into a bun to avoid your natural hair from being exposed. Alternatively, you can also tie your ponytail into a loose twist while ensuring that you secure the ends. 
Proceed by inserting the weaves clips on your bun to hold it securely and tightly in position.
In case you need extra hair volume, add a hair bundle extension by attaching it on the already installed weave. 
The next step is to take a smaller section of your hair extension and then wrap it around your ponytail band to enhance that stunning natural look.
Finally, add hairspray or gel on your hair to make it shine and revitalize it while also increasing your hair's lifespan.
Styling Your Ponytail Weave
Despite the wavy weave ponytail being stylish, if you still need to enhance your look a notch higher, then adding braided accents on your ponytail style can add more glamour. Instead of ordinarily tying your hair around your ponytail, you can alternatively braid a section and then wrap it around your ponytail to spice things up.
How to maintain your Ponytail Extension
Weave ponytails usually have a longer lifespan if properly maintained. However, It's worth mentioning that despite the weave ponytail being a protective hairstyle, prolonged wearing can sometimes lead to hair buildup or breakage.
Always ensure that you occasionally wash your weave using hair using shampoo and conditioner to maintain your hairs glow and bounce.
After washing your extension, let it air dry, and if you plan using a blow-dry, ensure its always-on low temperature. After your hair has dried off, style it according to your desire and ensure that you follow the instructions on the hair manual before using any heating tools.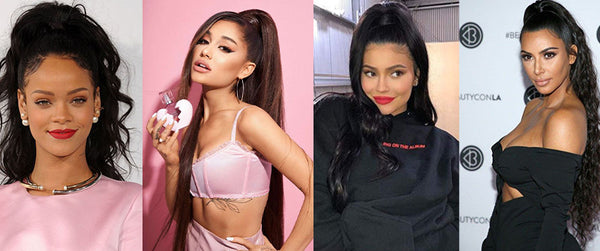 When it comes to having a convenient yet versatile look, the weave ponytail is a perfect choice. Whether you're into high weave ponytails, weave ponytails with tracks or ponytails having bangs, you're spoilt for choice. Choosing the quick weave as your ponytail not only makes you look fabulous, but it also protects your natural hair and scalp.