Weaves are popular and trendy among black ladies. They enhance your look by adding volume and also concealing thinning hair or bald spots, among many other benefits associated with this particular wig choice.
There are currently many weaves in the market, making it a daunting task to choose a suitable one. Luckily, it would be best if you didn't worry as this article talks about everything related to weaves, more precisely sewn- ins human hair; keep reading.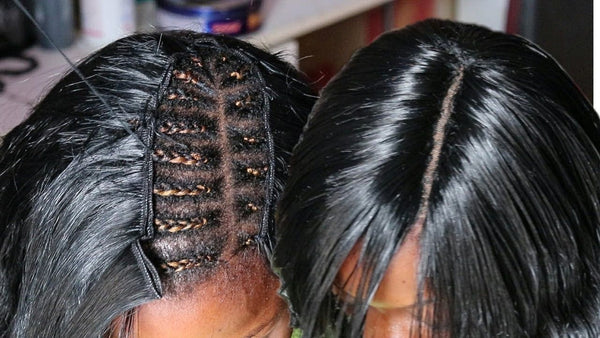 Why are human hair sew-in weaves popular?
Sew-ins are popular because they are trend and also look the part. Human hair weaves are also lustrous and elegant, making them the most preferred hair choice for black ladies. When you want a hairpiece that gives you convenience, then the sew-in weave is the right choice.
Why most Black Women prefer wearing weaves
Weaves typically enhance your look by giving you full hair without waiting for your hair to grow naturally fully. In simpler terms, weaves are a quick and easy beautification method that's typically worthwhile. Whether you're suffering from baldness, hair thinning, or you want to enhance your volume and also look great, weaves the perfect solution.
Human hair Weaves defined.
Human hair weave is an artificial hair extension integrated with one's hair to give you the length, volume, and even color. The human hair weaves are typically made from real human hair strands and can be worn over a longer or shorter duration, depending on their quality.
Advantages of having a human hair weave
Increases your hair length
Ladies with short hair don't have to wait for months or years for their natural hair to grow. On the contrary, wearing a weave typically adds both length and volume. A weave can come with a length from 8inch and up to 40 inches hair, therefore, enhancing your look.
A sewn-in wig takes a few hours to complete depending on your weave type. The procedure is typically easy to do and quite convenient for ladies who love to change their hairstyle regularly. 
A wig usually comes in different colors, therefore, exempting you from the whole dying procedure of using harsh chemicals. Finally, the entire process is generally effective and can last for over three months.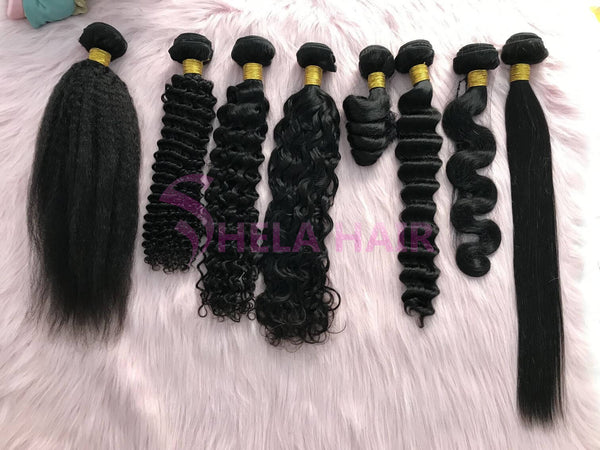 The disadvantage of having a human hair weave
Weaves are relatively costly, especially human hair weaves, with each costing an average of $150-$200.The other factor is that hair extension typically need to be changed after every three months hence making it an expensive routine in the long run. Alternatively, if you're looking for a less expensive hair choice, then picking clip-in extensions is the right choice.
Why you should consider buying a weave
Weaves are ideal, especially for those ladies who want to add both volume and length to their natural hair. Hair weave also protect your real hair from dust, dirt, and sun rays while also making you stand out.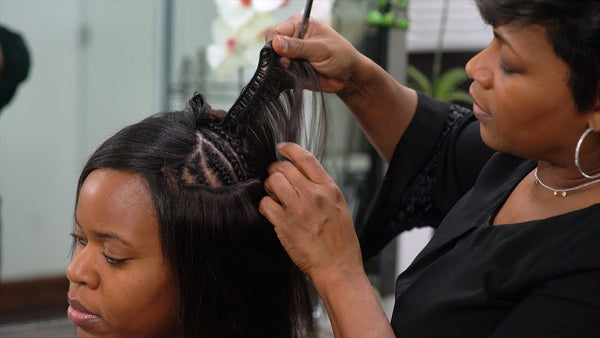 The different type of weaves
Human hair Weaves usually come in different categories: virgin hair and Remy's hair, Indian hair, Peruvian hair, Brazilian hair, Malaysian hair. Below are the four types of human hair weaves in detail.
Virgin hair vs. Remy hair
This type of human hair is usually chemically unprocessed and otherwise known as pure virgin hair, thanks to its 100% pure nature.
Virgin hair is typically hair that hasn't gone through any chemical processing. This hair is usually not permed, dyed, bleached, colored, or even blow-dried.
This particular weave also comes from a single donor who could be Malaysian, Brazilian, or Indian. Lastly, this specific weave has strands that are usually intact running in the same direction.
With Remy's hair, the hair cuticle is usually intact, and all the hair usually flows in the same direction, beginning from the roots to the tip.
Remy hair typically comes from various donors, and the hair can be dyed and washed with easy. With proper maintenance, the weave can last up to 6 months or even longer. In short, Remy's hair's cuticle usually goes in the same direction.
Remy's hair is among the finest quality human hair because all the cuticles are usually intact and unstripped, unlike other non-Remy hair extensions.
Non-Remy hair, on the other hand, typically doesn't have aligned roots or tips going in the same direction. As a result, you'll need a higher acidic concentration to align the flow of your hair cuticle. The chemical concentration used in processing eventually leads to dry hair that's also low on moisture.
Brazilian hair, peruvian hair, indian hair, malaysian hair etc.
This hairpiece is naturally lustrous and silky. It comes in straight, natural, loose, deep, and body wave textures that don't undergo any chemical treatment to attain a specific style.
This weave has an incredibly thick, soft, and light texture, which requires fewer bundles to give you a full-body look. Although this particular hair is usually coarser than some hair types, it typically blends well with most hair textures.
This weave hair is usually from donors from the South American region. This particular hair is generally healthy and also lustrous. Most human hair comes from the rural where donors grow their hair to sell.
This particular hair is heavier and thicker than Indian hair. It comes from Malaysian Virgin Hair that's typically softer and silkier. The hair is smooth and also shiny by nature. Each weave usually comes with a specific texture that comprises multiple patterns such as wavy, straight, tight curl, and a deep wave.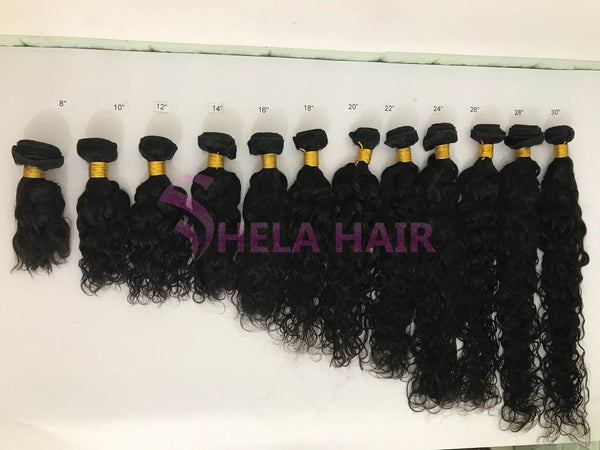 Factors to consider before choosing a weave
Selecting the right weave to wear usually depends on various factors. For instance, the duration you intend to wear your weave, the length, and the volume you plan to have.
The other effective way for choosing the right weave is selecting one that's safe and protective when installed. For instance, a weave that you can sew is better than that which needs bonding or adhesive during installation, especially when you have skin sensitivity. Bonds can lead to hair damage, thinning, or balding in some regions of your scalp.
Lastly, an ideal weave is one that perfectly blends with your natural hair and also one that offers you value for money. Its therefore recommendable to choose a high-quality weave if you want an elegant, long-lasting hairpiece.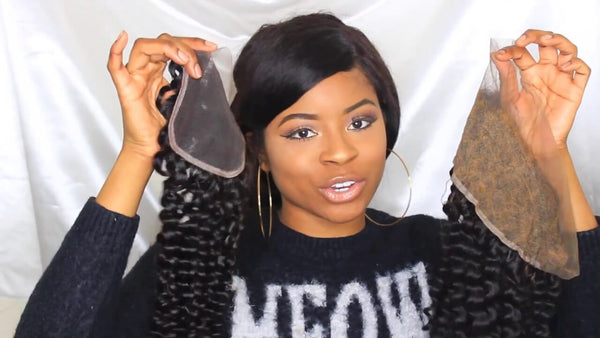 How to Make Your Weave Look More Natural with lace closures
Selecting a closure weave might be the solution, especially if you want a natural look that's also trendy. Below are the pros of choosing a closure weave.
Advantages of lace closures
 Protective style.
The lace closure weave is considered a protective style installed by sewing it to cover the top region where you'll place your weave. Lastly, the closure weave also gives the wearer a hairline that's natural and quite attractive.
 Easy to Color 
Dying your lace closure is as easy as it gets and you're also usually exempted from coloring your real hair, hence saving you from damaging your natural hair in the long run.
 Blends perfectly
This weave is ideal for ladies who want their weaves to have a natural look. A lace closure installed correctly usually blends perfectly with your hairline region.
 Parting flexibility
The other advantage that comes with lace closure weave is its versatility. Ladies who love styling their wigs are in for a treat as this particular weave is usually perfect when it comes to parting. Lastly, this hairpiece is also convenient for concealing a receding hairline.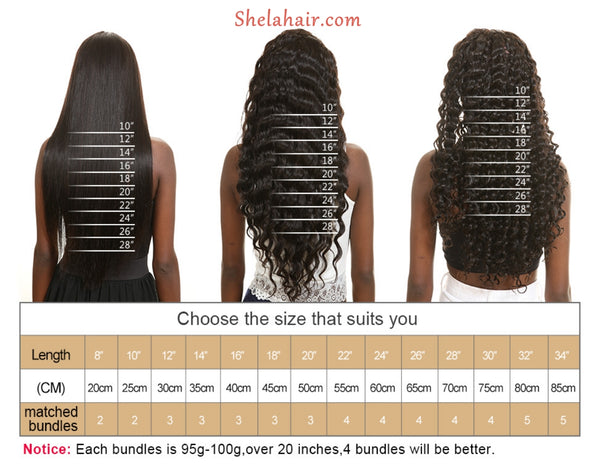 How Many Bundles do I need when installing my human hair weave?
Generally, three bundles are usually precisely enough when it comes to a standard sew-in weave. The bundle size should range anywhere between 8 to 18 inches if you want a full glamorous look. Alternatively, if you're using a 20-inch weave, then you might want to consider at least four bundles. Below are some of the factors that determine the number of bundles you need to install.
When it comes to weaving length, the rule thumb is the longer the bundle length, the more hair you're going to need during installation.
Another factor that influences the number of bundles you purchase is your head size. For instance, ladies with a larger head size typically need more bundles than those with smaller heads.
The weave texture also plays a pivotal role when it comes to the number of bundles during installation. Straight weaves tend to require more bundles when compared to curly hair.
Straight weaves usually need 2 or 3 bundles to have a full look and four for a voluminous look. Some of the various trendy weave textures include the Ombre hair weave, the water wave weave, jerry curl, and the Brazilian weave.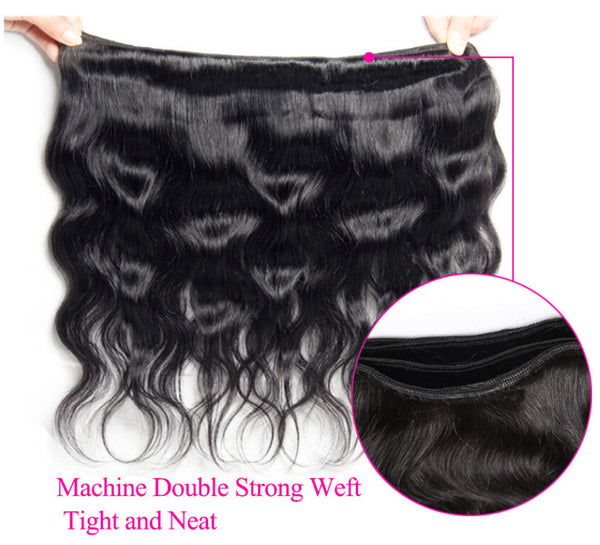 How to install your human hair weave  
There are usually various ways to install your human hair weave, besides the sewing method. Below are some of the other effective installation methods that will give an elegant look.
 Clip-ins
As the name suggests, clip-ins are hair that has threaded tracks attached to a clip. The clip-in is usually convenient for installation and is ideal for ladies who want to look good while on the go. Attach a few clip-ins to add volume and give you a fuller look.
Sewing
This method is perfect for securing your hairpiece and is usually a long-term installation method. To prepare for this style, you'll need a thread and needle. Then braiding your hair will also be recommended. The two common braid patterns for this method are usually the straight back and the circular style.
The braiding pattern typically depends on how you want to lay your weave or where you intend to place your part. After braiding your hair, use a needle and thread by tying a knot to secure it accordingly.
Begin at the side of the nape of your hair and proceed sewing the needle through the braid and then pull out the thread. Repeat this method until you're sure the braid tracks are secured, and you're good to go.
Crochet
This method is among the latest and is usually fun and quick to do. You'll first need a crochet needle and then braid your hair straight at the back. This style is for those ladies who prefer big curly hair because the loop won't be noticeable instead of having straight hair.
Proceed by sliding the need through your braid and then open the latch on the needle and add hair, then close the latch, and your good to go.
Micro-links
Micro links are another effective method for securing your weaves. However, they usually need an experienced set of hands and three to four hours to complete.
First, ensure that you have a clamping tool that you'll use to install your extensions. The micro links act as the loops that get inserted into each of your hair strands. Your real hair will go through them, and then the extensions will follow.
Each time that hair goes through the loop, it's usually clamped to secure that specific region. After installation, you can pretty much treat your extension like your own hair. You can wash, style, trim or even dye it, of course, only if it's human hair. This method is usually a long-term installation method and will give you a seamless realistic look.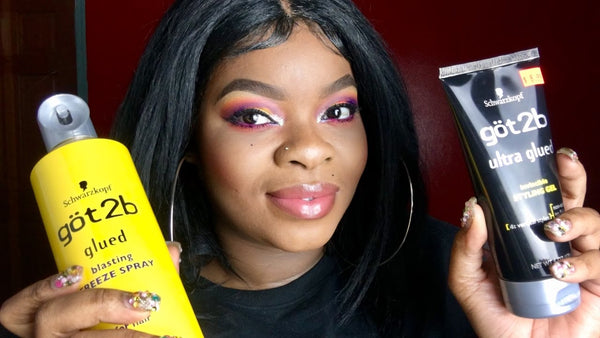 Glue
Despite being the fastest method, it can also be the most damaging too depending on how well you install it.
There are two ways to apply this particular method. The first method involves gluing the hair extensions through braiding or laying your real hair down and placing a weave cap on your head. The cap will, in turn, act as a barrier between your hair and the glue. After putting it on, measure the track needed against the glue layer and then apply.
The second method is the same as the first, although without using a weave cap. There are specialized glues that can be applied directly to the hair. Just like molding gel, apply the glue on your entire head and let it dry off, then attach the tracks. Always ensure that you read and follow the manual instructions if you want to have great results. You can click here to read our share about HOW TO USE GLUE WITHOUT DAMAGE MY OWN HAIR?
Bonding
This is another effective method for securing your weave, especially if you want to leave a part of your hair out. Bonding can be done by parting your hair and then gluing the tracks underneath your scalp in moderation to enable your scalp to breathe.
Although similar to a quick weave installation, this particular method exposes your natural hair. Some may argue that it's not a protective method; however, the way you uninstall your extensions is what matters. This method is typically ideal as it creates the illusion of natural hair because it allows your weave to blend seamlessly with your real hair.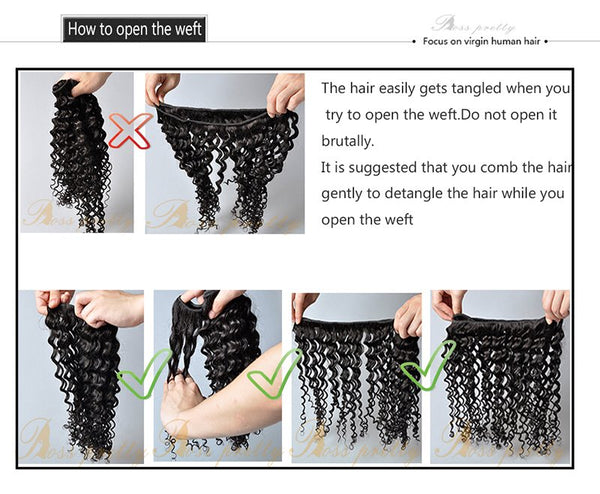 How Long Can You Wear a sew-in weave? 
The duration you wear your weave before removal depends on the weave's quality, texture, and skin sensitivity. You can wear your weaves for three to four weeks on end.
Prolonged wearing of your weave can lead to dryness, itchiness, or an oily scalp with loose braids. The longer your weave is worn, the more you risk damaging your natural hair.
What's the lifespan of a Sew in Weave? 
Sew in wigs typically have a lifespan of 3 to 6 months, depending on how often you wear them and their maintenance. The hair texture also plays a pivotal role when it comes to the longevity of your weave. For instance, straight and naturally wavy hair tends to last longer when compared to curly textures.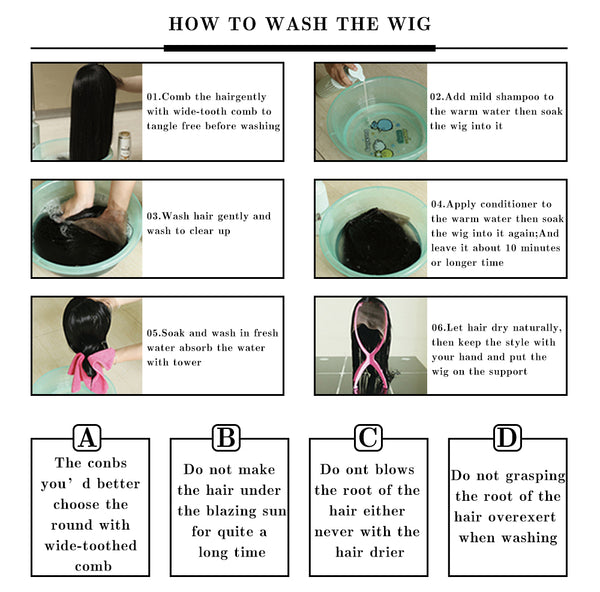 How Often Should I wash my weave?
Washing your weave depends entirely on how often you wear it or how dirty it is. For those ladies who wear wigs weekly, then it's usually recommendable to wash your weaves at least once per week. Always avoid excessive washing as this might lead to your weaves loosening, specifically around the braid base section.
Differentiating between Human Hair and Synthetic Weaves
Below are some of the various factors that will draw a sharp distinction between human hair and synthetic weaves.
Human hair weaves are made from high-quality material that blends easily with your natural hair. Also, when it comes to durability, the human hair weave lasts longer than its counterpart.
In terms of affordability, a synthetic weave is cheaper compared to a human hair weave. Synthetic weaves are machine-made, while their counterparts are made from real human hair, making them more expensive.
The other factor that distinguishes the human virgin hair from the synthetic weave is the ability to restyle. For instance, human hair can easily be restyled by either straightening, steaming, or also dyeing. Synthetic hair, on the other hand, can't be restyled. 
Can I Dye or Style my human hair weave?
Yes, you can style or even dye your human hair weave accordingly. Whether you prefer blonde, Ombre, green, etc., or want a curly, straight, or wavy style, the choice is typically yours to make.
Can I remove my weave at home, or should I seek professional services?
Yes, you can remove your weave by yourself. The procedure is quite simple; cut the threads located at the edges of your weave, and your good to go. The uninstallation procedure typically takes about an hour or so, depending on how fast you are.
Conclusion
Generally, the sky is usually the limit when it comes to human hair weaves. There are several high-quality hairpieces to choose from. In the end, whatever your choice, it's always paramount that you feel confident and comfortable while wearing your weave. We hope this article was worthwhile when it comes to talking about weaves in general.