There were times ladies would sprint to the salon as soon as their roots began to appear. I say, who'd have guessed that dark roots would become a hair trend? Yeah, I didn't think so either... but dark or brown roots can look stunning with any hair color, from light to dark. The rooted hair trend has been all over social media, and our favorite celebrities have been sporting it in various styles.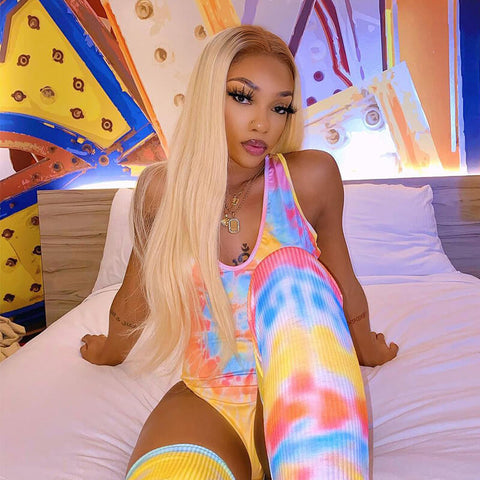 Why Darker Rooted Blonde Wigs is a Trending from 2021 to 2022?
The true explanation for this trend's popularity is that it allows everyone to play with whatever hair color they like without appearing too unnatural, which is particularly beneficial for those who wear wigs.
Someone with black hair, for example, would not necessarily put on a platinum blonde wig and call it a day; instead, they would prefer a platinum blonde wig with one or two inches of black or brunette roots to fit in more naturally with their natural hair color.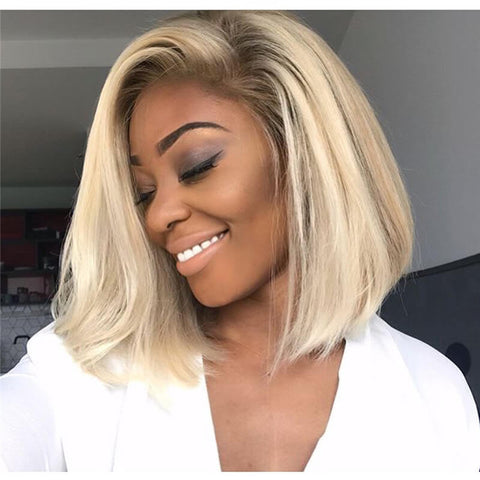 Let's pretend we're not talking about wigs, and somebody wants to dye their natural hair into a cool lavender pastel color. If their human hair is a naturally light brunette color, it would be easier to do a rooted hair look rather than attempting to do lavender from root to tips.
It would not only look lovely, but it would also get cooler as the roots grew out, giving the hair the lovely ombré look. Aside from the aesthetics, 613 wig is more likely to have rooted hair because it is better to keep the roots free of the bleach and other chemicals used to go fully blonde.
The long brown wig is tipped and topped with a darker root to make it bold yet realistic. When going blonde or any other color, wigs are the best choice. Safety is exactly what we should always remember when trying something new with our hair. It's worth mentioning that wearing a wig would help keep your natural hair clean and protected from toxic hair dyes.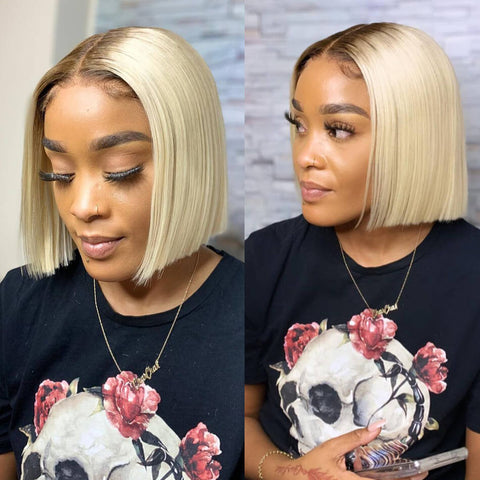 So, the next time you want to change up your hairstyle, you might as well try a new color and the rooted hair trend on a wig. Dark roots would look good with either style, whether you want a waist-length long wig or a shorter blonde bob wig. Dark roots lend your overall look depth and cool street style vibes, even when wearing looks like a half up, half down, high bun hairstyle.
You don't have to wonder whether you can pull off blue, purple, pink, or blonde hair any longer; the answer is yes! You'll get more compliments than for any other hairstyle, and it could even become your new favorite. For comfort, elegance, and to protect their natural hair, most of our favorite celebrities are wearing 613 wigs with the rooted hair trend; all of these are reasons for considering this as our next hair story. So, go for it! Dive into the world of bright hues and dark roots; it might be the trendiest look yet.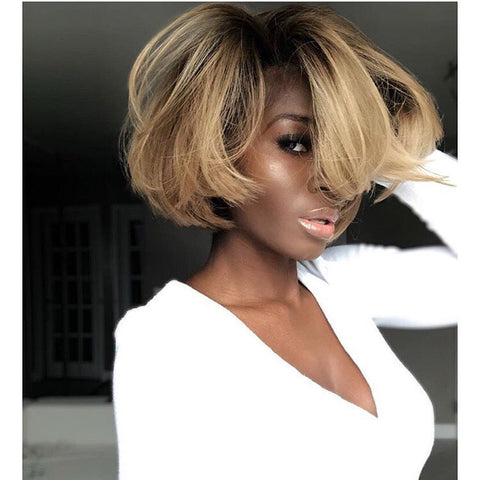 What shade of blonde human hair wig is perfect for you?
You may ask which one is perfect for me? Let's go! We offers some different types of dirty root or black root blonde wigs for you.
1. Blonde Wig with Dirty Brown Roots, Long and Straight
With light brown rooted regrowth and contrasting pale blonde hair lengths, the thick and glossy hair has a dramatic two-tone effect.
The part line is built from a realistic skin top and sits in the head's center, giving the impression that the hair is emerging naturally from the scalp.
This is a popular, high-fashion wig that you can wear straight and elegant like the model.
To easily change up the look, use heated hair tools to add waves or curls.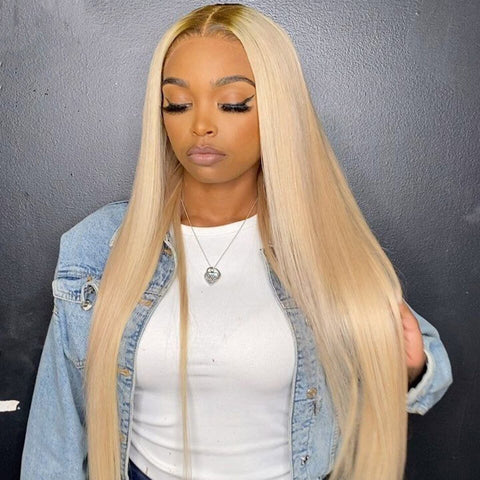 2. Try our Blonde Blondish wig If You're a Blonde Wig Addict!
Blondish is a dark-rooted blonde wig with a natural color on top that transforms into a dark ash blonde that looks fantastic on all skin tones. This blonde wig comes in a length of 10-30 inches, which is perfect for a short cut that hangs over the shoulder or a super long length sexy look.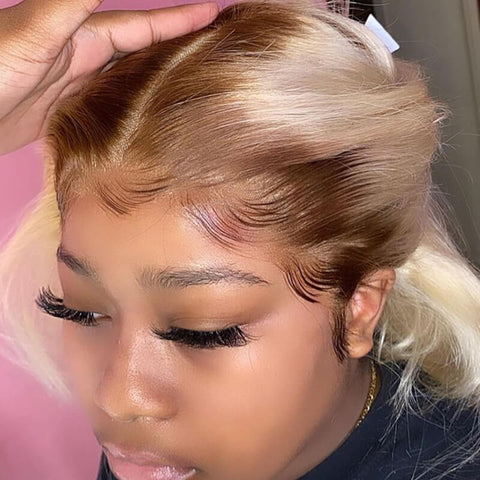 With the 13x4 lace front cap construction, you can style it in a side or middle part. You can wear this blonde wig with dark roots right out of the box because the knots are pre-bleached, the hairline is pre-plucked, and the elastic band is pre-sewed. 
Blond full 360 lace wigs are also available on shelahair.com. You can do more hairstyles on a full 360 wig because of the full 360 lace around the wig. Updo hairstyles is perfect for hot season.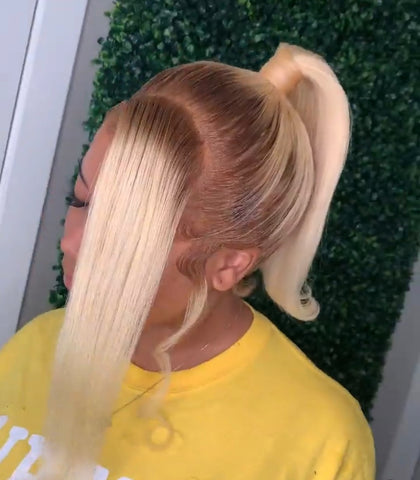 A pre-constructed fake scalp eliminates the need for a wig hat. If you're you're undecided, try this easy, sleek, and elegant blonde bob, which will look great on all skin tones.
3. Paris Hilton's Brown Rooted Honey Blonde Bob Wig
This soft, sun-kissed honey blonde is much warmer with a lovely golden yellow undertone, making it one of our most famous shades of blonde. #613's bleach blonde hair extensions have a slightly yellower hue than the lightest blonde extensions. These honey blonde lace wigs are for you if your hair is a yellow-toned bleach blonde color like Paris Hilton's.
The bleach honey blonde package is a warm-toned blonde with lighter hair mixed in for a natural look. If you're a brunette who wants a blonde look, this particular shade is ideal because it's usually easy to switch. You can also combine this hue with #4/27 to look at blonde hair with highlights.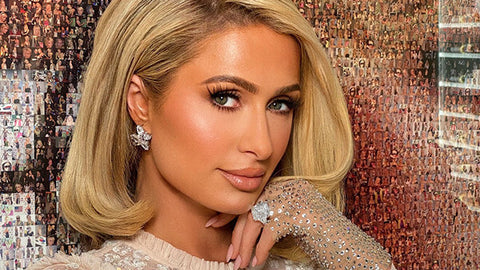 4. Light black rooted #60 Lightest Blonde Wavy Bob Wig
As the name suggests, our lightest blonde shade is a beautiful white-blonde shade with cool and warm undertones. It's lovely, and it's the same hue as asking for "ice blonde locks" from a hairdresser. As an all-over color, it appears bold and edgy, so be prepared to turn heads. 
This color looks perfect both on people with light or dark skin tones. This shade of blonde is also used for balayage. So for this wavy bob wig, you can use it as a daily wig in any occasion.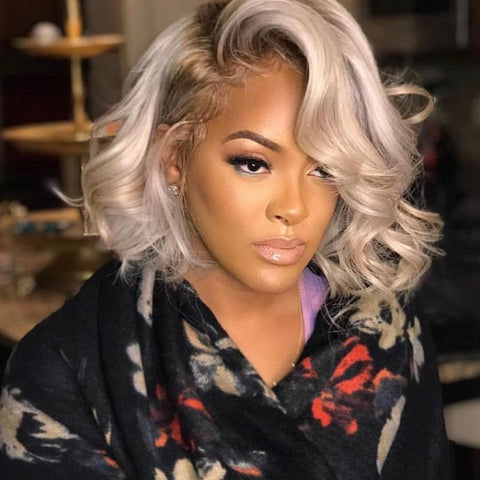 5.  Pixie Cut Dirty Root Ash Blonde Wig
If you think of a classic blonde beauty from the movies, they usually have a tone similar to ash blonde – light blonde with ashy undertones. Light ash blonde hair extensions are perfect for more ash-toned blondes. They go well with tones that are a little less yellow.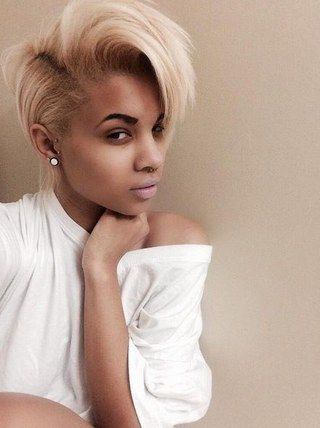 6. Khloe Kardashian's Black Root Blonde Wig Wavy Look
This honey-gold blonde has a rich warmth and is a soft golden honey shade of blonde. This color looks great in Ombre patterns as well as strong all-over color. If you have a richer golden blonde hue, #16 is the way to go. The color is still light, but it has a more golden tint, making it suitable for summery rich blondes.
It's more of a honey hue so that it won't look strange in contrast to your hair color, but it will compliment your skin's golden pigments. It also looks good on Khloe Kardashian, who has hazel eyes.
You can choose a full 360 wig to do updo hairstyles in summer.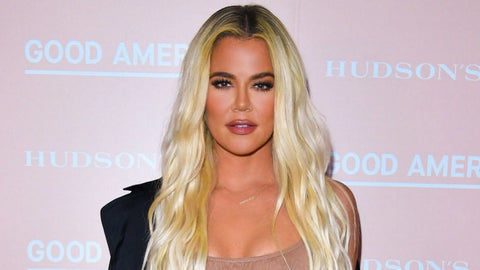 7. Brown Root Blonde Wavy Lace Front Wig
Our brown rooted blonde human hair wigs are the top sell dirty root long blonde wig we have, with warm brown undertones. This luxurious maple tone is also a fantastic move for those of you switching to blonde hair or searching for a more natural look. This dark, gleaming blonde has lovely warm tones that will compliment your skin tone.