Full machine-made wigs have become quite a trend considering that they're cheap compared to human hair wigs. Ladies who love to change their hair regularly also prefer this particular hairpiece. So what exactly is a full machine-made wig? Below is everything you need to know about this hair extension and why it's a must-have.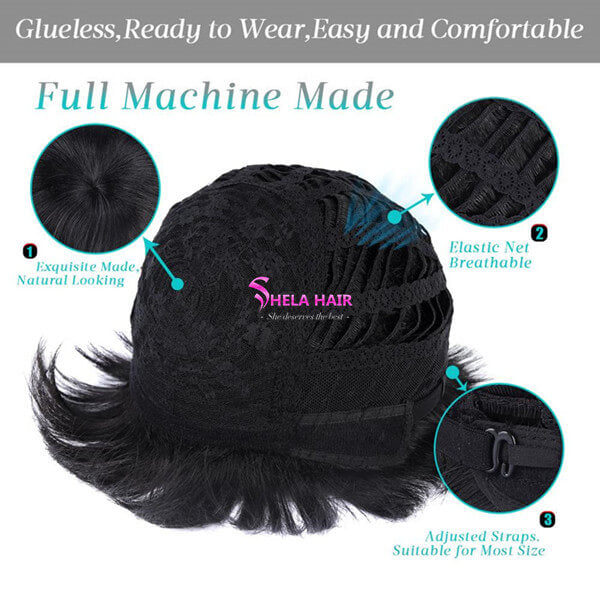 Full machine-made wig defined.
These particular wigs are machine-made non-lace wigs constructed from human or synthetic hair. Wefts, which are long strips of hair with a threaded end, are woven onto the hair to fit your head shape.
Rows of wefts are sewn to elastic straps in a circular pattern by stitching wefts a few centimeters apart on the new and improved elasticated wig cap. A full machine-made wig also has combs and an adjustable band at the nape for a comfortable fit. A full machine wig allows you to accessorize a new trendy look and build a fun and fresh alter ego while also boosting one's self-esteem in a matter of minutes.
In other words, you can save time, look gorgeous, and also feel comfortable wearing this breathable wig. The icing on the cake is that there's no need for glue or sewing, and it's also simple to install.
Machine-made non-lace wigs have developed over the years, starting with heat-safe synthetic hair fibers and evolving to more sustainable Remy human hairs and Virgin human hairs as consumer demand for these hair types has grown. Asymmetrical cuts, traditional 60's pin waves, Curly and Afro hairstyles are among the many wig styles that can provide elegance and comfort to machine wig enthusiasts.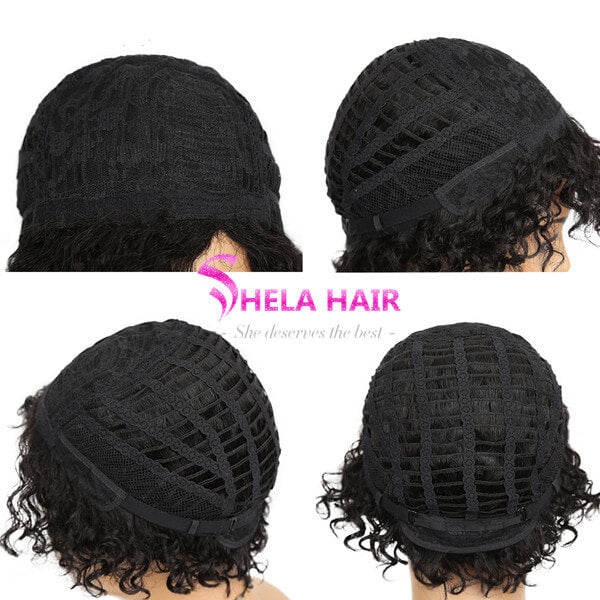 The Advantages of machine-made wigs
A capless wig eliminates any concerns of overheating. Since it's an 'open cap,' there's more space for air to circulate, making your head feel cooler and making your wig-wearing experience more enjoyable.
Since the hair fibers aren't tightly bundled together, the wig is lighter and more comfortable to wear for more extended periods. If you live in or plan to fly to warmer climates, a full machine-made wig is ideal.
Because of the way they are made, capless wigs are far more affordable than other wig types. An inexpensive machine-made wig allows you to add variety to your collection, whether you're trying to try out a new style or trend.
Permatease is a treatment that gives capless wigs a teased and voluminous look along the crown and part to mask the wig construction. This is ideal for anyone who wants a glamorous, easy-to-style look all day.
Capless wigs are available in a variety of designs, colors, and lengths to fit your needs. A capless synthetic or human hair wig is a perfect choice for covering any thinning or balding areas, as well as trying out a new look. Lastly, these low-maintenance wigs are perfect for staying fashionable throughout the summer and all year.
Like any other wig, a capless wig needs proper care to get the most out of your new look and keep it looking great for longer. It's crucial to distinguish between synthetic and human hair wigs. Human hair wigs will need more frequent washing than synthetic wigs, as they will respond to the weather and humidity in the same way that natural hair does.
Machine-made wigs have gained popularity among young women and mature wig enthusiasts looking for trendy short crop cut wigs that don't need much styling. These non-lace wigs allow the wearer to style their hair with a simple touch while still retaining a fashionable and trendy look.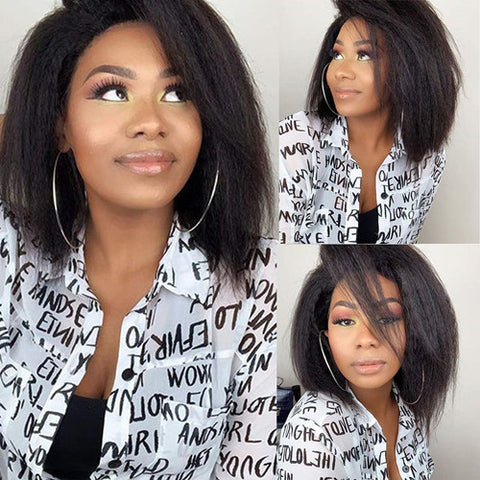 Here we offer some customized pretty short look pixie cut full machine wig to choose.
When it comes to summer, girls are looking for some short and cute look with a lighter weight human hair wig to catch the fashion. Wearing this voluminous straight machine wig is advantageous for those ladies who prefer cute cut hair that's also breathable.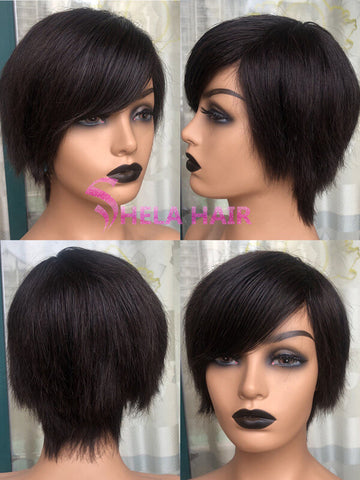 When you choose a full machine wig wavy look, you must be pretty elegant and pretty. For those ladies with sensitive scalps may experience the most clean and clear feeling, especially if they sweat in summer hot season, which can be the good choice for you.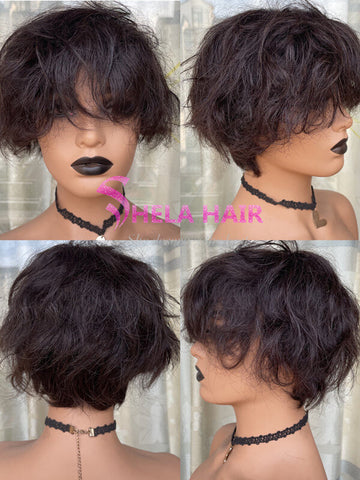 Some ladies cut their own natural curly hair in summer to get a cool look and also to grow new hair. You defnitely wanna get this most affordable machine wig with a natural afro look. 
"I got so many compliments when I wear it! They thought it was my own hair! Thanks!" We heard that all the time! That is exactly what a good afro machine wig can give you!
You can pick a natural black color or a brown one to rock this summer!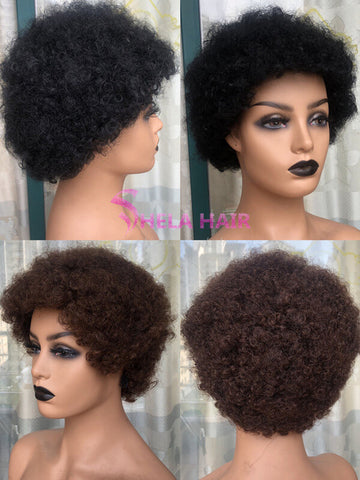 Loose Wave pixie cut style
Nothing could be better than a cute light loose wave wig with pixie cut short look. This customized pixie cut machine wig is populor amount some women with successful career. It is clean and not heavy look.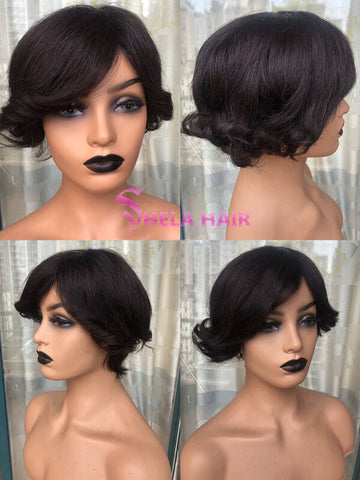 Where can I buy the best full machine-made wigs?
Ladies who prefer wearing this particular wig want a good quality one, hence one of the reasons why you should purchase your full machine-made wig at Shelahair.com. One thing is for sure; our company guarantees you fast shipping and high-quality, affordable wigs. To maintain the brand's reputation, Shelahair is dedicated to bringing customer satisfaction in terms of hair quality and the services offered.