Hair extensions, particularly wrap-around ponytails, are popular, especially among black ladies. This amazing ponytail is simple to install, and it's usually easier transitioning from casual to formal. Not having enough length or volume to achieve the desired hairstyle, let alone a ponytail, is one of the most common beauty challenges most ladies face. Some ladies pick full lace wig or full 360 wig to do a ponytail and high bun hairstyles, but some may pick another more affordable method to meet it. 
However, with the wrap-around ponytail hair extensions on the market, this is no longer a problem. This particular extension is both impressive and flexible. You can play around with them to create a unique look, and they're always a good match for your outfit or any occasion. There's no excuse for ladies lacking luscious, long, thick hair that they can tie into a stunning ponytail simply because wrap-around hair extensions can help you achieve all of that. 
The drawstring ponytail is all about simplicity and elegance. Most black ladies prefer this particular hairstyle as it also helps to conceal hair loss. The most remarkable thing about some of these human hair extension is that they resemble natural hair. For instance, a drawstring or wrap around ponytail made of human hair is usually hard to distinguish from natural hair.
This article talks about everything you need to know about these two fantastic ponytails.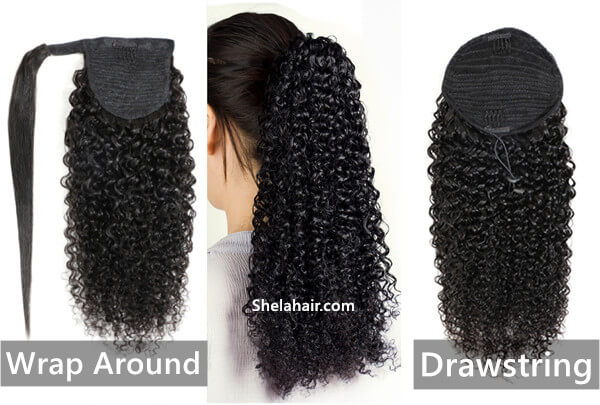 Drawstring ponytail defined?
Drawstring ponytails are the latest human hair trend, and most ladies may have heard of them or are already wearing one. On the other hand, some ladies might be asking what precisely a drawstring ponytail is? Drawstring ponytails are effective when it comes to giving medium or short hair more volume and length. The different common types of drawstring ponytail include straight, body wave, deep wave, or kinky curly and kinky staright, coily. We offer 14inch to 30inch for you to meet your different length needs.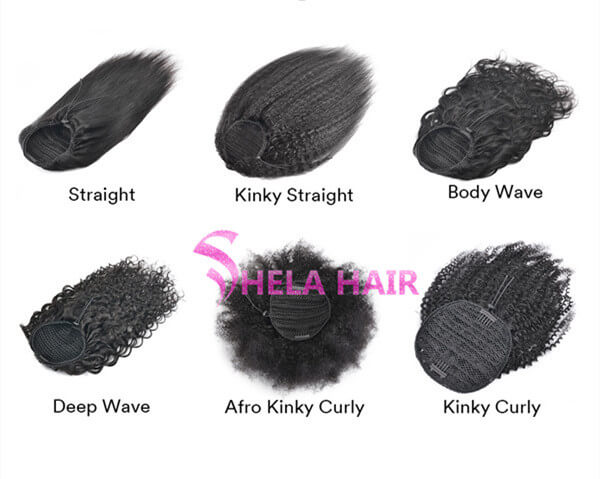 Wrap Around ponytail defined?
The sleek and high wrap ponytail is the most common hairstyle in 2021. Wrap Ponytails allow you to achieve this look without waiting for your natural hair to grow its length or thickness. These particular ponytails are made with 100% Remy human hair for a natural look and blend that lasts longer. The installation procedure usually takes a few minutes to add that 14 and 30inch length you desire.
There are numerous benefits of the wrap-around, such as convenience, affordability, the ability to enhance your look, etc. You can also wear this particular look and grace on any occasion. 
This particular ponytail extension instantly changes your look by adding length and volume to your hair. One of the wrap ponytail extension pros is that they're inexpensive and often reusable, making them a cost-effective choice for anyone who wants to try a new look but does not want to spend a lot of money.
A Wrap-up ponytail is easy to install and remove, unlike other hair extensions that require a stylist with a time-consuming procedure.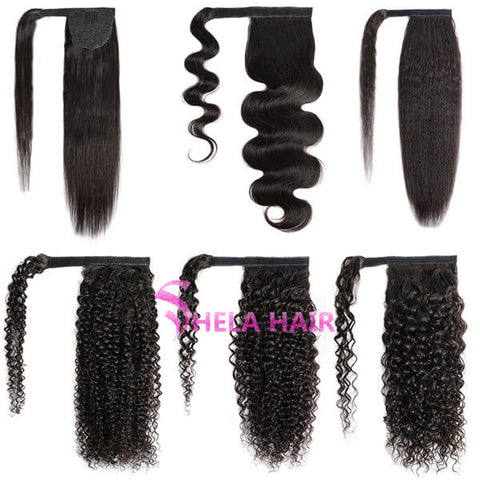 Why Drawstring ponytails are ideal for ladies who want an instant hairstyle solution
This particular hair type comes in a variety of shapes and sizes, making it convenient. You may tie them in a low bun, braid them, or wear them in a ponytail.
Drawstrings are ideal, especially when you want to take your lovely curls to the next level. The look is also suitable for ladies on a tight schedule and who don't want to spend hours styling their hair. The best part is that this hair choice blends well when clipped on your natural hair, and it's usually tricky differentiating the two.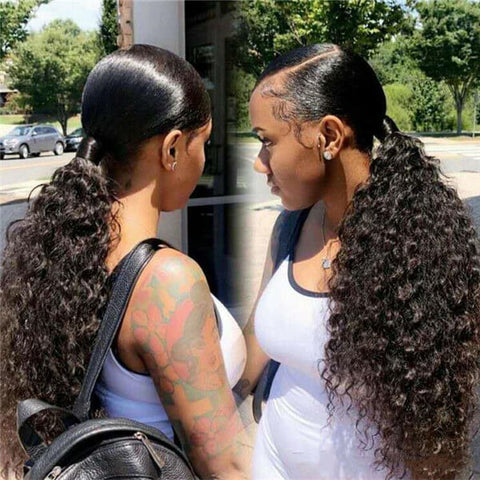 Is Choosing Drawstring Ponytail the right choice for me?
We're sure you're debating whether or not a drawstring ponytail is the best option for you. Experimenting with your hair is, understandably, a dangerous proposition. When it comes to a drawstring ponytail, though, you should set your concerns aside!
This is because they have a texture that can easily be clipped onto your hair and do not appear fake. As a result, you won't have to think about people noticing that you're wearing wigs.
Although it's usually tricky styling Kinky hair, Drawstring ponytails have a texture that's more manageable and easier to style. Once you've trimmed the ponytail, you can style it easily, whichever way you want.
The best thing about drawstring ponytails is that they give your natural hair more volume and length. You can imagine how a lady's confidence is enhanced while wearing a drawstring ponytail.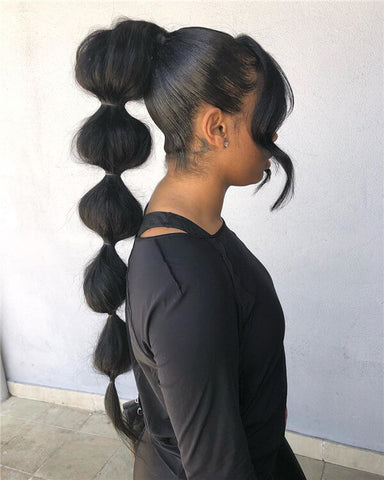 Difference Between Human Hair Drawstring Ponytail and Synthetic Drawstring Ponytail:
Human Drawstring Ponytail is made of human hair, while the Synthetic Drawstring Ponytail texture is that of synthetic hair. Don't be perplexed; understanding them is relatively easy. Let's define each one further.
Human Hair Ponytail:
Since human hair ponytails come from natural hair, they have a more realistic appearance when worn. There is no discernible difference.
The human hair ponytail is a little pricey than its counterpart, not forgetting you need more maintenance.
When cleaning this particular hairpiece, be more gentle and careful. Since the extensions have a human hair texture, proper care is of the essence. Human hair drawstring ponytail usually has a softer and shinier look. However, the best thing is that ponytails are highly durable, lasting for at least three years. One disadvantage the human hair drawstring ponytails have is that you need to style them after every wash.
Synthetic Ponytail:
Since synthetic ponytails don't have a human hair texture, extra care is needed. However, because of the consistent upgrade of synthetic wigs, they have a natural appeal.
These particular ponytails are also bouncier, and you can wear them in hot weather. You'll be able to pull them off admirably. Unfortunately, you cannot style this particular ponytail the same way you would with human hair. To style them in various curls, you can only use plastic heat-friendly drawstring ponytails.
Synthetic drawstrings have a shorter lifespan, usually lasting six months on average. This is, however, dependent on how well you take care of your drawstring ponytail.
After going through the differences, it's evident that the style of human hair ponytail that's best for you is the one that you can wear and maintain. 
Characteristics of Different Textures of Drawstring Ponytails:
There are various textures of drawstring and wrap around ponytails, just as there are multiple types of ponytails. Below are some of them in great detail
Straight Ponytail:
A straight ponytail has a shinier, sleeker, and smoother texture than a wavy hair ponytail. It helps to give your hair bounce, and your ponytail is always simple to maintain. The wig also has a lower risk of being tangled. To detangle any strands that might have gotten twisted, use a gentle hairbrush stroke.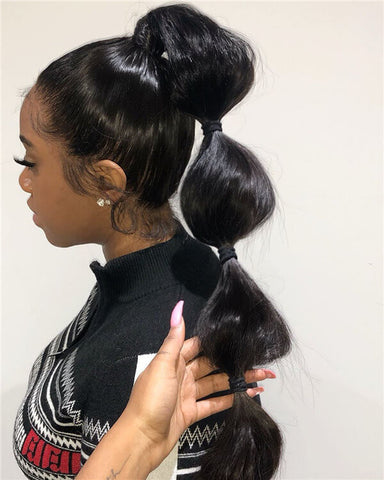 Body Wave Ponytail:
We're sure you've heard of the Body wave hairstyle before. You can apply this particular texture on your Drawstring ponytails and, without a doubt, look fantastic.
Body waves typically give the ponytail a sultrier and sleeker look. The S patterns produced are appealing and bounce when attached to a drawstring ponytail. It's pretty simple to keep them in good condition and hold them without fear of tangles.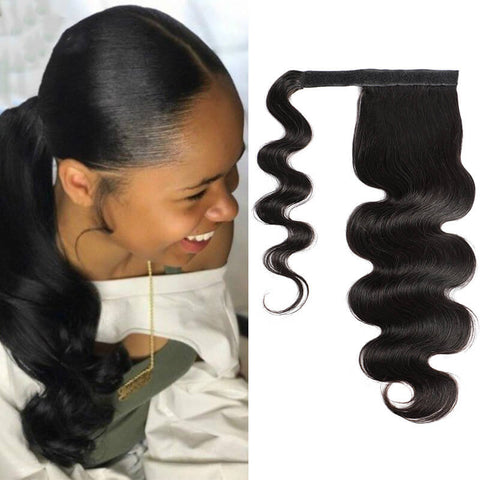 Deep Wave Ponytail:
Deep wave drawstring ponytails are the perfect option if you want to wear a classic look. The ponytail curls have a smooth feel, but they are deeper than body waves. It looks more like some black girls' natural hair texture.
It always gives the ponytail a rich, gleaming, and glamorous appearance. The tight curls give the hair a more luxurious appearance. However, the texture of a drawstring ponytail necessitates regular cleaning.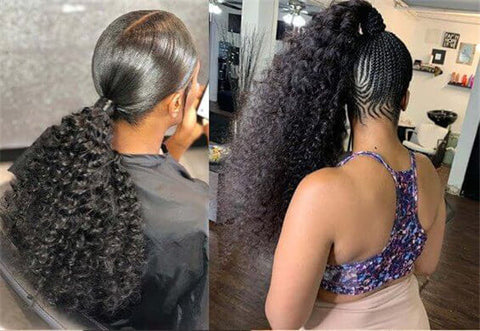 Afro Kinky Curly Puff Ponytail:
Afro puff ponytails are ideal if you want to add more length to your ponytail. The curls are delicately coiled, giving them a one-of-a-kind appearance.
When the ponytail bounces and adds volume, it looks stunning. The curls are more pronounced than in the kinky curly.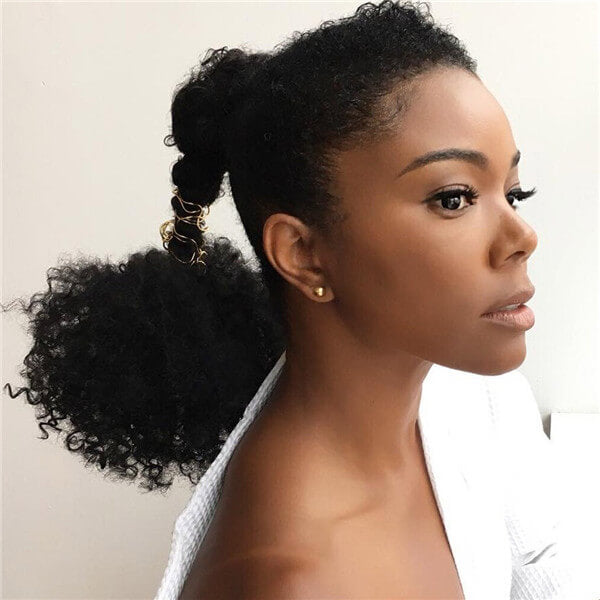 Kinky Curly Ponytail:
Women are going nuts for a kinky curly ponytail. The plush drawstring ponytail gives it a thick appearance. When clipped into natural hair, the delicate curls stand out nicely.
Kinky Straight Ponytail:
Black girls prefer some textures similar with own natural hair. Kinky straight ponytail def. is a good choice for you. 
How to install a wrap-around ponytail extension
Brush your hair back and secure it with a neat finish, then tie it into a ponytail, changing the height to match your desired results, e.g., high, low ponytail, etc. For a safe foundation, some clients like to use two hair ties just in case.
Brush your Ponytail with a comb and velcro strap, not forgetting the wrap-around hairpiece that hides the band once it's on. Insert the comb into your ponytail at the base and loop it around the sides until the Velcro meets.
Finally, use a bobby pin to secure the extra strand of hair around the band. And there you have it: a super-fast and straightforward way to glam up your ponytail game.
How to wash your wrap around ponytail the right way
It would be best to wash hair extensions as often as natural hair because they don't get oils from your scalp. It's always recommendable to wash your extensions after 15-20 times it's worn or when dirt build-up is noticeable. The fewer times you clean your extensions, the longer they will last.
When washing your ponytail, use shampoo first, followed by a conditioner and a hydrating mask, just as you would on your natural hair.
Avoid washing in circular motions because this typically ends up tangling your extension, and always rinse thoroughly to remove any excess product. Also, try to avoid including protein products in your extensions.
You can use many items containing ingredients to aid in the moisture and hydration of your hair and extensions. We still advise people to avoid products with high protein content. Tangling and matting can and will occur while using protein-based products. All it takes is just one use of a protein-based product to damage your hair permanently instantly.
The best hair masks have hydrating and healthy ingredients in them. Those containing butter and natural oils like shea, coconut, argan, and avocado oil will help replenish hair and add shine. Since Remy's hair has already undergone treatment, it necessitates extra care while washing. It also needs non-toxic formulations containing just the right amount of silicon.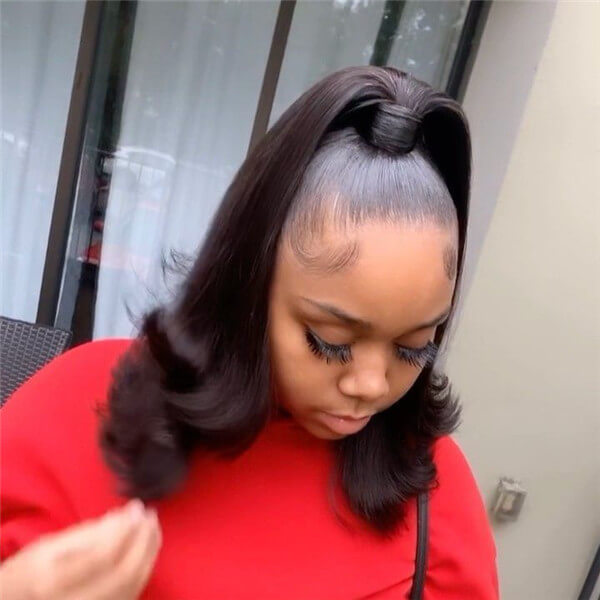 Steps to Wear a Drawstring Ponytail:
We're sure most ladies are interested to learn how to wear drawstring ponytails now that they know more about them. Surprisingly, the method of putting it on is very straightforward!
You'll need a stretch hat, a wig comb, and a drawstring attached either on the side or at the bottom. Follow are the steps on how to install your drawstring ponytail perfectly.
Tie Your Hair into a Bun:
Make sure your natural hair is in a bun before you begin. Keep in mind that the higher it is on the head, the more hair you will cover, giving it a more natural appearance.
Grab Your Drawstring Ponytail and Start Clipping:
Secure your ponytail after tying a bun. Begin by inserting the top clip into the hair.
Clip from the bottom:
Proceed by stretching the cap down, and ensure that it perfectly fits, then look for the bottom pin underneath the bun by sliding the base pin.
Pull the Drawstring for Firmness:
To secure the ponytail, hold it firmly in your hands and single out the drawstring that prevents the ponytail from going downwards. 
Tuck the Excess String in the cap:
Wind the extra string through your fingers and tuck it underneath the cap. Finally, you're now ready to show off your bouncy ponytail.
Tips to Make Your Ponytail Look Real and Natural:
Ponytails are essential for women who travel regularly or are constantly on the go. It is a quick hairstyle solution, so they do not have to spend hours fixing their hair. So, to make your drawstring ponytail look natural and authentic, keep these tips in mind.
Find Your Perfect Texture Drawstring Ponytail
First and foremost, it's worth mentioning that hair textures usually vary with each individual, simply because all hair is unique. As a result, there's a possibility you'll have trouble finding the right hair choice. 
However, you can make it look natural and authentic by going the extra mile.
One fantastic advantage is that no one will be able to tell where your drawstring ponytail begins, thanks to the absence of demarcation lines.
The key to successfully blending ponytail extensions and natural hair is to moisturize and detangle them properly. When all of your hair is well hydrated, you'll be able to see how they fit together. In the end, you'll have a sleeker, shinier, and bouncy ponytail.
Bun Should be Firmly Secured:
You must conceal the demarcation lines for a smooth appearance. That is why, for a natural appearance, you must tie your hair into a bun and secure it firmly.
You may still take a piece or strand of the ponytail at the top. Wrap it around the drawstring and secure the strands with bobby pins.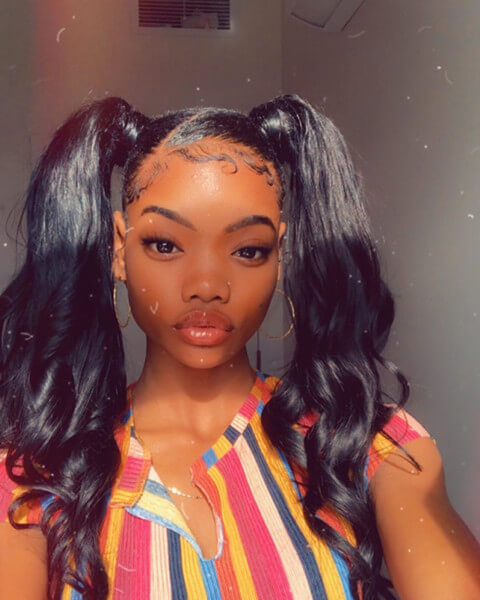 2 Ponytails or buns hairstyles creation:
Start by Straightening Your Natural Hair: 
If you have a curly texture and want to wear a straight hair drawstring ponytail, make sure you flat iron your natural hair. Comb your hair into a ponytail after straightening while ensuring that it's tangle-free. If you wanna wear a kinky curly, afro kinky curly or kinky staright texture, you don't need to straighten your own curly hair.
Apply Your Favorite Hair Edge Control Balm:
Grab your favorite brand of hair edge control now that you've flattened your hair from the tip. Apply it to the frontline scalp, where baby hair is visible. Slick it all over your hair with a tight brush. To perfectly stick the baby hair, you can use a thin toothed comb.
Tie Your Hair into 2 ponytail on 2 sides:
Finally, you can put your hair up in 2 ponytails. For this, a rubber band will suffice. Make a bun out of your ponytail. To make the bun firmer, wrap another rubber band around it.
Grab Your Human Hair Drawstring or Wrap Around Ponytails:
For more length, you'll probably need two bundles of ponytail human hair weave. Stick the ponytail in place with bobby pins and tie it around your bun. You may still be able to see the bun, so use the other package to conceal it. Proceed to take another rubber band and wrap it around your ponytail and bun.
Wrap the second bundle around the outer section of your hair to make it seamless. Take a wig strand from the back of the ponytail and loop it around your finger and when wrapping it, use hairspray. To secure the strand's end into the ponytail, use a bobby pin. Wrap bright strings in your ponytail to make it more interesting. This gives your hair an adorable look.
 For those ladies who have a straight hair texture, be sure to use a straightener at the end. With your chic hairstyle, you're ready to show off.
Since drawstring ponytails are delicate, it's essential to follow the care instructions to the letter. It would be best to give them a gentle wash and condition them at least once a week. They can never be twisted or rubbed. Before you wash your drawstring, first detangle this particular hairpiece. When washing it, always use lukewarm or cold water.
Often let them air dry instead of exposing them to intense sunlight. You can still dry the excess water with a towel and always avoid brush your hair when it's wet.
This particular extension is not only perfect for wearing on an average day, but it's also great for that evening dinner or special occasion. Do you want to glam up your hair so that you can feel and look your best when you go out? Then the wrap around or drawstring ponytail extension are both typically the good choice for you; simply because it offers the best value for money.