Contrary to popular opinion, there is a Blonde Wig for everyone, regardless of skin tone. Summer is closely approaching. Many young women believe that now is the perfect time to switch their hair color to a fun, bright blonde. A tone of blonde and brown highlights or baby lights, Ombre, or a super ashy blonde even to the silver-blonde is all possibilities. Summer appears to be the hottest season for doing so!
Determine your skin tone to determine which color is best for you. The tone is either warm or cool. This will determine which blonde tones suit you best. Consider the depth of your eye color and how much contrast you desire.
It's crucial to consider the maintenance requirements. All-over platinum blondes necessitate frequent visits to your stylist, whereas the honey brown colors require much less maintenance. Deciding to go blonde is difficult enough, but deciding which blonde Wigs to choose is even more difficult. This article is going to talk about the honey brown wig in detail.
Honey Brown - Blonde Highlight wig features include
Feature: For this kind of highlight wigs, there are many different length choices for you: short as 8inch pixie cut or 10inch to 14inch bob makes you look cute and clean in summer; or a 16inch to 20inch mediem long length can shows your smart and wisdom beauty in workplace; some longer length like 22inch to 30 inch can defnitely let you look charming with sweet and gentle. hot, ombre women's wigs that are smooth and silky, giving you a great look. 
Material:It is made of a 100% human hair that has been specifically designed to mimic the touch and feel of your own hair, soft and silky. You can also choose different textures to meet your needs. Silky straight is perfect in each occasion, no matter who you are. Body wave or loose wave is more charming for a lady who is a gentle and virtuous woman with tolerance in your heart. Deep wave and curly highlight wig texure looks most like black women' natural hair 3a 3b 3c or 4a 4b 4c texture. You can have different texture and colors of them in different occasions.
Usage and Color: All of our human hair feels soft, tangle-free and easy to maintain. Hair wigs that are fashionable and elegant for parties, everyday life, concerts, and theme parties. For black women, the most common color is honey brown hair if you are afraid of getting a #60 totally white blonde or 613 wig. There are so many different honey brown or honey blonde color also some mixed highlight color wigs to choose. 
Shape:The wig can be easily shaped after wearing it, whether for costume, fashion, or simply for fun. It will give the wig a more natural appearance. You could also spritz it with hairspray. It also can be restyled easily when you wanna change a new look by the same wig. 
 The honey brown wig description
Lace frontal honey brown wigs have a thin Swiss lace front that creates a natural-looking hairline. This good lace creates the illusion of natural hair growth, creating natural-looking growth from the scalp. All of our wigs come with a preplucked hairline and some baby hair. If you don't need any baby hair, you can let us know when place order. 
When you receive the wig and also you can do more pluck easily if you wanna a more fittable hairline on your head. If you prefer to cut and customize your lace to your own face shape, it can come pre-cut or with extra lace at the front. 
A honey brown lace front wig also can be styled in various ways, allowing you to change your look to match your personality. When you restyle the hair, you can spray some hair styling spray like got2b then it can hold the curls more than 24 hours. We suggest do not exceed the temperature 200℃ and or restyle it too frequently, so the hair life could last longer.
The best Swiss lace on this particular wig is actually quite strong, and it can withstand hair moving up and down or left to right repeatedly. It is good for those who are new to wig installation to do install by yourself at home. It can save your time and money in salon.
A Honey brown wig with dark roots looks like your own hair, and dark root blonde color wigs and black root brown wigs are trendy these days. A fashionable combination of color and natural color gives you a new sexy appearance.
The different types of Honey brown wigs Idea for you
 #27 Honey blonde long straight wig
This particular wig is the epitome of elegance. The #27 honey blonde hair color is popular these years. With the medium honey brown and blonde color, it creates the perfect look for black girls and women. Long length is the best choice for you, it provides one of the most realistic looks available. Some black girls are always afraid of too blonde is not good for their skin color, but honey blonde color is def. the best one!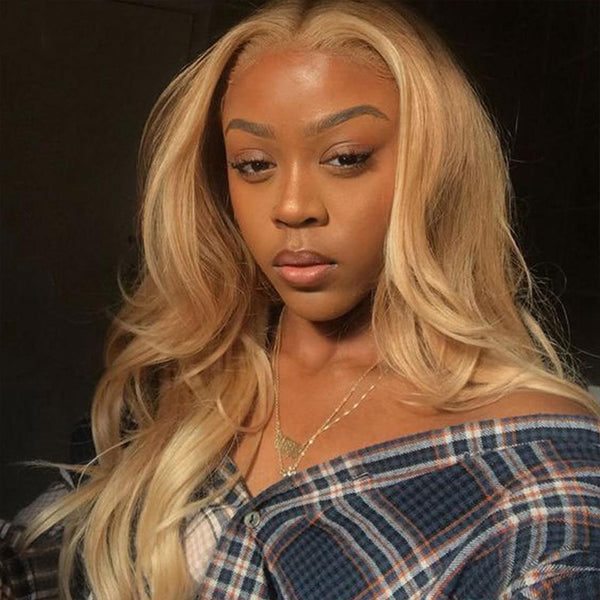 Rooted Champagne Blonde is a Beige Blonde with Medium Honey-Beige Blonde lowlights and Medium Brown Roots.
We also called this wig as dirty root blonde wig. The crown has a slight lift that keeps the shagged layers just in a place in this beautiful chin-length bob with chipped ends and a wonderful natural flow. When this look is perfected, it will make you feel as if you've just left a high-end beauty salon.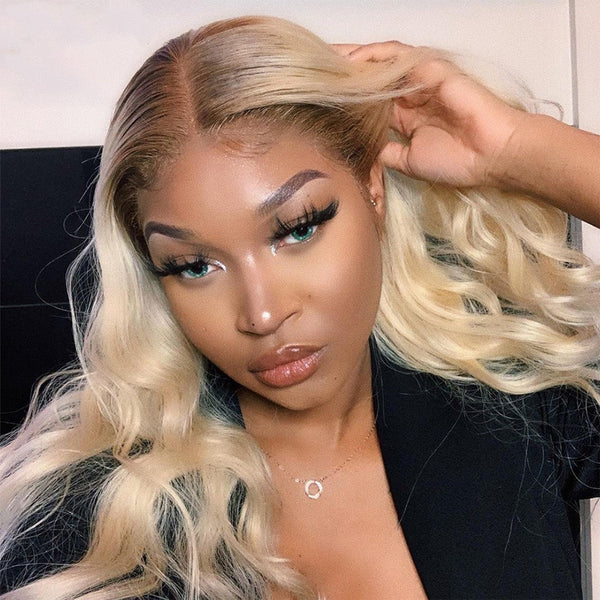 Chocolate Brown is a dynamic Auburn mix with a caramel brown base and pale ash blonde hints.
This sexy style features with transparent lace / light brown lace that can be styled forward or off the face, as well as a hand-knotted top for a variety of styling choices and a life-like hairline. This black root and chocolate brown color  hairstyle is a ready-to-wear piece with a medium density, not that light or too heavy.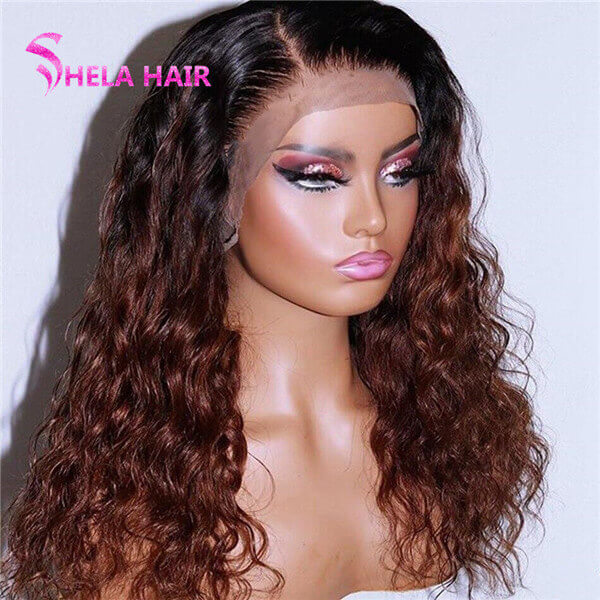 #30 Light honey brown deep wave or body wave
This light honey brown wig is a radiant look having a lace frontal with a more natural look at the hairline. The wig also has a 360 full lace wig cap or lace frontal wig that helps you to change the parting direction. If you choose a full 360 lace wig, you can do ponytail or bun in summer. There are deep wave and body wave for you to choose. 
Ginger brown is a golden blonde with medium brown and slight blonde shinny highlights
Make a statement with this gorgeous layered free-form wavy. Ginger brown color is a perfect choice for dark skin girls. It can match your skin perfectly and also makes you look sexy and gentle. 
Black with brown string hair wig
You can find this kind of wigs everywhere these 2 years. No matter light skin tone or dark skin tone, it is a good choice because its special highlight method. You can find side parting and middle parting wig on shelahair.com. 
This kind of feminine style comes in 30 different color combinations and features a memory cap construction that ensures a perfect fit while keeping you cool and comfortable. Every angle of this shoulder-length hairpiece features gently waved layers.