The water wave weave is popular among black women and is ideal for achieving a wet hair look. Not only does it blend seamlessly with your natural hair, but it's also tangle and shed-free.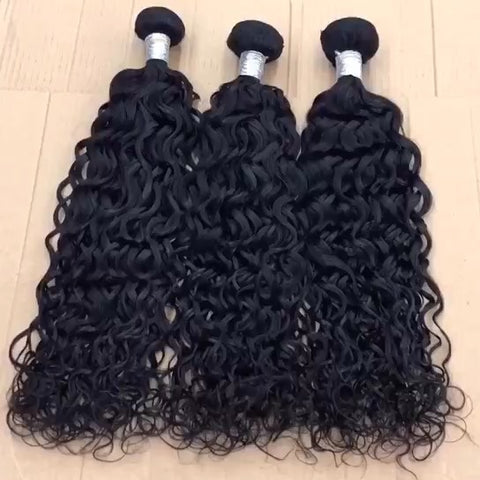 The hairpiece is also lighter, lustrous, and easy to maintain, among many other benefits that come with it. This article will look into the water wave pros and how to maintain this high-quality human hair.
Keep reading.
Advantages of choosing Water Wave Hair?
Natural Hair Ends
This hair has a thick, luxuriously soft texture that requires lesser bundles to you a fuller body look. The water wave also adds more fullness to the roots and then gets thinner towards the ends, giving you a natural look.
Easy to Maintain and Style
The kind of texture is a highly versatile hairpiece that's easy to style, color, and also maintain. Also, the water wave is among the most affordable virgin human hair wigs. It's also ideal for holding styles hence saving you the time to re-touch it.
High-Quality hair choice
When you want a wavy pattern weave that's durable, then choosing the water wave is the ideal choice. The hairpiece typically gives you a shinier natural look that looks elegant and fuller.
Lastly, this look is perfect for those ladies who are suffering from thinning and hair loss. It conceals any bald spots and, in turn, adds volume hence revitalizing and revamping your look.
It makes long hair look great.
The water wave is one of the most preferred long hair choices currently in the market. The texture on this particular weave is that of loose, carefree curly bundles. As a result, the longer your weave, the more attractive it looks.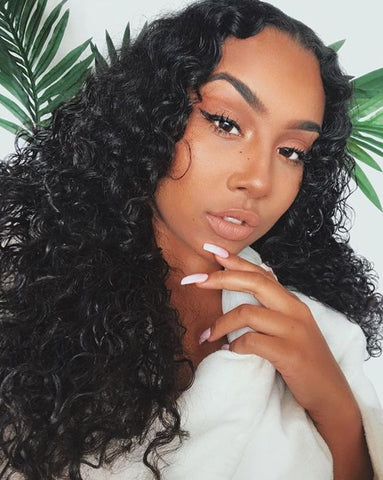 How to properly maintain your Water Wave weave
Wash your weave regularly
Cleaning your weave is one of the ways you can increase its longevity. A dirty weave often tangles up, and sweat build-up makes it smell unpleasant in the long run. It's always advisable to wash your weave once per week, and when washing, use lukewarm water. Begin by soaking your hair in the water while using your finger gently to clean it. Lastly, always avoid rubbing or twisting your water wave hair weave as it may damage it.
Shampoo your weave occasionally
For thorough cleaning, always ensure that you wash your weave with mild shampoo when it gets filthy. It's recommendable to shampoo your hair bundles every two weeks to give your hair the proper nutrition, hence prevent it from drying, tangling, and shedding. Below is the step-by-step procedure of the shampooing procedure.
Uninstall your weave and then soak it in Luke warm water.
Add mild shampoo in the water containing the weave and let it sit in for a few minutes. 
Use clear, clean water to rinse off the water weave.
Repeat the rinsing process until the cleaning water becomes clear after cleaning your weave.
After rinsing your weave, use a clean towel to dry It off.
Finally, hang your weave on a hair stand or mannequin's head with the weft open, then let it air dry and maintain the curls.
Avoid using heat styling tools on your weave.
If possible, always avoid using styling tools on your water wave weave. If you have to style, ensure that you use a heat protecting spray or keep your styling tool on low or medium temperature.
Use a wide-tooth comb when detangling.
Always make sure that you begin by gently using your fingers from the ends to the hair top when detangling your weave. Avoid starting at the roots, as this may cause breakages. Next, use a wide-tooth comb to finalize detangling, then use a paddle brush for smoothening and styling.
Store the weave in a dry place away from sunlight
When wet, avoid brushing your weave. Let it air dry, and then gently brush it before storing. Place your hairpiece in a hair stand in a properly ventilated area away from direct sunlight.
Wrap up your weave before going to sleep
Another effective method for maintaining your water weave is by wrapping your head using a headscarf. By doing so, you won't wake up with messy hair the following morning. Also, covering your weave prevents breakages and also is useful for preventing damage in the long run.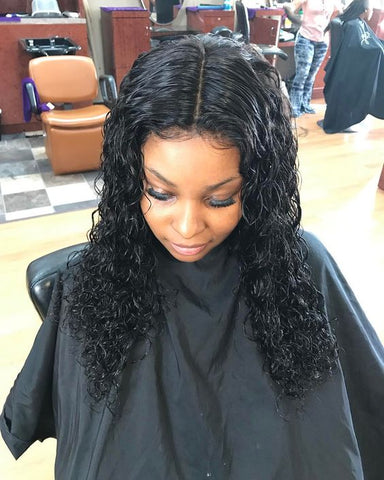 Conclusion
The water wave is indeed worth purchasing if you're all about curly hair. This hairpiece also comes in various categories such as Peruvian, Brazilian, Remy, Indian, Malaysian, etc., typically making you spoilt for choice. Lastly, this hairpiece gives you value for money as it is suitable for gracing all occasions and makes you stand out.