Honey blonde is a golden yellow color with amber-brown undertones that looks eerily similar to the gooey things we all know and love.
If you're thinking of changing your wig color this fall and need some inspiration, you've come to the right spot. The year 2021 is slowly but steadily becoming the highlight wig year, and the honey blonde wig is by far the most common.
When it comes to natural honey blonde hair wigs, you have many options—But since wigs aren't necessarily inexpensive, you don't want to waste your money purchasing all the various blonde human hair. Thankfully, we will be introducing this fashionable wig to you today.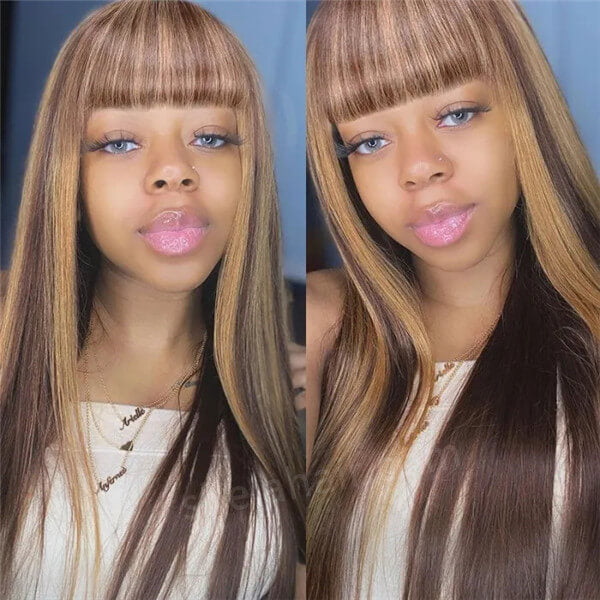 What Is a Highlighted Honey Blonde Wig?
Honey blonde is a trendy hair color right now. It has a very feminine feel to it. Honey blonde hair will make you look charming and opulent.
If the prospect of dying your whole head a different color makes you nervous, don't worry: you can always join the blonde bandwagon with a few expertly placed highlights, tints, or, for the ultimate commitment-phobe, wigs.
Inserting highlights that are a shade or two lighter than your natural color are often the first step in hair coloring.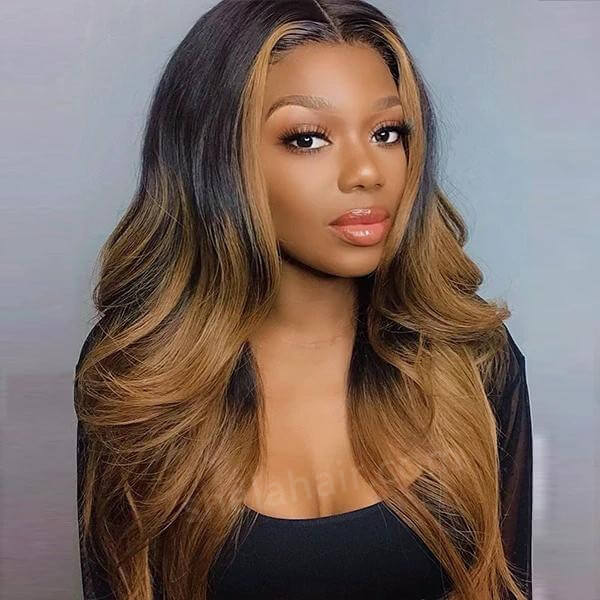 Honey Blonde Wig's Quality
1.100% Remy human hair of the highest quality
Hair that is 100 percent human. It's also silky, smooth, soft, and tangle-free, with limited shedding dyes and a deeper hue
2. Glueless Wig
Our ombre colored wigs are all with eElastic bands and combs, adjustable cap Size. Medium 22.5inches; please double-check the cap size before ordering to avoid ordering a cap that is too large for you. We also offer large wig cap (23.5") and small wig cap (21.5") for bigger head and smaller head to choose. 
 3. Natural hairline with baby hairs and pre-plucked and bleached
All of our wigs are preplucked natural hairline with baby hairs. Knots can do light bleached if you need. You can leave msg when place order.
4. Texture of the hair: Hair that is naturally silky straight, and beautiful. It can be dyed and curled and restyled in whatever way you like.
5. Regular & Cosplay Use
Sleek style with a naturally pretty appearance and a gentle touch. Wig with a simple hairstyle that can be easily molded and permed into a variety of shapes.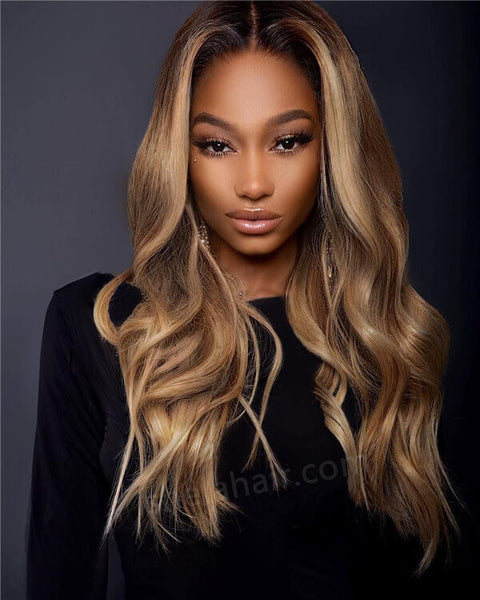 Honey Blonde Wig Advantages
Any color gets an immediate boost of structure and design thanks to the streak. Donning highlights not only secure your place as a hairstyle fashionista but also has many other benefits. Below are some of the advantages of honey blonde highlights:
Get a new color without damaging your hair
Whether you're going to dye a blonde wig on your own, the first step is to find a good colorist. You can also avoid any chemical processing so that you can start with healthy hair.
Bleach works by allowing the peroxide to oxidize the melanin in the hair shafts, removing the pigment. This can damage the hair and trigger breakages, so you should highlight a blonde wig instead.
A honey blonde human hair wig is just what you've been looking for to move from summer to autumn with a fresh look. This frontal unit has a lot of parting space, so it's simple to experiment with different looks.
Provide you with the most natural-looking results.
The best part about wearing a pre-plucked honey brown wig is that you won't have to think about customizing the hairline to make it appear more natural.
Easy to Maintain
It's a low-maintenance model, which means fewer trips to the stylist.
Highlights are a good solution if you don't want to dye your hair. Widen the highlighted area a little further each time you visit Health and Style Institute, and your hair will be absolutely lighter in no time.
Enhance your look
The use of a sexy/edgy highlight color is ideal for all seasons. Highlights are a perfect way of changing your hair color and refreshing your look without dyeing your entire head. Parts of your hair need to be dyed if you want to add dimension and texture also improve rather than fully change its color.
This blonde wig is dynamic
Unlike choosing a single hue to dye your whole head, there are several highlights to choose from, depending on your hair color. Furthermore, highlight hair is ideal for all skin tones, from very light to very dark.
The honey brown wig is highly versatile
With Its Natural Pretty Look and Soft Touch, You Can Wear It to Parties or for Everyday Use. Change Your Hair Style Easily, Wherever You Are. It Applies to Parties, Birthdays, Travel, Celebrations, Weddings, Graduations, and Everyday Life!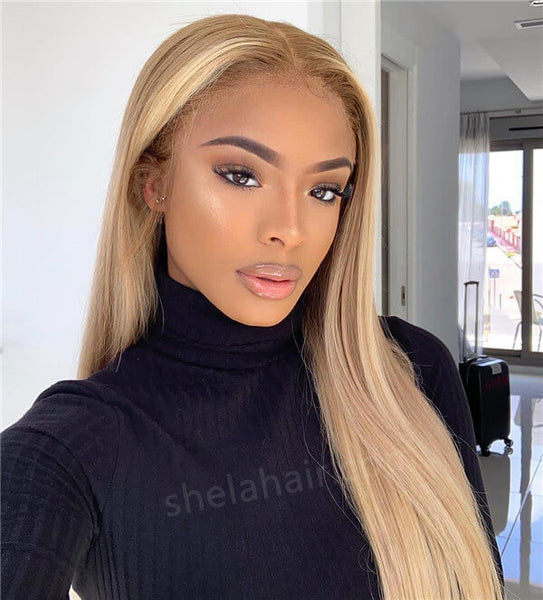 Where Will I Find the Most Reasonably Priced Honey Blonde Wig?
You may have seen this form of human hair wigs review if you regularly search YouTube for the best beauty bargains. This wig comes in lengths ranging from 10 to 30 inches and has a breathtaking pattern that you won't be able to resist. It looks amazing all the time, offering you more styling choices. You can find some different types of honey blonde wig choices below and shop them directly to get the same wig.
Check them now:
For short length bob wigs, we have some suggestions:
1. Honey Blonde Middle Part Bob Wig
For a honey blonde wig, it looks more like dark skin girls' skin colors, so you just take it out and wear it glueless. It can be your daily wig.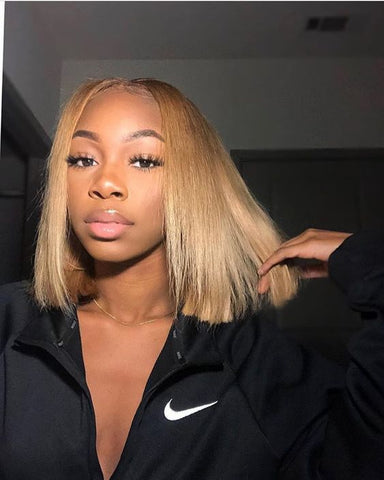 2. 4 Brown Rooted Honey Blonde Bob Wig 
Black girls are always worried about some wig problem: Would it be a natural look on my head? Should I pick a blonde color or black color? Does it come with a natural slay? 
Don't worry! You can get a perfect look via a 1b black rooted honey blonde bob wig! The natural black color root make it slay more natural.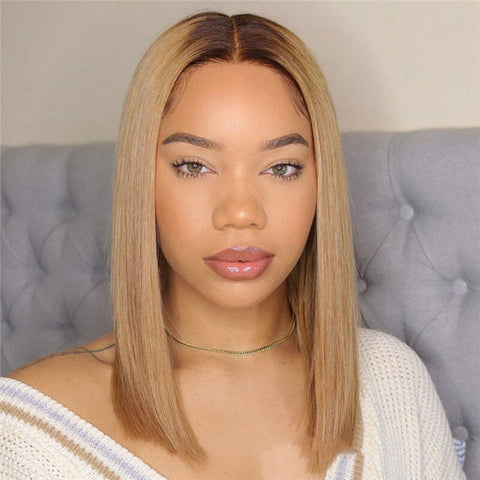 3. Fashion Highlight 4/27 Bob Wig
Highlight color wigs are popular amoung young black girls, it should be your best choice to rock this summer. This highlight 4/27 bob wig is No.1 top selling highlight bob wig in this year.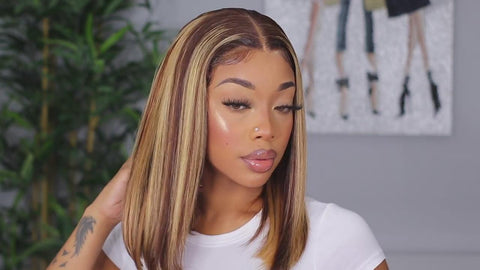 4. Dirty Root Honey Blonde Bob Wig
There is no doubt that it is really a good choice for each girl in 2021. This style is Top 3 hot selling bob wigs on shelahair.com. It comes with a natural hairline with baby hair. You can just cut the extra lace then put it on, go for your dating.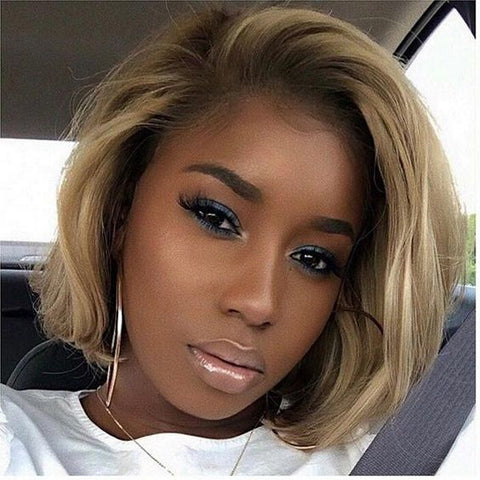 5. Choopy Cut Dirty Rooted Honey Blonde Medium Length Wig
Medium length choppy cut wig is a good choice for fashion black ladies. It makes you look more elegant and gentle.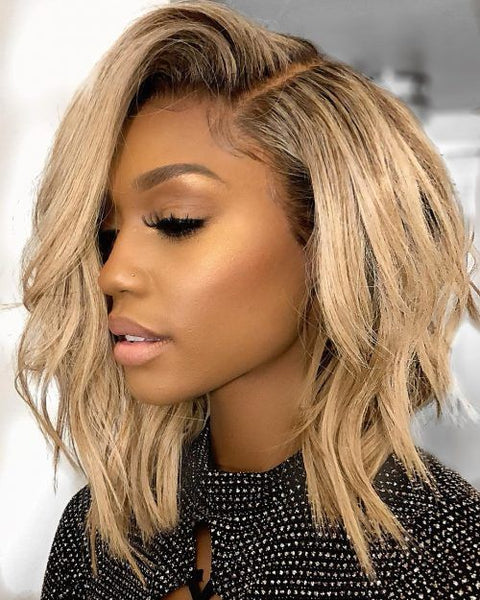 For long length honey blonde wigs, you can pick one from them:
1. Honey Blonde Silky Straight Lace Frontal Wig
For most of ladies, silky straight is the first choice when it comes a color wig. It is a must buy texture. You can choose a 4x4 lace closure wig or a 13x4 lace frontal wig.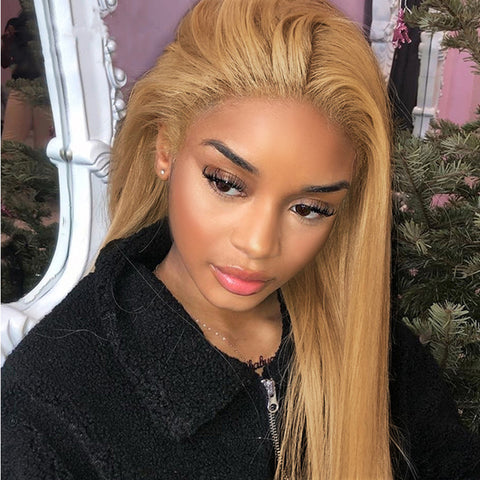 2. Honey Blonde Wavy Lace Front Wig
For those girls who dislike straight, this body wave texture shows your beauty too. For lace closure wig, it is a better choice for your first wig. You don't need to cut the big part lace and pluck the hair on the frontal part. You just cut the lace and wear it, then go out. For lace frontal wig, you can do more hairstyles and more parting space.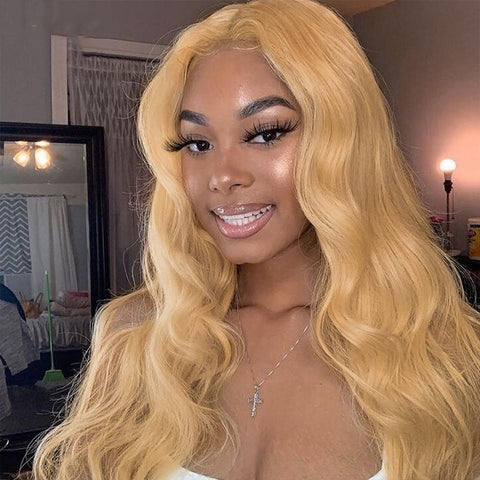 3. #30 Deep Wave Lace Wig 
#30 darker honey blonde is another hot selling color in this year. You can find it easily on the street. Why not have a try?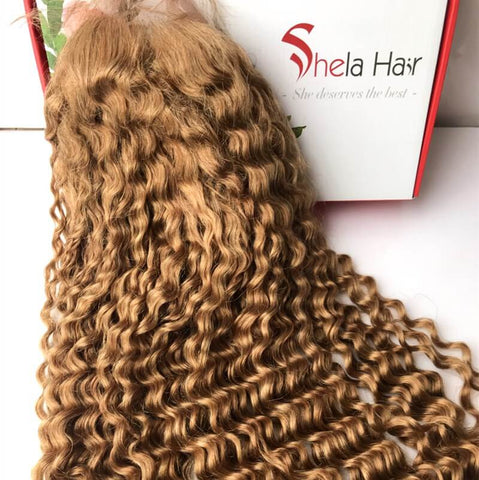 4. #30 Body Wave Lace Wig 
For those girls who loves #30 dark honey blonde wig but dislike deep wave texture, this body wave is def. your choice.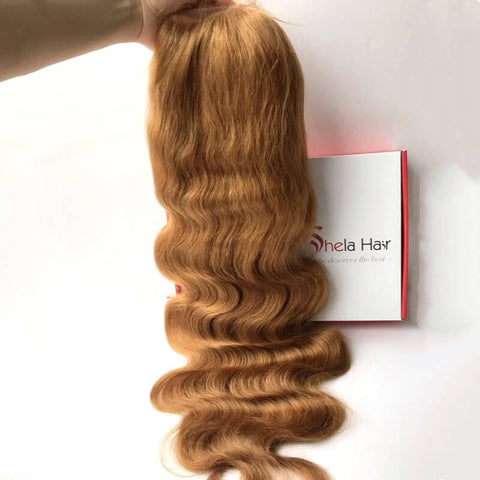 Plucking your hairline down to a natural density and bleaching the lace knots to make them appear less noticeable are two of the most critical yet challenging steps in making a wig look natural. Pre-customized Honey brown wigs will save you time and money in the long run. To save you time, we've compiled a list of the best wig beginner tips that you can check out.
Honey Blonde Wig Is the Best Recommendation For You
A honey blonde hair wig is just what you've been waiting for to move from summer to autumn with a fresh look. This frontal unit has a lot of parting space, so it's simple to experiment with different looks.
A pre-customized wig will typically save you time and money in the long run. To save time, we've compiled a list of the best wig beginner tips that are ideal for you.
Human Hair Lace Closure/ Frontal Wig Care:
Regularly washing and deep conditioning human hair wigs is beneficial; however, do not wash the wig often.
Gently detangle hair before washing the wig. Hair should not be rubbed or twisted.
Apply a small quantity of mild shampoo to the water and gently wash the hair until it is clean.
Do not wring or twist the wigs after washing, and do not clean the wig when it is still damp.
Allow your hair to air dry. Don't expose your hair to the sun or use a hairdryer to dry it.
Avoid sleeping with your wig on. Human Hair Wigs, like your natural hair, necessitate some maintenance.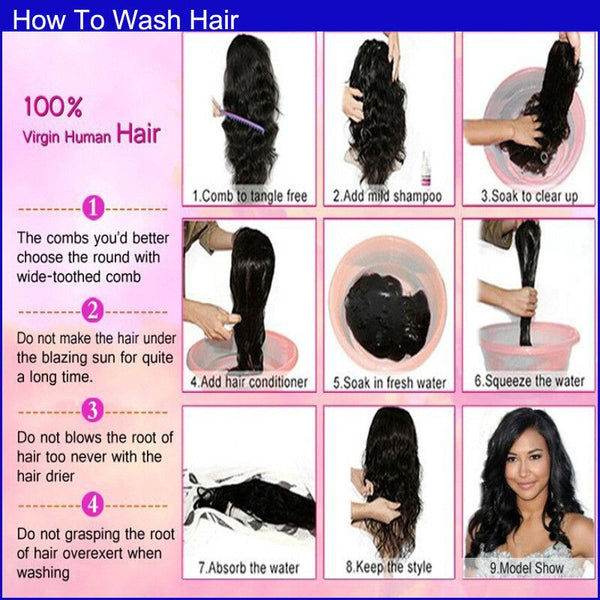 Is It Possible to Flat Iron This Hair?
A: Yes, you can curl a virgin human hair; the optimum temperature for a curling iron is 130-150 degrees Celsius (260-300 degrees Fahrenheit).
Q: How can i prevent my hair from drying out?
A: After washing and shampooing, try using Silicone Mix. Often, let your hair air dry. Use half of the leave in the conditioner with water when styling. Alternatively, use water. Braid your hair into two pigtails at night.
Q: Is the size of your wig cap too big or too small?
A: All of our wigs have adjustable straps on the wig cap and are designed to fit different head size. Also you can choose small wig cap, medium wig cap or large wig cap which has a 21.5 to 23.5 inches' head circumference. We recommend that you measure your head size before purchasing.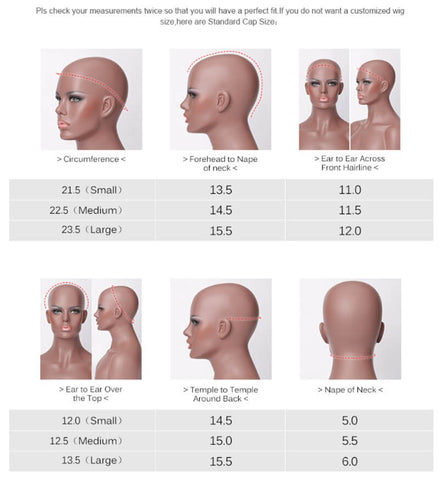 Q: Tangle and A Little Shedding?
A: Any wig can tangle more than your natural hair because your scalp contains natural oils that prevent your hair from drying out. This is why wigs, particularly curly wigs, experience limited shedding and tangling, which is common. Water, hair conditioner, and curly hair care products can all be beneficial.