Pink hair is a popular hair color that combines milder shades of red with lighter hair to create a fashionable look. It's what every millennial girl nowadays wishes for, and this particular hair trend isn't going anytime soon.
When it comes to pink hairstyles, one thing to keep in mind is your skin tone. However, choosing the right shade for your skin tone is essential if you want an elegant look. Pink can be anything from bright, dramatic neon to a soft, muted pastel. This article talks about either top Pink hair color ideas that are worth having.
1.Two-Toned Pink
This hair color is a two-toned pink with a dashing, flirtatious finish. Using peach and rose hair dyes, create a smooth combination of tones. The trend is well suited to people with different skin tone. It's a bright color and good shinny under sunshine.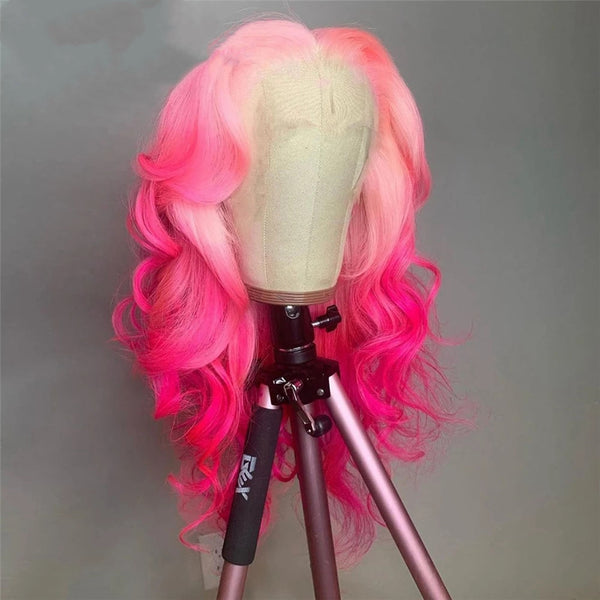 2.Violet-Tinged Pink Hue
A lovely violet-tinged pink tint allows a woman to show off her sense of style and edge. When choosing a fashion hue, women can always begin by highlighting the color with highlights first and then going all over, if that is the end aim. A hairstylist appointment every 4-5 weeks is recommended if you want to preserve the brilliance and depth of any fashion color
3.Blonde with Pink End
Pink end mixed in with your regular ombre blonde hair are a fun way to change up blonde hair. Hair porosity has a significant impact on how long a fashion color lasts. The healthier your hair, the longer the shade will last. To avoid fading, be sure to use a color-safe shampoo and conditioner, as well as a heat protectant.
4. Rose Pink Hair
Rose pink hair that's a kind of bright color is a fun and edgy way to express yourself. If you have a rose pink long hair, def. will rock it in any ocassion.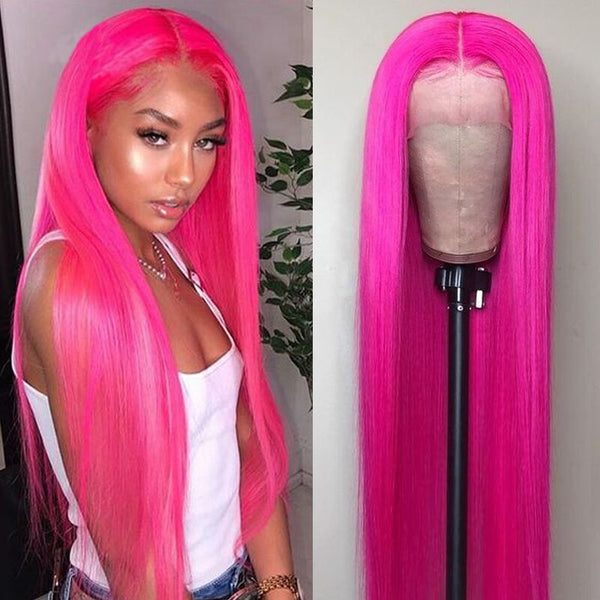 5.Unicorn Baby Pink
These stunning unicorn baby pink rose tints on long waves are to die for, and now's the time to give them a try. On a warm skin tone, this unicorn hair looks fantastic! To stand out, try a half-Updo with waves and a moon hair clip.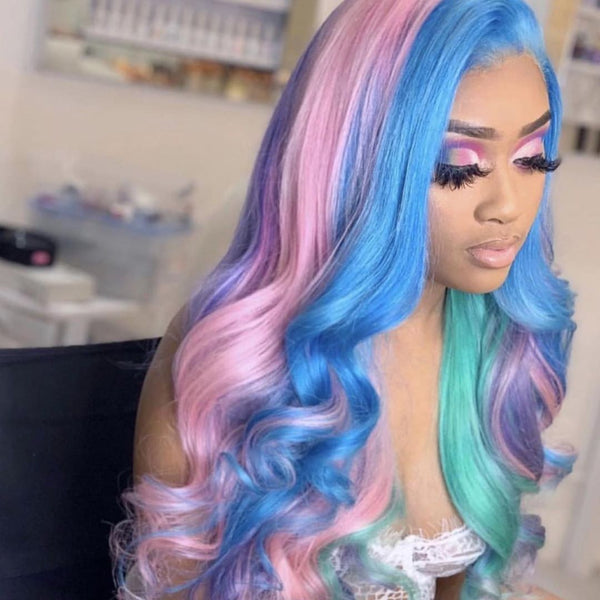 6.Pink Bangs
You can use pink bangs to brighten up the area surrounding the face. Any ashy blonde hair color with a pinkish undertone would look great with the fringe. It's a fantastic technique to see if stronger hair colors can look good on a black woman.
7.Short Light Pink Hair
For short hair, go for a full-on pale pink, especially if you have a bob like this one! It's best for complexion tones that range from neutral to chilly. You can click this link to get this same pink bob wig.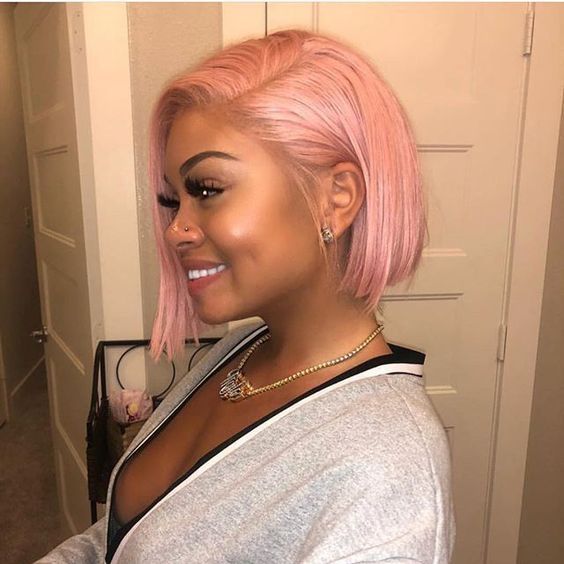 8. Baby Pink SilkyStraight
Doesn't this baby pink look a little like a wig? I adore the fading silky straight look on her, which is baby pink fades out beautifully. To achieve this smooth and beautiful hair, you must use the best hair care products. It is also the safest color for a pink wig.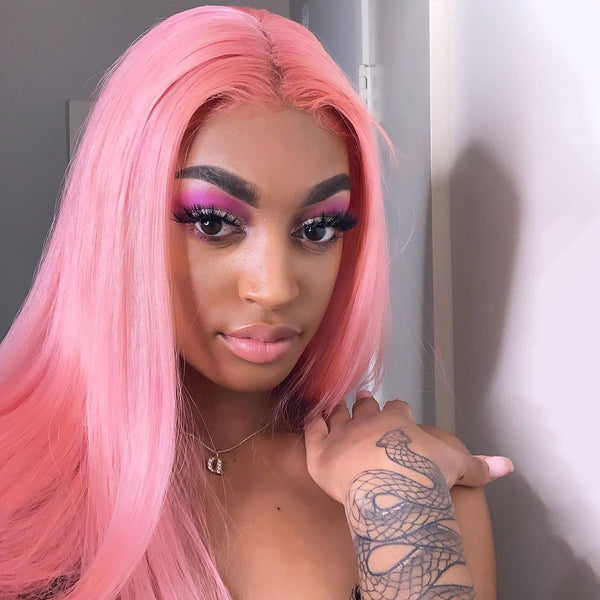 Tips on How to get that perfect Pink Wig
If you're thinking about dabbling in pink but aren't ready to go all-out pink, you can always explore with bursts of color in your light brown or blonde highlight or balayage.
Pink is also an excellent starting point if you're new to fashion tones in general. 
It's subtle enough to wear in the office, yet it's still a bold fashion statement. Below are the things you need to consider if you want to keep your pink hair soft and shiny.
There are 3 different ways to get a DIY perfect color look in the review below, READ IT and LEARN MORE ABOUT COLORING A BLONDE WIG.
OK NOW LET'S SEE WHAT IDEA WE OFFER:
Pinky Rose Gold Hair Color
For this hair color, always ensure that you have fresh ends when doing a fun color. This will tell you if your bright pink hair is healthy or not. For the most acceptable results in obtaining rose gold hair, use cold water, a high-quality light pink shampoo, and a conditioner when washing your hair.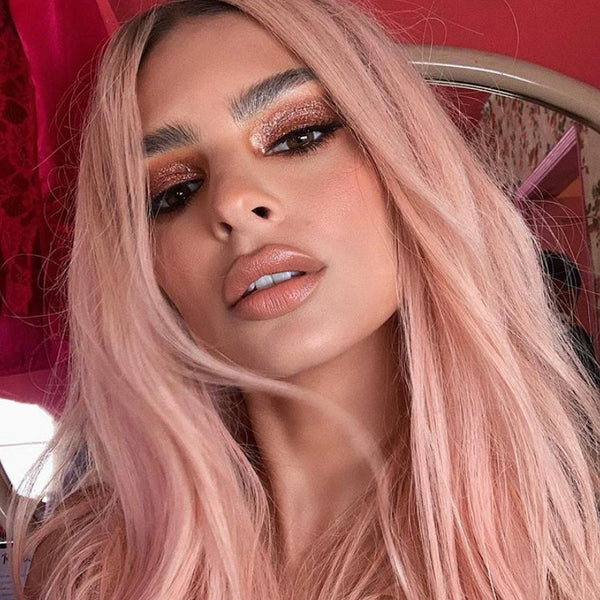 Pink and purple hair mixed with black root 
These pink or purple tresses are edgy and stylish at the same time. The blended location makes it soft and natural-looking, yet the tone is more lively and vibrant. This pink hue has been mixed with the natural black color at the root. It makes you feeling rock your own hair. 
Keep in mind that pre-lightening your hair is required to create this particular color. A blended balayage is ideal because it makes the hair low-maintenance as it grows out. Use a sulfate-free shampoo, although in small quantity.
Coldwater is preferable since it seals the cuticle and locks in color, and ensures that your semi-permanent dyes last as long as possible. Alternatively, you can play around with different layering tones when your original color fades.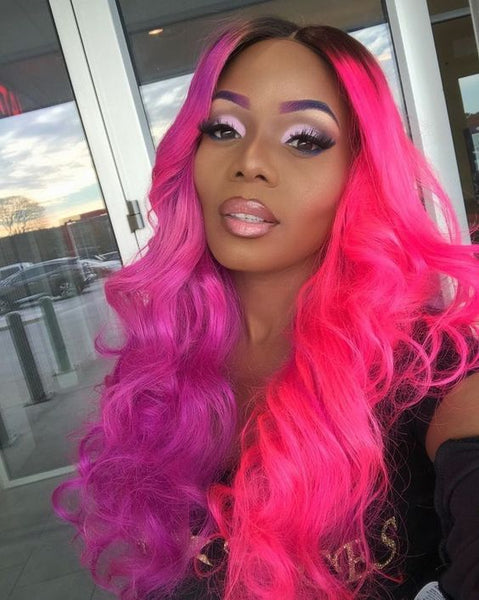 Purple grey and Pink Hair
Pink and purple grey hair dyed in strands is fashionable. Choose hues that go well together and mix them into a lovely transitional shade. Finish your pink hair with a twist to bring out more of the colors.
If you have a blonde wig on hand or you can purchase a high quality blonde 613 wig , you can try to DIY this highlight bob look at home.  Always rinse out your hair with cool water and use only a small amount of heat. This will help you maintain the vibrancy and beauty of your pink hair. Women of all ages can wear fantasy colors, and you can flaunt your pink style in various ways.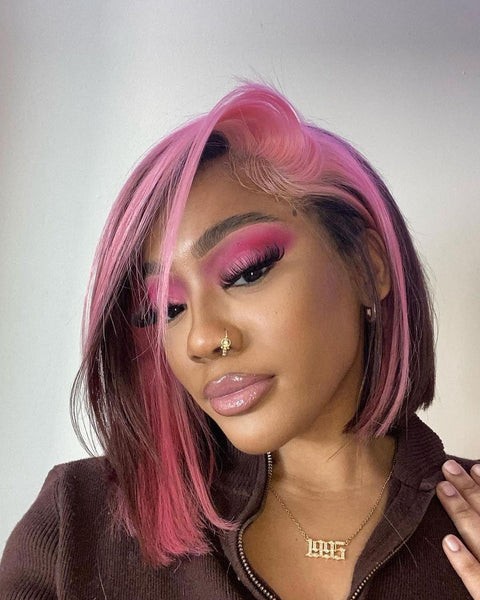 Dusty Pink Hair Color
A lot of the time, you'll see a dramatic coloring with an even more dramatic cut. The best part is that the clean and straight cut allows the color to shine through. This styling is simple, emphasizing the silky coloring.
If you're bleaching your hair, use color preservative shampoo and conditioner, and always remember to use a hair mask. To retain the most significant effects of your dusty pink hair, schedule your hair treatments within 8 weeks.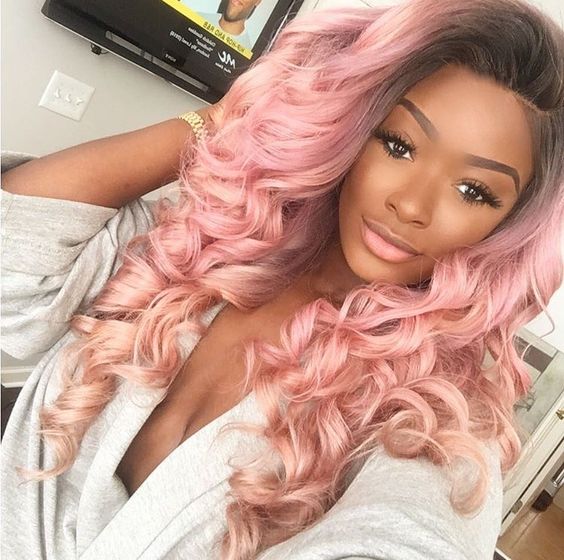 Faded Pink Ombre
This fading pink ombre is a subtle pastel ombré. There's a fluid transition between the vivid pink root and platinum pink ends. This is a fantastic initial option for women who wish to color their hair pink or with a hint of pink. Pastels entail a lot more work than most women realize.
Darker hair strands take longer to acquire the proper shade of light pink hair color. If you're looking for pink hair ideas, we highly recommend going for an ombre to ease the transition.
However, before making the switch, ask your hairdresser about pink extensions because pastel tones have a shorter life duration than other colorful tones. In other words, they should be darker than vibrant.
Colors that are bright and pastel may not be suitable for pink-haired women who must wash their hair every day. Are you looking for a means to enter the pink world? Pastels are more easily hidden and removed if necessary.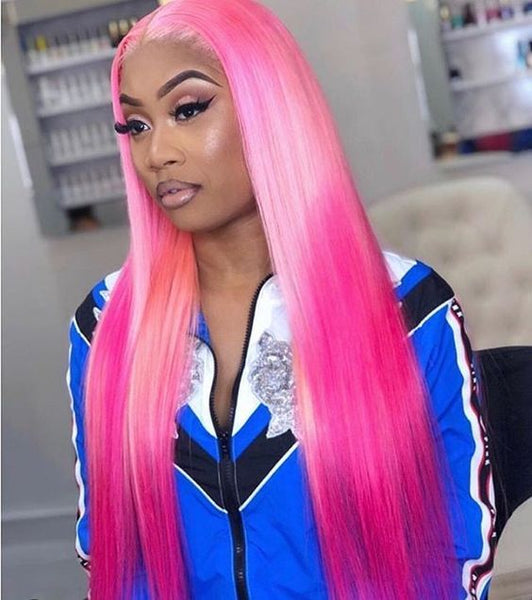 Millennial Pink
If you have platinum or blonde hair, have pastel opal roots added first. To create a terrific dynamic, pair your plain hairstyle with a high current or edgy hue. The vivid shade shows off the beauty of a classic shape, and the simple cut makes the color pop.
This isn't a low-maintenance hair color. When it comes to pink hairstyles, you should shampoo as little as possible and only use cold water. Use Olaplex treatments once a week to maintain your hair's health and color.
Pink is a hue that looks good on everyone. It complements all skin tones and complexions beautifully. It also provides both warm and cold undertones a healthy glow. The new blonde is millennial pink. It's brighter than pastel pink but not as bright as hot pink.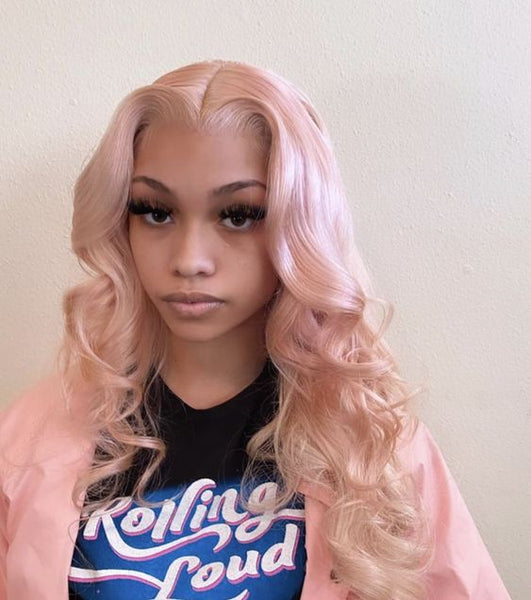 Dark to Bright Pink Ombre
This ombre hairdo transitions from dark to bright pink and is both striking and understated. At the base, the contrast of the brilliant neon softens into a baby pink. All the while, the pastel softens the blunt bob.
When we choose a stylish color, it might bring out a personality we didn't know we have. It's much easier to move between pink and purple tones. Over-toned blondes and rose golds are the most common results.
You and your stylist must have a thorough consultation to ensure that you're both on the same page. Consult your hair colorist about toning and treatments regularly.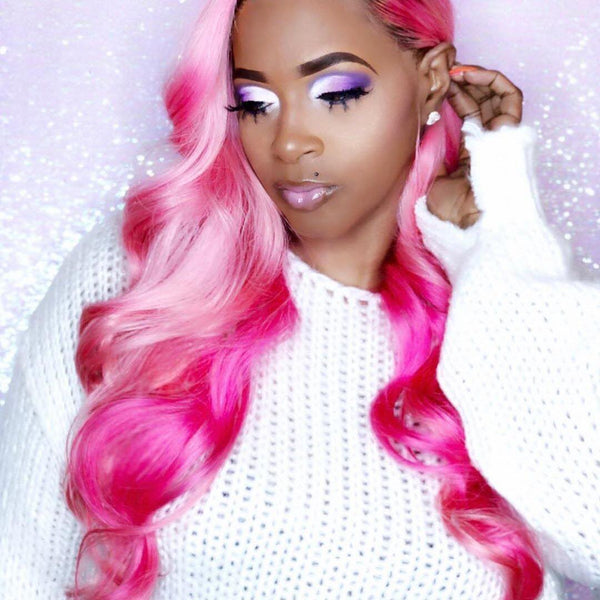 Icy Pink Bob Hair Look
Icy pink hair, like all hues of pink hair color, is fashionable right now. You just need a high quality blonde bob wig . Then after color it, don't forget to use keep the ice pink and protect the hair at home, use dry shampoo, hairspray, and texture powder.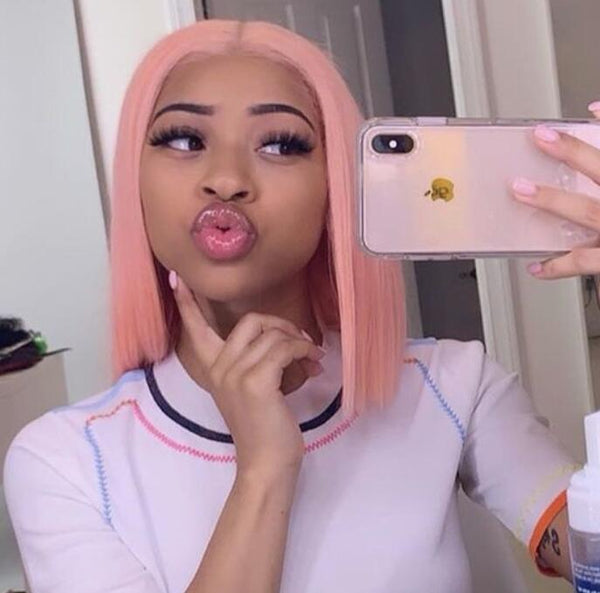 Pastel Pink Hair
This particular look is great for women who want to try something vibrant but not too bright. Pastel Pink Hair also fades beautifully from lighter pastel pink hair back to blonde. The gentle light pink tone of the color is the best part of this look. Use a pigmented shampoo or conditioner to produce this pastel color. It will aid in the preservation of the pink tone.
Hope our blog can help you get a perfect pink hair and wig to rock this season!