Wigs that look good on you are usually a beauty accessory that's worth having. However, despite the numerous hairstyles currently available, not all of them typically look good or are ideal for you. The shape of your face strongly determines the style of a hairstyle that's better suited for you.
You might find that a certain trendy hairstyle looks good on a certain facial structure compared to the other and vice verse. For instance, having a huge forehead will require a hairstyle that's good at concealing your forehead or attracting attention to your hairstyle.
So how do ladies choose the perfect hairstyle suitable for their faces? First and foremost, knowing your facial shape is a must before proceeding with your hairstyle selection. This article distinguishes the different face shapes and the various types of elegant hairstyles suitable for each one.
Determining Your Face Shape
This process for determining your face shape is essential if you want to perfect your look. The first step to figuring out your facial structure is to pull all your hair back and, using a headband, tie it into a ponytail. Next is to use a lip pencil or eyeliner while looking at the mirror and outline your face. Finally, compare your face outline and see whether it fits any of the five thresholds below.
Round shaped face- This particular face is simply a square-shaped face having softer angles. A round-shaped profile has fuller cheeks, is wider in size, and also has a wide hairline.
Square shaped face-A square-shaped face is one with a jawline, cheekbone, and forehead that's equal in terms of width. Lastly, this particular face has a jaw having a sharp angle.
Heart shape face-This type of facial structure typically has a narrow jaw, a pointy chin, and a temple and forehead that's naturally wider.
Oval shape face – This face is usually longer in size, having a smooth flow from the cheeks, temple, jawline, chin, and jaw angle.
Oblong shaped face- This face shape is almost similar to the square shape; however, a rectangle-shaped profile is usually longer than they are wider. Generally, your cheeks, forehead, and jawline are the same width, although your chin typically has a slight curve.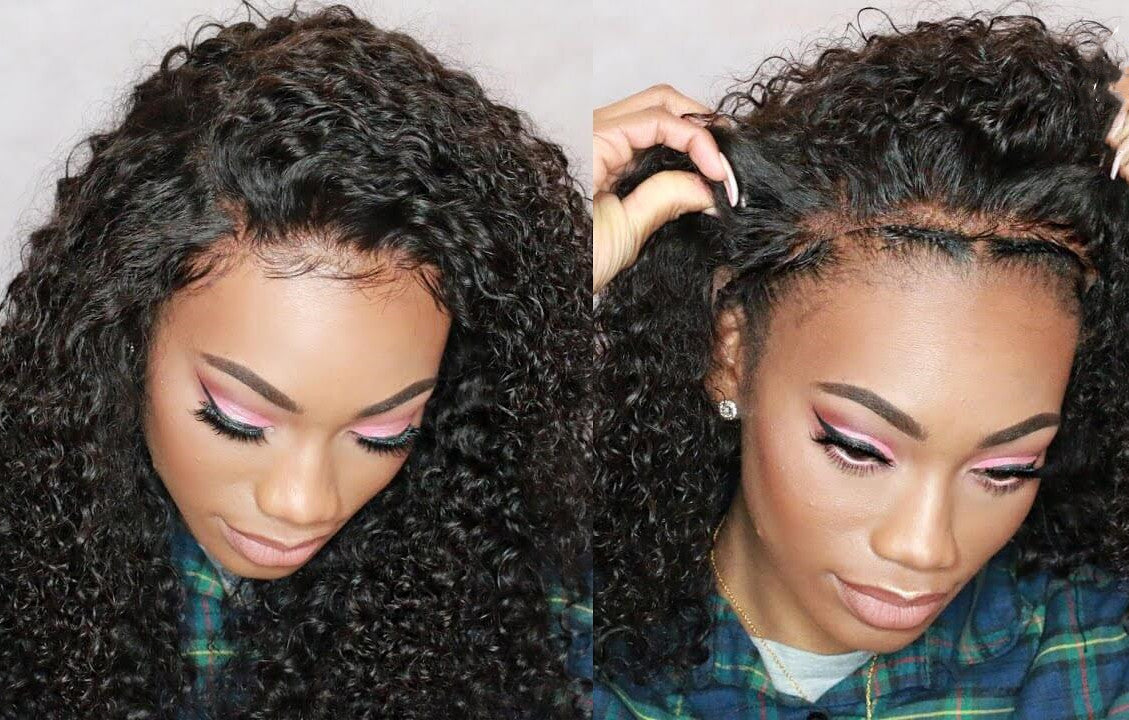 Best Hairstyles suitable for Your Face Shape
Round shaped face
Getting an ideal hairstyle that matches a rounded face is all about balancing your face width to make it, to a certain extent, look leaner and longer. Below are some of the hairstyles better suited for a round-shaped face.
1. Long wavyhair having a layered cut at the jaw region or Side-swept bangs.
These two particular looks will make your hair appear longer, and your cheeks slimmer. It's always advisable to avoid parting excessive hair on the side of your face as this will make your face wider. You can choose a loose wave or body wave with bang look to fix this problem.
2. Bob hairstyle that's chin-length
A round face is also perfect with a chin-length bob hairstyle, more precisely a blunt chin-length bob wig having a side part. This particular hairstyle will draw attention to your eyes at the same time elevating your cheekbones.
3. Mid-length layered hairstyle
For a slimmer and softer facial texture, then having a mid-length layer is the ideal solution. This particular hairstyle consists of long hair that's normally a few inches past your shoulders.
4. Ponytail with middle swept bangs.
Another phenomenal hairstyle perfectly suited for a round face is a ponytail with middle swept bang wig. This hairstyle will create an illusion of a longer and slimmer face, and the ponytail is usually a look enhancer.
5. Long curls with a center part
A Long curl wig with a center parting having a bouncy loose curl is also another suitable hairstyle if you have a rounded face. This look usually lengthens your face and also adds more angles to it.
Square shaped face
Cheekbones, forehead, and jawlines on a square face are usually proportional in terms of length and width. Having a square face will highlight your strong jawline, high cheekbones, and square chin. Therefore, getting a look that diverts attention from your strong features includes medium curls, long wavy cut, straight bob, and bob with side bangs.
Medium curls are usually voluminous curls having a side part. This hairstyle usually creates an illusion of a longer face while also softening your facial features.
A Long wavy-cut hairstyle has side-swept bangs having long waves. The waves and side bangs create the delusion of a narrow, elongated square face with a soft feminine facial structure.
Having a straight bob is also another great way of hiding your wide chin and perfectly balancing your facial features. The look involves a center part a few inches slightly under your chin.
A bob hairstyle with side bangs is also another look that's great for a square face. You can even half shave your bob for an edgier look. This look is usually perfect, especially if you want to streamline your broad jawline.
Heart-shaped face
The best hairstyle for a heart shaped face is one that will divert attention to your cheekbones, chin, and eyes. A heart-shaped face has a narrow jaw, wide pointed cheeks, and a pointy chin. Below is a wide selection of the hairstyles that are better suited for a heart-shaped face.
1. Wavy Side Ponytail
This hairstyle is all about making you look stylish and youthful. A wavy side part with bands will proportionate your facial structure while adding vigor to your face, leaving you looking like a princess.
2. Medium Curls with Side Bangs 
Another great hairstyle for a heart-shaped facial structure is medium curls having side bangs. This look usually balances your facial features and also brings movement around your face.
If your face is heart-shaped and you want to highlight your jawline and chin, choosing a short-cut having bangs is ideal. This look is also great for hiding your forehead, especially if it happens to be wider and more noticeable.
4. Side-parting Long Straight Cut 
When you're looking for a more feminine gorgeous look, choose the side part with a long straight cut. This hairstyle usually diverts attention from your heart-shaped face and more to your hair.
    4. Oval shaped face
This type of face is usually the most balanced and also proportioned when it comes to styling. It is generally ideal and versatile for all kinds of wigs and hairstyles in general. You can wear any particular wig, be it curly, straight, long, or short. Regardless of the hair texture you choose, whether short wavy, short pixie, medium straight, or a long wavy ponytail, the results will always be spectacular. Oval shaped faces are usually ideal when it comes to hair experimentation.
Oblong shaped face
Just like oval-shaped faces, Oblong faces are nearly similar. The difference that sets them apart is that oblong-shaped faces are longer. A perfect hairstyle for this specific face type, therefore, is one that tries to minimize the length while increasing the width. An effective way to achieve this is to cover your forehead using bangs while adding either curly or wavy layers to increase the width of your oblong shaped face. Below are the four different types of hairstyles appropriate for your oblong-shaped face.
1. Long Straight Cut with Blunt Bangs
If you want a flawless look that's all about softening your facial features while making your face look widened, then choosing a long straight wig cut with blunt bangs is a perfect choice. This look is good at giving you a gorgeous feminine look that's also trendy.
2. Center-parting Long Wavy Cut
A more even and rounded shape, a center part having a long wavy cut is the perfect combination. The long wavy hair volume is can also be side parted to give you a more flattering look. Generally, this look is better suited for ladies who have an oblong-shaped face and are all about making a fashion statement.
3. Long Curls with Long Bangs
Another look that's better suited for an oblong-shaped face has long curls with long bangs. This look is great for making your face appear wider and is also great for giving you a gorgeous youthful look.
4. Bob with Blunt Cut Bangs
Finally, a hairstyle better suited for an oblong-shaped face is a bob having blunt cut bangs. This look is usually perfect when it comes to diverting attention away from the length of your face and onto your hair. This look is also stylish and great for summer.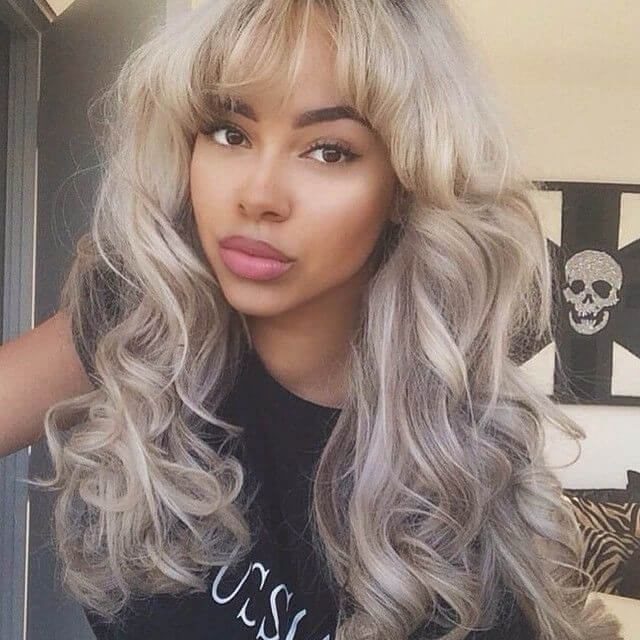 We hope this article has shed some light on the various hairstyles that are better suited for each specific face shape. Despite having more suitable hairstyles for different face shapes, the aforementioned are the most popular and trendiest. Finally, choosing the best-suited hair for you entails knowing your face shape and sense of style.